Image Info Systems (IIS) was a new name for us and we were attracted by the advertising on its booth of "the first Dicom-calibrated" tablet. The company is based in the UK, but has offices in Germany and the USA. The tablet was first shown at RSNA last year, but the firm is still launching the MED-TAB with ECR as a significant event. The company was in a very positive mood as the tablet was awarded an iF Design Award on 1st March.
The tablet is based on Android 4.4 and uses a 13.3″ 1920 x 1080 11 bit display that can support calibrated Dicom images. To ensure performance, the tablet needs to be viewed in a specific range of ambient light conditions, so there is an integrated ambient light sensor. Calibration brightness is 300 cd/m² and uncalibrated brightness is 400 cd/m². Dicom also specifies that the display must be in a "fixed position", so there is also a stand available for the tablet. The tablet is supplied with a measurement pen. The tablet supports 'all' major PACs applications using either HTML5 or native Android Apps. The tablet includes a Dicom calibration tool and the system is said to have very good uniformity.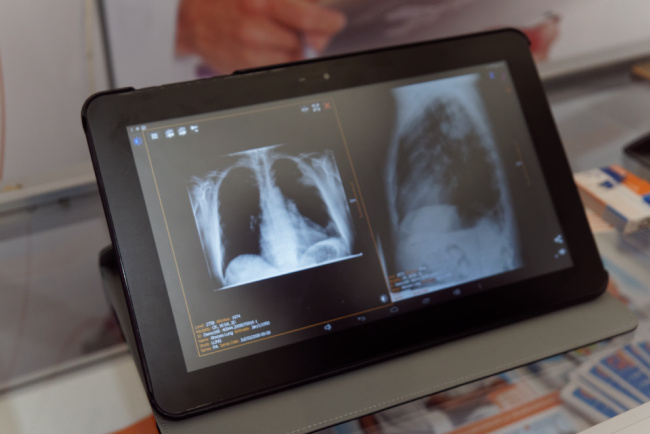 The Med-tab is a dicom tablet and is supplied with a stand as Dicom specifies that the display must be in a "fixed" position.
The main application for the tablet is to allow radiologists to work away from their hospitals – that is to say "teleradiology". Radiologists are often on call and many will have a workstation set up at home. However, the tablet makes the display portable allowing radiologists to be on call, but not tied to their homes. However, another application is to allow "bedside" use. At the moment, radiology workstations are normally away from patients, with patients usually not permitted to enter the room. Using the tablet, radiologists can take their images to the bedside, or the conference room.
IIS said that the tablet took three years to develop and it is interested in selling the device on an OEM basis. List price of the tablet is around €3,500.