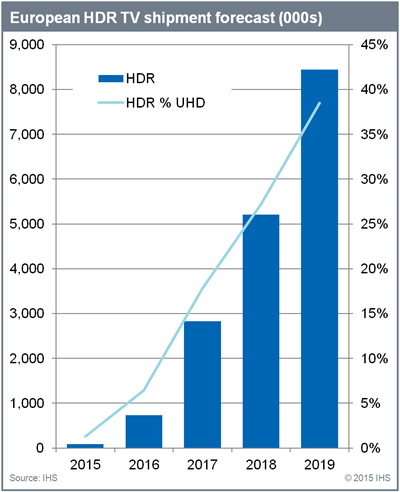 Paul Gray of IHS spoke recently at the Hollywood IT Society and Media & Entertainment Services Alliance conference in London, saying that the research firm has increased its UltraHD forecasts for Europe.
IHS expects 6.4 million UltraHD TVs to have been sold in Europe (including Russia and Eastern Europe) last year. This will rise to 21.8 million sets in 2019, all of them 40″+. This year, there will be about 12 million unit sales.
Of the above numbers, HDR sales are expected to be modest this year – partly because most sets will not be launched until Q2. Sales will be sub-1 million units, and possibly closer to 700,000. However, sales will touch 3 million units in 2017, representing about 15% of UltraHD TV volume. By 2019, HDR display sales will reach around 8.4 million units and a 38% share of the UltraHD market.
However, Gray warned that despite these optimistic predictions, there is a risk that consumers will be confused by the emergence of 8k displays. IHS expects sales of these units to remain low in the near future, reaching 143,000 in 2019.