Global shipments of standalone and tethered AR and VR headsets are expected to total 4.2 million units in 2018, up 31% from 2017. Looking ahead to 2022, shipments for these headsets is expected to rise to 53.1 million units, with a CAGR of 88%, according to IDC. Although screenless viewers have accounted for a significant portion of the market to date, these headsets will continue to lose relevance as volumes decline and growth drops to a CAGR of -1% over the 2018-2022 period. Senior analyst Jitesh Ubrani commented:
"IDC has updated its forecast to push growth for AR headsets out further as AR progress on smartphones and tablets continues to outpace that of headsets. Apple's ARKit has continued to improve the fidelity of AR experiences on iOS devices, Google's ARCore is becoming available on more Android devices, and third-party SDK vendors such as 8th Wall and PTC continue to drive innovation in the space".
While most consumer-centric AR apps are focused on smartphones and tablets, commercial AR is driving shipments for standalone and tethered AR headsets. IDC expects the category to surpass the 1 million mark by 2020, after which the growth will dramatically increase.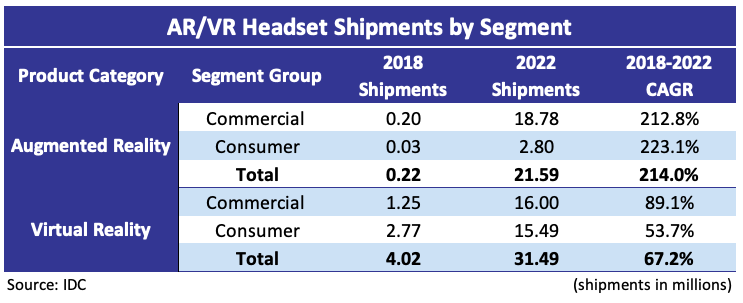 As more vendors enter the market, additional use cases come to fruition and prices decline, IDC expects total shipments in this category to reach 21.6 million by the end of 2022.
The company's VP of Devices and AR/VR, Tom Mainelli, added:
"AR headset growth may seem muted, but it's still very early days in this market. Right now, we're seeing vendors build out enterprise-focused software for the devices available today, with an eye toward the new features that will become available in future iterations of hardware. Things will get very interesting from a volume and capability perspective in the months to come".
Despite the recent downturn in the VR headset market, growth in this market will return in 2019, as global shipment volume jumps to 8.6 million headsets. Much of this growth will be due to the increasing adoption of tethered and standalone devices – particularly in the commercial segment – combined with the decline in screenless VR headset shipments.