In recent weeks we've given you articles on some of the Black Friday deals available this year; we've seen some all-time lowest prices on TV sets. Now that the big shopping day has come and gone, it's worth another look at this year's prices for special deals compared with one year ago. Before looking at the prices, let's consider the two major forces driving prices in the year since last November.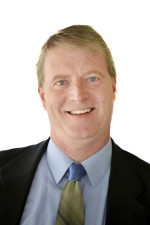 First, panel prices have continued to decline amidst the industry oversupply, with price drops especially large on the big sizes that are efficient cuts on new Gen 10.5 capacity in China: 65" and 75" TV panel prices have fallen 29% and 40%,respectively, from a year ago. Second, as part of the US-China trade war, the Trump Administration has imposed a 15% duty on TV imports from China starting on September 1st, 2019.
It's clear from the Black Friday prices that the panel price drops have been a much more significant factor than the trade war. As we have reported about TV imports, the trade war resulted in a surge of TV imports earlier this year, before the tariff took effect, and that inventory bulge also led to an industry slowdown in Q3 2019, which has driven panel prices down even further.
Last year, our report on Black Friday showed only a few all-time low prices in the larger screen sizes, and prices holding firm for premium TV sets, and even increasing for some OLED sets. This year we have seen lower prices all around, and some particularly low prices on premium TV sets.
First let's look at a comparison of the lowest priced advertised model in each screen size,comparing this year's Black Friday with last year. I've highlighted the deals which appear to be "all-time low" prices for a TV of that screen size.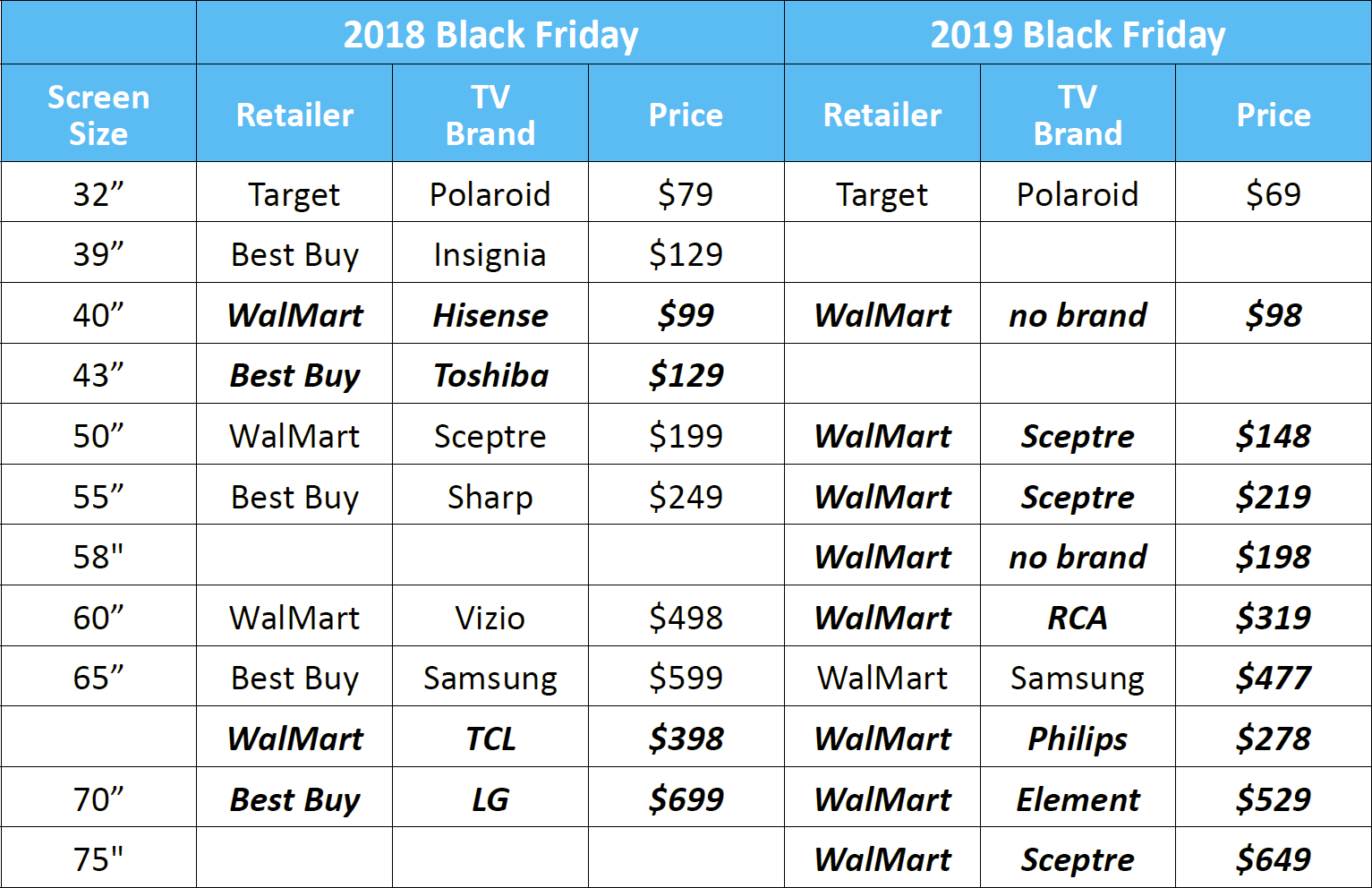 Click for higher resolution.
At the low end of the scale there's not much movement – it seems that retailers figure that they don't need to go under $100 on a doorbuster. From a profitability standpoint,the 32" Polaroid at $69 might not be such a bad deal, considering that 32" TV panel prices are now at $32. It's a stretch for a TV maker to make a profit at 2X the open-cell panel cost, but the ratio is a lot better than a year ago.
It's possible that on these smaller screen sizes, we're seeing the impact of the TV tariffs. Most TV sets under 45" are imported from China,rather than Mexico, and for the lowest priced TV sets this would certainly be the case.
On the larger screen sizes, though, the discounts are astounding compared to last year – 25% lower on 50", 36% lower on 60",30% lower on 65". For the 65" Philips brand TV, with panel prices falling throughout the year they were still at $170 in September, giving a TV/panel price ratio of only 1.64. Not the worst I've ever seen, but pretty close.
Now let's look at price comparisons for some premium sets. By "premium" in this case, in the spirit of Black Friday this still means the lowest-priced set in the category,so for example it means LG's B-series OLED, not the step-up C or E series.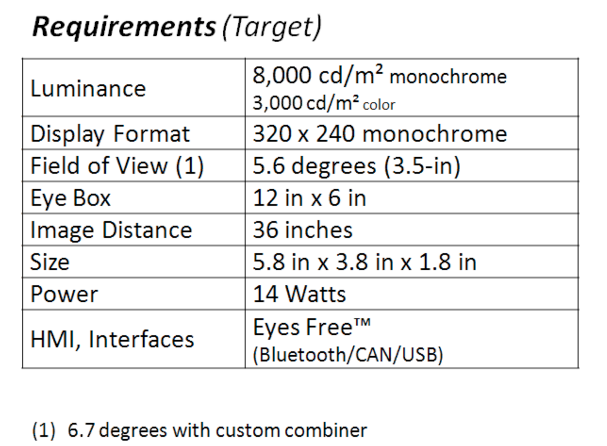 For Samsung's QLED sets, we see particularly big drops because Samsung has expanded its QLED line-up in 2019: whereas Samsung QLED was restricted to 8- and 9-series models in 2018, the QLED line was extended to 6- and 7-series in 2019.
The smallest price drop in this group is 20%,for the Samsung 65" standard LCD (not really a premium set, but shown here for comparison to the QLED sets). The Samsung 65" QLED has an astonishing 67% price drop since a year ago, but the LG and Sony OLED sets also have some big price drops. We add the Samsung 75" 8K model to the list this year; it was not available last year so there's no comparison,but at $3997 on Black Friday from Amazon, this TV was priced at 43% below its suggested retail price.
Considering the price developments of Black Friday 2019 compared to a year ago, here are my top takeaways:
The US-China trade war has prevented prices at the low end of the TV market from going lower, but has not impacted the steep price drops seen on larger sizes. We can expect this to accelerate consumer's shift to larger sizes.
Samsung's move to expand its QLED lineup down opens up new price points for QLED, and opens a gap compared with OLED TVs from LG and Sony.
LG and Sony have responded with discounting on OLED TVs, and Sony's premium over equivalent LG models has been greatly reduced.
Assuming that retailers will sustain Black Friday prices (or something close to them) for premium TV sets for the holiday season, this appears to be a great time to buy a high-end TV set. (B O'B)
The author of this article was Bob O'Brien of DSCC
This article was originally published on the Display Supply Chain Consultants' Weekly Review subscription newsletter and is republished with permission.