Hisense, which also manages the Sharp brand in North America, came to CES to showcase two type of large screen display solutions. This included the projection-based Laser Cast TV and a full range of HDR TV models. Most will only be HDR-compatible, with just a few flagship products offering a wider color gamut and higher luminance level support.
Hisense brands its line of performance TVs as 'ULED'. At their press conference, they also talked about QLED TVs describing them as the electroluminescent type where electrons activate emission from the quantum dots instead of photons. Samsung wants to establish QLED as a category for quantum dot based displays that encompass many types, but there will be some discussion about this going forward (see Samsung write up for more). (see also Ken's DD – Samsung Gives a Good TV a Bad Name — Again)
Strangely, Hisense said this would not be available until 2019, so why make this a key message of your 2017 CES press conference? Maybe they are trying to show they are leading in research in this area?
They also mentioned the configuration with quantum dots in the color filter, but gave no time line for when these might introduced.
Hisense America took over a Mexican factory from Sharp last April and has completely revamped it. It is now producing twice the number of TVs, with a smaller workforce, and more investment is coming.
The company has risen to be the third largest TV seller in Mexico, had record sales in 2016 in Canada and plans to penetrate more deeply into Central and South America in 2017. Its US operation has grown 20% in personnel and they have expanded distribution to 10K stores claiming to now be in nearly every retail outlet in the US. They even received an A+ rating from the Better Business Bureau for their customer service in 2016.
In terms of picture performance, US President Jerry Liu told press conference attendees that they made a survey in 2016 and found that their picture quality is considered as being on a par with the top tier brands and better than competitors like Vizio.
Hisense claims to put 5% of their revenue back into R&D each year, with four R&D centers in the US alone. Based on their focus on quality, they are now offering a 4-year warranty on their 55" sets.
Hisense says it wants to bring millennials back into the living room and watch TVs – something they don't do very often. As a result, the company wants to expand beyond its TV manufacturing activity towards becoming more of a media company.
The company is currently streaming 20M hours per day on a worldwide basis and it has 23M active users. For 2017, it is adding more channels like the live streaming service from TikiLive, Pluto and Xumo. Plus, it has added a 4K gallery service that aggregates UHD content for easy access. Further, Hisense TVs offer a full web browser stack.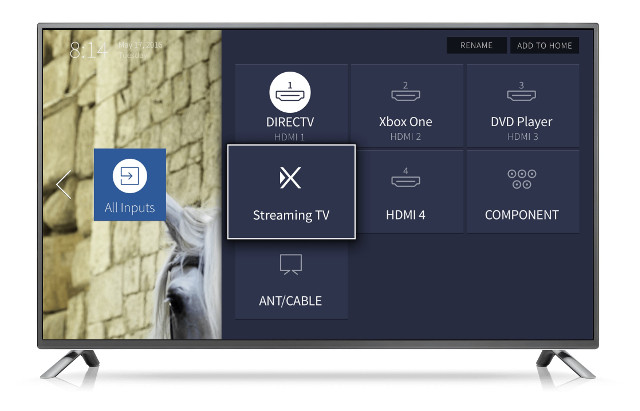 In 2017, the company says it will focus more on gaming content to expand the shared experience and will increase sponsorship to improve brand recognition.
UHD Laser Cast TV
The first message that Hisense emphasized at its press conference was the coming to the U.S. of its Laser Cast TV solution. This is an ultra short throw laser-phosphor projector that is currently offered in China. This summer, it will come to the US and will be packaged with a 5.1 sound system and ambient light rejecting screen for $13K. The projector itself is currently for sale in China for around $10K.
We have seen this product in China and at IFA previously. It is one of the first products to reach market using the new 4 million mirror DLP chip with an image shifter. Hisense thus markets this as a 4K projector. It is coupled with a 100" screen that they called a "Fresnel type", which may indeed be from DNP, and is designed to project from a distance of 53 cm from the wall (~ 10 inches).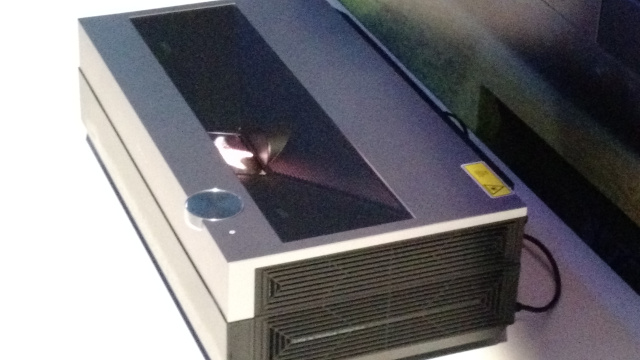 Color performance is quite good, but Hisense uses specs that are hard to compare to other products. For example, they say the device can obtain 116% of BT.709 or 82% of NTSC. I leave it to others to translate that into a percentage of P3 or 2020.
The set is described as HDR compatible meaning it can accept HDR10 content and apply the PQ EOTF to the video. A UHD upscaler is included for lower resolution content as well. With the 100" screen, peak luminance is in the 360 cd/m² range given the 2700 lumen output of the projector.
The image quality holds up very well even on the bright show floor thanks to the high contrast and ambient light rejecting screen. Like most laser-phosphor projector engines, the lifetime is rated at 20K hours to 50% of initial luminance.
While the price is higher than some other laser TV alternatives, it is still less costly than a 100″ flat panel solution.
Flat Panel TVs
Overall, Hisense unveiled 21 HRR or HDR-compatible ULED 4K models in 7 lines. Highlights include the first THX-certified ULED TV, coming in 2017, and two new Roku models including the first 75" UHD model for under $2K.
The 75" H10D ULED TV will be the flagship for the year and will feature THX certification. It is expected to ship this summer for $5,999 and will include HDR10 compatibility, wide color gamut and a full array direct backlight. These appear to be the only models with quantum dot technology and should achieve UHD Alliance Premium certification. Color gamut coverage is said to be 95% of P3 or 85% of 2020. A 70" model should be offered too, for $2,999 and features 320 zones.
For the China market, Hisense also offers the 55" 9600 model which features quantum dot technology, 224 zones, 1000 cd/m² of peak luminance and 85% of BT.2020 coverage as well. The 65" model has 300 zones and a peak luminance of 1280 cd/m². It is unclear if this is coming to the US, however.
The 4K H9 and 4KH9+ models are edge lit with HDR10 support. The H9 series will be offered in 50" ($699), 55" ($899) and 65" ($1,299) screen sizes with wide color gamut and 120 Hz panels. The H9D+ range increases the panel refresh rate to 240 Hz offering 65" ($1,999), 55" ($1,299) and 50" ($999) models, plus a 75" model ($TBD). These should ship in early 2017.
The H8D series are direct backlight models that will offer HDR10 compatibility and a 120 Hz panel. Sizes will include an 86" ($5,999), 75" ($2,499), 65" ($999), 55" ($649) and 50" ($549), all due in March/April. These achieve about 80% of DCI-P3 and offer 370-400 cd/m² of peak luminance.
Also coming in this same time frame is the H7 series using direct backlights and a 120 Hz panel in 65" ($899), 55" ($599), 50" ($499) and 43" ($399) versions with HDR10 compatibility.
In Roku models, the flagship here appears to be the R8 which will be topped with a 75-inch ($1,199, August) version that includes Dolby Vision HDR and integrated Roku TV. These do not use quantum dot technology but rather white LED with a red phosphor in a direct backlight configuration with 128 zones. Color gamut coverage is said to be 85% of P3 but the peak luminance spec was not available.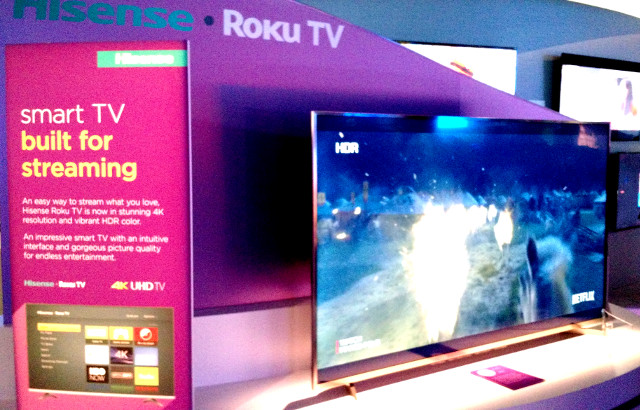 Hisense was also showing a 65" curved Dolby Vision TV but we are unclear whether this is part of the R8 series and if it will be offered in the US.
The Roku R6 models include the 65" ($799), 55" ($549), 50" ($449) and 43" ($399) screen sizes. No specs on color gamut or peak luminance were offered. – CC