Hisense had a number of new smartphones at the show, but the one that caught our attention was the A2 Pro which is available now in Asia and is expected to be around €349 when it lands in Europe. The phone has a 'standard' 5.5″ FullHD OLED on one side, but on the other side is an E Ink display which can be used for notifications or as an eReader. Of course, the E Ink display uses no power unless it is being changed, so is ideal for only slowly changing data. (amazingly, in its press release, Hisense didn't mention the E Ink display!).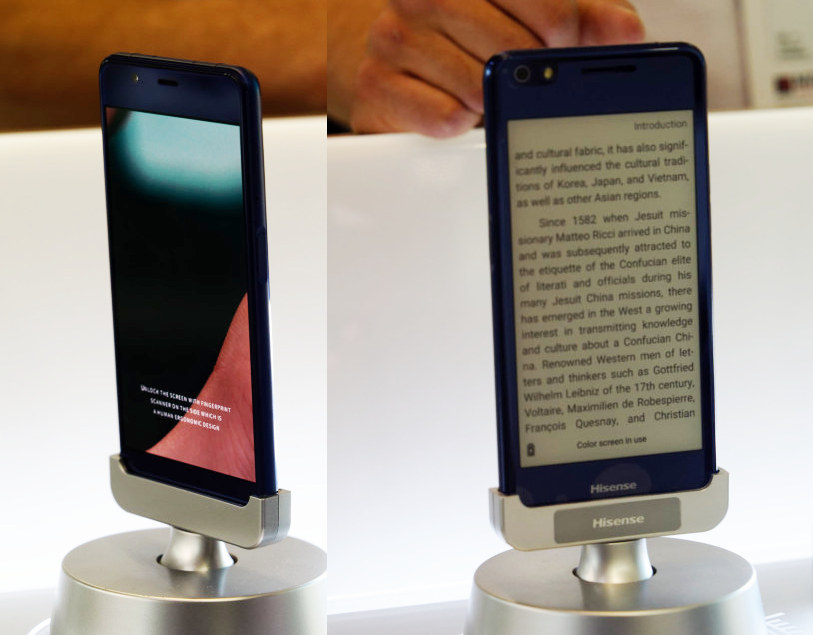 The Hisense A2 Pro includes an E Ink display. Image:Meko
Other phones on the booth included the H11 Pro, a development of the recently released H11. The phone has a 5.99″ FullHD+ display (18:9) and slim bezels. It uses a Snapdragon 630 with 4GB/64GB or 6GB/128GB. There are dual 12mp and 8mp (telephoto) cameras and a 20mp selfie camera. The battery is a 3400 mAh unit. The press release suggests that it has a '3D lens' but we think the writer confused the 2.5D glass case on the back.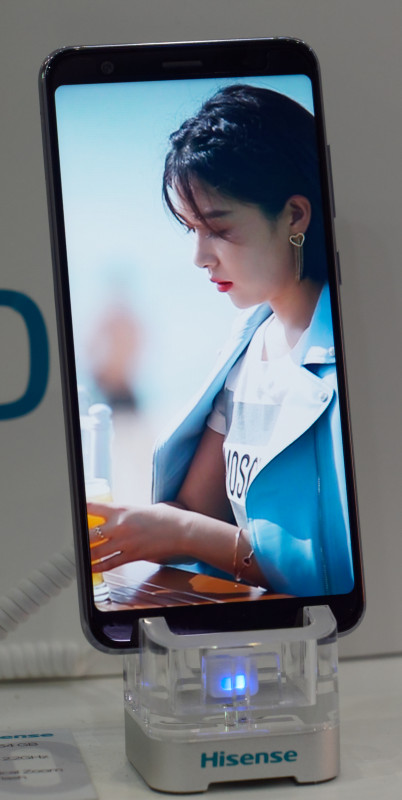 The Hisense H11 Pro. Image:Meko
The Infinity H11 uses an MSM8937 processor and has a 5.99″ HD+ screen with a 12mp rear camera and 16mp front. Battery is 3400 mAh, with RAM at 3GB and storage at 32GB.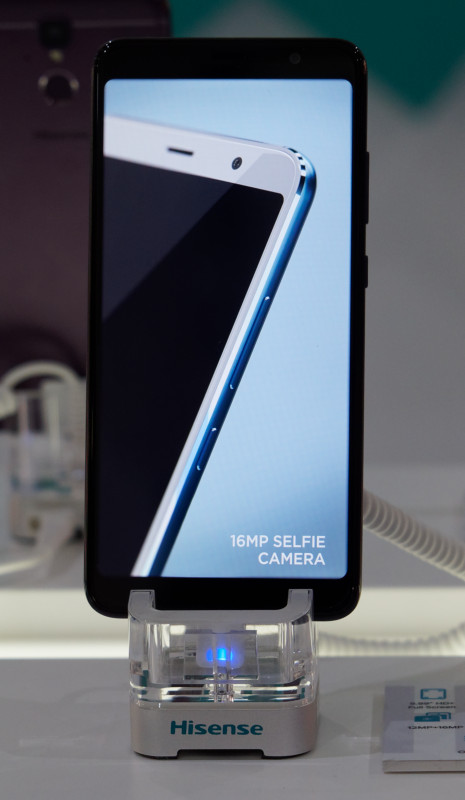 Hisense's H11 Lite Image:Meko
Analyst Comment
Of course, Hisense is not the first to try the dual display concept. Yota Devices of Russia started showing this kind of design back in 2012. The company showed another YotaPhone 2 with an OLED and an E Ink display. The Yota 3 (Yota Ready For V3) was announced last summer and has a 5.5″ OLED with FullHD as well as a 720p E Ink Carta II display.
I wonder if there is some kind of licensing deal going on? (BR)