UHD TV is expected to be more than just additional pixels. It will also include wide colour gamut (WCG), high frame rate (HFR) high dynamic range (HDR) and, perhaps, other features. These additional features, in fact, are typically more visible to consumers than the extra pixels in a 3840 x 2160 set compared to a 1920 x 1080 set.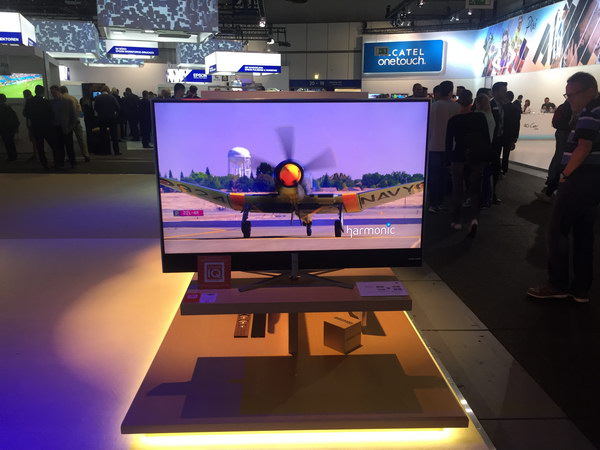 Demonstration at IFA of a TV from TCL (H9700 series) with QD Vision's colour IQ quantum dot technology that has 90% of the Rec. 2020 colour gamut.
In my last Display Daily, I focused on the wide colour gamut aspects of UHD-TV. Two of my colleagues have also looked at WCG topics since then, with Chris Chinnock looking at the Rec. 2020 WCG specification itself and Ken Werner looking at potential problems for WCG displays using quantum dots from QD Vision. He asks "Are people at QD Vision worried?" Since they announced four design wins, with TCL, Philips Monitors, Hisense and Tongfang Global (Seiki) at the recent IFA trade show in Berlin, I'd be inclined to say, "No, QD Vision isn't worried." Except, maybe, about how to manufacture that many quantum dots. WCG is definitely coming, with multiple announcements at IFA besides QD Vision's and a forecast from IHS saying "the wide colour gamut display market is expected to grow steadily from 2.8% of the total demand in terms of area in 2015 to about 25% in 2020."
HDR was also a major topic at IFA as well. HDR has a problem that is not as much of a problem with other aspects of UHD such as resolution, WCG and HFR. This is the question of content. Virtually anyone who has seen a UHD resolution TV has seen HD resolution upscaled to UHD. Native UHD resolution side-by-side with HD upscaled to UHD are just barely distinguishable but if you look at a UHD TV and are not told if the content is native UHD or upscaled HD, you won't be able to tell. They both look very, very good. The same is true of WCG – virtually everyone has seen it and liked it. Typically the content is colour graded for a Rec. 709 display and algorithms in the TV stretch colour to fit the expanded gamut, whatever the gamut of that particular "wide colour gamut" TV is. These algorithms are also very good.
HFR is somewhat like resolution – a good upscaling algorithm can convert 24Hz, 25Hz, 30Hz or 50Hz to 60Hz or even 120Hz with few artefacts from the upscaling process. The problem with upscaling low frame rates (e.g. cinema 24Hz) to 60Hz or 120Hz is not in the algorithms or the silicon to implement these algorithms – the problem is in the content itself. Motion in 24Hz cinema content is mastered with a lot of smear so the very low frame rate used by cinema doesn't make the content look "jerky" when shown. The 24Hz moving content as shown may be smooth but it is very low resolution and no algorithm can put that much resolution back into an image when it just isn't there in the first place. On the other hand, there is plenty of 60Hz content available so, perhaps, the lack of HFR in cinema content is not too important. From the HFR point of view, the TV industry is leaving the cinema industry in its dust – it's had HFR content since WWII.
HDR is different. I have never seen a standard dynamic range (SDR) image upconverted to HDR where the image looked good. It always looks, well, upscaled. The reason for this is simple. HDR is designed to show details in both the very high brightness areas and the very low brightness areas of an image that cannot be captured, stored, transmitted or shown on an SDR system. The detail just isn't in the SDR image so even if you stretch the brightness range to the HDR brightness range, the detail still isn't there. Therefore, for HDR to be a commercial success, there must be native HDR content, storage, transmission and display. In other words, a new infrastructure must be created in parallel to the existing content creation, transmission and display infrastructure before anyone will make any money off HDR. This problem is essentially identical to the 3D TV problem – 2D content doesn't look good in 3D and 3D content doesn't look good in 2D so a whole new 3D content industry was needed. And we all know what happened to 3D TV.
There is one key difference between 3D TV and HDR TV that should keep HDR from vanishing in the black hole of lost technologies. People like HDR. Perhaps that's better stated as nobody dislikes HDR, the way some people dislike 3D. HDR won't be just for an animated movie for the children or a car crash movie for teenagers, but for virtually all content. If some content doesn't really benefit from HDR (think of the evening news) then at least the presence of HDR doesn't cause headaches, force you to wear special glasses or make your partner leave the room. Also, if content is originated in HDR, it can be down-converted to SDR with only modest problems. The biggest problem is the editor has to make the decision on what resolution to throw away to degrade the HDR image to SDR levels. And by choosing the right electro-optical transfer function (EOTF), modern HDR technology doesn't double the bit rates like 3D or UHD resolution.
There are a couple of announcements from IFA that indicate that HDR is on track to become mainstream, at least mainstream for high end sets. Two of these came from Dolby, one of the leading proponents of HDR with its Dolby Vision system. Dolby Vision includes more than just HDR, it includes WCG as well.
First, Dolby and HiSilicon announced at IFA a collaboration to offer Dolby Vision 4K UHD system-on-a-chip (SoC) technologies for Ultra HD set-top boxes (STBs) for the DVB, IPTV, and OTT markets, including Android-based STBs, with the HiSilicon Hi3798C V200 chipsets. The companies say this will be the first global Ultra HD STB chipset solution to support Dolby Vision high-dynamic-range (HDR) technology. The SoC is based on the CPU and GPU capabilities of Hi3798C V200 chipsets. HiSilicon says it "can provide a secure ultra-low power Android platform with impressive TV experiences for feature-rich 4K entertainment and gaming services".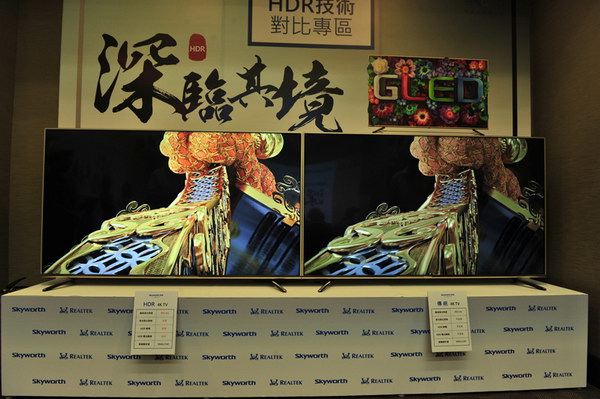 Skyworth and Realtek jointly demonstrated their HDR WCG UHD TV at Computex in June
Dolby also announced that Realtek would produce an SoC that would support Dolby Vision. Realtek has also committed to delivering Dolby Vision-enabled SoCs for set-top-box solutions in the near future.
"We are thrilled to further strengthen Realtek's 4K Ultra HD offerings and competiveness by integrating Dolby Vision VS10 technology into our latest SoC solutions", said Yee-Wei Huang, Vice President and Spokesman, Realtek.
This isn't Realtek's first excursion into HDR silicon. At Computex Taipei in June, Realtek and Skyworth jointly announced a 4K-HDR TV, the G8210. This TV uses an HDR-capable 4K panel developed by Skyworth, and an HDR-EOTF TV controller SoC (RTD2997H) by Realtek. This TV used Skyworth's GLED technology (Geek-LED. Don't ask me, I didn't name it.) which uses four primary colours to get a wide colour gamut.
Also at IFA, Dolby and MediaTek announced a collaboration to offer Dolby Vision 4K UHD SoC technologies for high-dynamic-range (HDR) TVs, Ultra HD Blu-ray players and digital media adapters (DMAs). The companies point out that state-of-the-art cameras already record more dynamic range than can be shown on SDR systems, which eases the problems of the HDR content creation process.
By the way, HDR is not limited to entertainment applications. Another HDR announcement at IFA came from Axis Communications, a manufacturer of networked surveillance cameras. The company is updating its popular AXIS Q17 Series with Wide Dynamic Range – Dynamic Capture for video with outstanding clarity and sharpness. HDR is important to the surveillance industry because the lighting conditions for surveillance are often poorly controlled and vary by the time of day. An HDR surveillance camera will keep a bad guy from hiding in the shadows – the detail in the shadows should be enough to allow you to see him and, hopefully, later positively identify the bad guy at his trial. – Matthew Brennesholtz