Showstoppers is the official pre-IFA press event, consisting only of those companies with a presence on the show floor. It is a chance for journalists to see representatives in a (very, very slightly) less crowded environment – while also enjoying a lot of free food and drink.
This year, Showstoppers had moved from its traditional location near the Funkturm radio tower to the South entrance to Messe Berlin.
Several weeks ago, we covered the CAT S40 rugged smartphone from Bullitt Group (How to Make a Rugged Phone Attractive). The company was launching the 'little brother' S30 phone at IFA. The screen is still very bright (more than 500 cd/m²), although the processor is less powerful. It also features Gorilla Glass 3, rather than Gorilla Glass 4. Other specifications, like IP68 protection and gloved operation, are shared with the S40. The S30 will be sold for €280 ex VAT.
Epson was demonstrating a printer, rather than projector products.
MHL was demonstrating Super MHL (Super MHL Debuts at CES 2015) and its MHL-over-USB (a type-C alt mode – Man. Ed.) technology.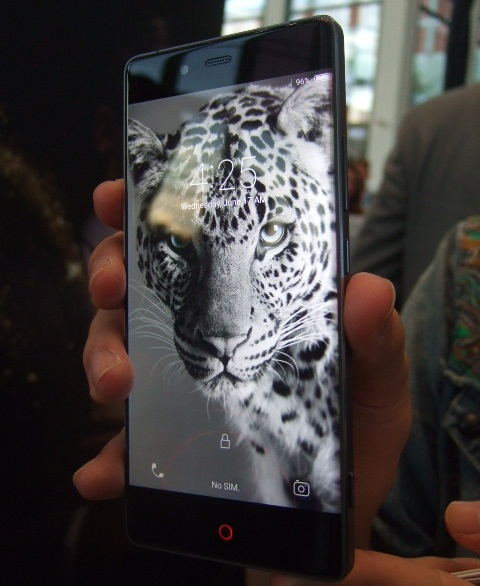 Various partners' notebooks with Windows 10 were being shown off by Microsoft – a trend that would be repeated in the later keynote (Parker Highlights the Windows 10 Wave).

Japan's Oaxis was demonstrating its add-on E Ink smartphone cases (InkCase Plus Offers an Interesting Second Screen for Smartphones). These can be fitted to various Android phones – including those from second-tier manufacturers such as Huawei – as well as newer iPhones. They are linked to a phone via Bluetooth and have their own battery. Prices range from $80 to $130. The newest model is the Inkcase i6, for the iPhone 6: this has a 4.3″ display and 800 x 480 resolution.
We saw the Nubia Z9 from ZTE (Nubia Uses Thin Bezels for Phone Control) for the first time in real life. It has incredibly thin bezels, which can be used in various ways to control the phone; for instance, rubbing the right bezel quickly will close open background apps without needing to open a task manager. Apparently, the company is under quite a lot of pressure to bring the phone to Europe (as journalists we should be impartial, but this really is a beautiful piece of kit! – TA).