The morning of October 3rd was devoted to discussing the technology and related issues around creating an HDR solution for cinema. Dan Cryan from IHS started the session by giving an overview of the key trends and results of the cinema market.
IHS analyzes the cinema market from three cultural points of view: leisure/social, media and experience. The chart below summarizes sum of the key historical trends. Cryan then dove into in a little more depth.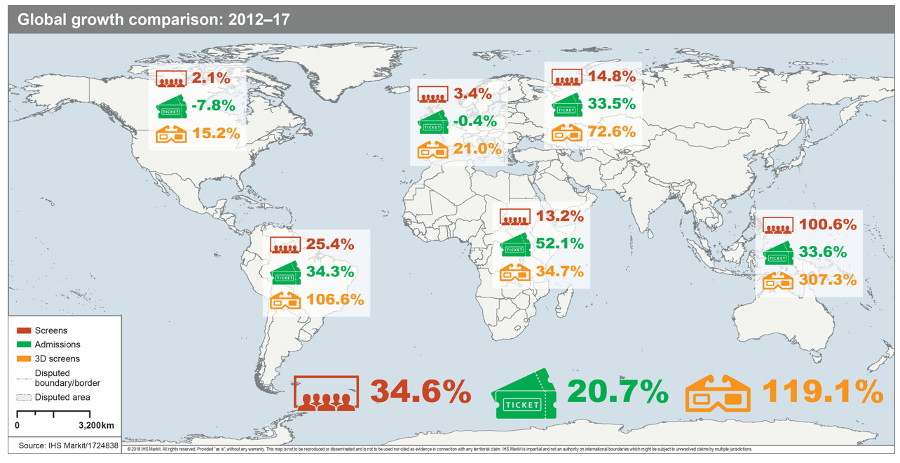 Geographically, Europe and North America are mature with modest growth in 2D and 3D screens but declining ticket revenue. The other regions all showed positive growth in all three categories with China really becoming a driving engine for growth. The big takeaway: 3D screens continue to be very popular and are driving growth.
Franchise movies are firmly driving the top 50 box office and these are well suited for technology-focused venues.
The next chart shows the range of technologies and theater types across the global cinema industry as of the end of 2017. While 3D has had the biggest impact, immersive sound is doing quite well too. PLF venues are driving the market with 4D theaters coming on nicely too. Other technologies are exciting to talk about but have had modest market impact so far.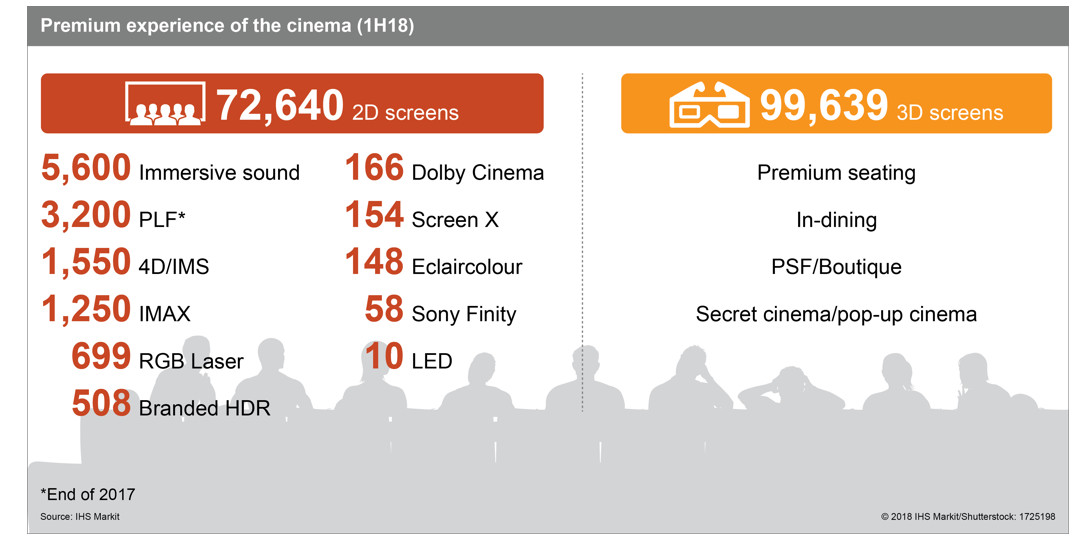 The final theme that Cryan talked about was exhibitor consolidation. He said that the top 10 cinema circuits now control 35.4% of the market and this trend is continuing. This has some benefits including better cross border marketing and collection of audience data for better analytics, which should help increase revenue. For the content or equipment provider, consolidation is a two-edged sword. If your content or equipment is a purchased by one of big boys that can be a bigger sale. But it can also be harder to penetrate to get a lower budget movie into these chains as well.
Next up was Dan Huerta from Cinionic, which is a joint venture between Barco, ALPD and China Giant Screen. He was the first to raise the issue of a definition of and a standard for HDR in cinema. His definition is a "meaningful image improvement" which means brighter highlights and deeper black levels, which is a quite nebulous definition. Any HDR cinema standard must take into account both the grading and the interpretation by the replay system to ensure artistic intent. High bit rates must be part of this quality consideration.
Huerta said that HDR represents a big incremental revenue opportunity for the cinema industry, especially in the PLF segment which is experiencing 30% YOY growth. He also addressed the business case issues for any new cinema technology from all perspectives, as shown below.

Huerta noted the LED screens can create a differentiated visual experience if HDR content is displayed, but the business case for exhibitors is tough because of the high price, lack of HDR content and the inability of exhibitors to really showcase the superior visual aspects.
He then briefly mentioned the light steering technology that Barco is developing and which would be discussed in more detail in the next presentation. However, he did make the case that light steering will be a lot cheaper than LED screens and it can serve screens sizes of up to 60' (18.3m) wide.
Nevertheless, Cinionic continues to look at LED solutions for cinema. One issue identified by Huerta was the need for new LED drivers. Current commercial drivers are only 16 bit and he says 24-bit drivers are needed to manage the very low light levels to avoid contouring. Other issues which he touched on briefly included theater design, scaling of images for non-standard DCI pixel resolutions, sound challenges, system reliability and serviceability and 3D.
Anders Ballestad is from MTT Innovation, a company Barco bought a few years ago. He described their light steering projection solution which does not block light as with conventional projection systems, but instead, redirects the light from darker parts of the image to brighter parts. This allows for a big increase in dynamic range. Details of this remain confidential but Ballestad said it is done with "free form lenses and algorithms"
He said the LED screens can easily go from 1-10 cd/m² to 300 to 500 cd/m², which is about twice as large a dynamic range as the current DCI range. That's meaningful. But being able to display 500 nits on a full screen with projection requires an increase in 10X in the brightness of the light source. That is not very practical, which is why the firm developed the light steering concept.
The chart below summarizes the benefits of light steering. Note that Light Steering can reach and maybe exceed 1000 cd/m² peak when average picture level is low, which it usually is. The 'triangle of pain' in the diagram below means there are a lot of bright areas in the image and that having high luminance in these areas will not be fun when you are dark adapted in a theater.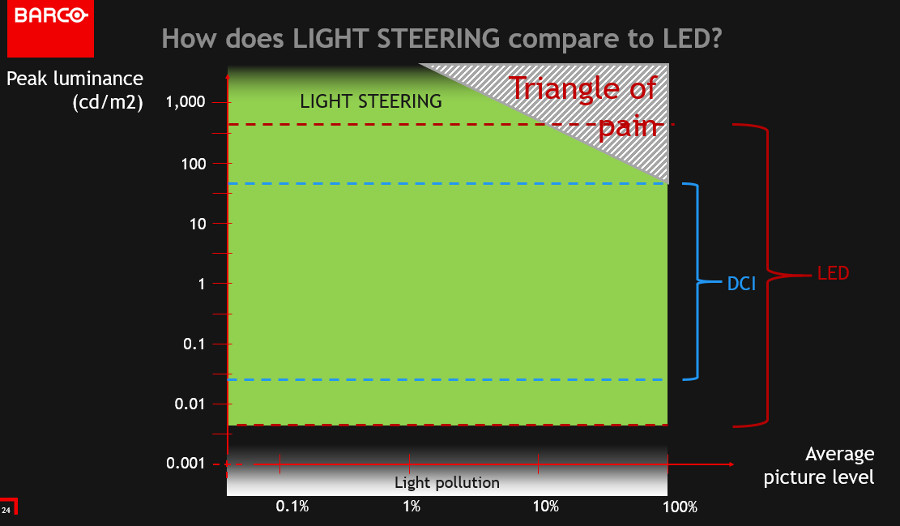 Ballestad said they current have a light steering projector at 20th Century Fox studios where it is being evaluated, but it will soon come back to Vancouver. Commercialization of the product is expected in a year or so, with an installation in a post-production house expected in the Los Angeles area "in the near future." Their experiments so far suggest a peak luminance of around 300 cd/m² is about right.
Chris Buchanan from Samsung Electronics titled his presentation, "The Importance of Being First." This was mostly a history of the development effort around the first LED cinema screen. The debut of the technology at CinemaCon 2017 was a watershed moment and that demo was put together in only eight months. By July 2017, the first commercial theater was launched in Korea, followed by a number of additional "firsts" including a 3D screen. To date, Samsung now has a total of 20 Onyx screens in 11 countries. Plus, two more DCI compliant screens will be introduced soon (a 2K and a larger pitch 4K).
Buchanan noted that some have told him that Samsung was too quick to enter the market with such an expensive product. But he thinks it is important to innovate in this market and to take a leadership position – because Samsung can. Who else would have done it if Samsung had not started this?
Gary Feather from Nanolumens started his presentation by flatly calling DLP projection phase "over" and that "LED wins, period." But the transition will take time so you need to be persistent in your intentions.
Feather reviewed some cinema statistics noting that technology is important, but story still tops all. 80% of people don't go to the movies at all representing a huge opportunity if the industry can create a compelling entertainment value proposition.
He alluded to the direct view LED specifications that DCI is developing (and discussed later by Pete Lude), saying their LED screen can meet these levels (to be fair, these specs are not set and are very nebulous in many cases). Their screen is currently in DCI certification testing and should be available in Q2'19. Feather also mentioned Chip on Board (COB) as a promising LED solution and the use of a virtual pixel, i.e., sub-pixel rendering, would be part of their solution, although he did not elaborate.
He concluded by describing LED domes they are developing that use a transparent LED substrate. Could this be a big new market opportunity area as well?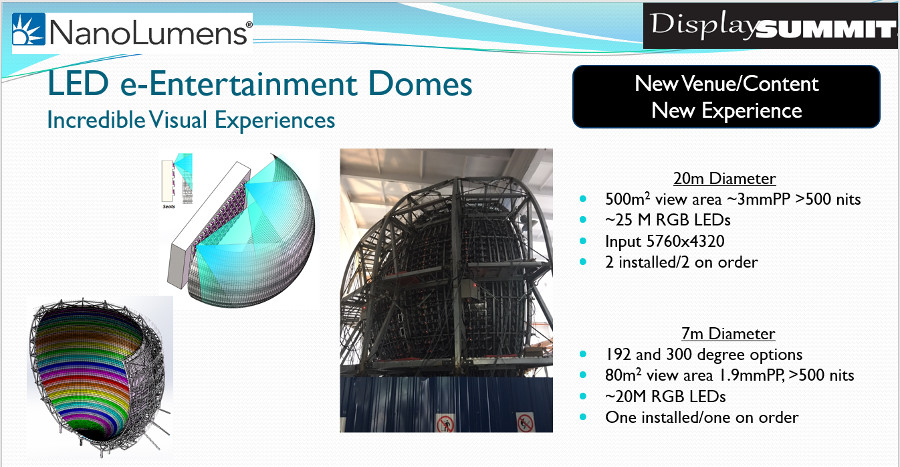 Thad Beier from Dolby Laboratories came with the message that content creators need to start doing the HDR grade first, then the SDR grade – even for theatrical releases. This may be a hard sell as 99% of theaters today are SDR so making sure the main product reaches market on time has been the priority.
Beier is not wrong in wanting to flip the order of grading as many in the community are coming to this same conclusion. Doing the HDR grade first makes for a better SDR grade. Beier's argument rests on the ability to use Dolby technology to automatically generate the SDR grade from the HDR grade with only a modest review to tweak various scenes as needed.
When content is first graded for the DCI release, Dolby can convert from the custom LUT and Gamma 2.6 to a new Dolby Cinema custom LUT based on PQ. This usually leaves the mid-tones at the same luminance levels while boosting highlights by 2.25X.
So far, over 150 Hollywood movies have been graded in Dolby Cinema and there is over 600 hours of HDR Dolby Vision content available.
Cedric Lejeune from EclairColor described their solution to solve the problem of ever expanding versions that must be created as DCP (digital cinema packages) to distribute to theaters globally. The list is growing as we add versions with HDR, motion seats, multi-screen, languages, immersive audio and even regional versions that change the content. Their solution is called Hybrid Tone Mapping (HTM), as shown below. The system he described is a combination of static color management inside the display device and per-scene adjustments.

The idea is to first grade the content in HDR with an HDR content play list (CPL) on a scene-by-scene basis. The EDR version is then graded based on the HDR version. Some scenes remain unchanged and some are adjusted. The adjusted scenes are stored separately and the new EDR content play list is created during the grading process. The same happens for the SDR grade. An optimized EOTF function is used to minimize the number of cuts.
All of the HDR, EDR and SDR scenes are added to the DCP, which Éclair says does not balloon that much. But now, a single DCP can be used to support a number of versions. At the projector or display, the needed CPL is invoked to simply playback the scenes as needed. This process can support legacy projectors and new LEDs screens as well. No metadata is created this way – just a playlist.
Lejeune said that perhaps 10% to 50% of the scenes may be changed in creating a lower fidelity version, depending upon how picky the colorist is.
Finally, Pete Lude from Mission Rock Digital took the stage to give a brief on what DCI is thinking in terms of their new Direct View Cinema specification. He noted that DCI issued a guidance memo back in July that spelled out some of the preliminary specifications and requirements it was considering for direct view cinemas, mainly LED at this stage. (DCI Takes First Step to Define HDR Cinema)
Not only is DCI concerned about content security (it is run by the major Hollywood studios), but they want to try to ensure seamless interoperability between theaters and various screens and have high quality images and sound. This requires clear, unambiguous and practical specifications.
In the area of image quality, the specification must deal with peak luminance minimum active black level, dithering, EOTF, contouring, color gamut, color accuracy and gray scale tracking. Interestingly, they are setting peak luminance at 500 cd/m² and the first step out of black at 1 mcd/m² (0.001 cd/m²). The EOTF is the PQ curve and the color gamut is DCI-P3.
But when it comes to some of the other specifications, it is more "hand waving" than specification, he said. For example, the contouring section says there will be none visible without specifying conditions or test methodology. The same can be said about gray scale tracking and color accuracy.
Lude then showed an image to illustrate two types on uniformity issues: module-to-module variations and pixel level noise. Module level variations can be dealt with via calibration but pixel noise is more difficult. There should also not be any visible borders between modules or cabinets.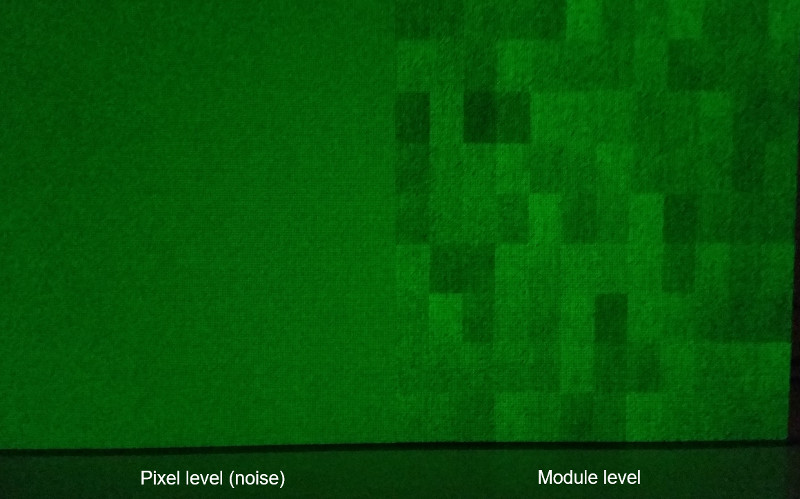 Off axis uniformity may be troubling to deal with as well as Lude showed data measurements of red, green and blue LEDs with non-symmetric distributions in the horizontal and vertical directions. That means colors may be slightly blueish on one side of the display and slightly reddish on the other. Is that going to be acceptable? And what about screen reflectivity? It needs to be black and low reflectance, but what is the spec? (<1% for specular and <10% for diffuse?)
The way LED screen are normally driven is via a multiplexing scheme where a driver will power 16 or 32 rows in sequence. This may create temporal artifacts that are not present in projectors.
He also touched on the need for greater bit depth in the drivers. 16-bit drivers are OK for SDR projectors but with the expanded dynamic range of LED screens, he feels that 20-bit drivers will be the minimum needed to avoid contouring.
DCI will also have to deal with scaling of content, which is not permitted now. But which scaling algorithms will be acceptable and how should the fidelity of the scaling be measured? That's still to be decided.
The issue of 3D specification and performance measurement must also be developed as well as a sound evaluation method.
Lude was clear that DCI is working on all this but may not have all the answers in the near term. – CC