Harman has gradually been intruding on our consciousness over the last few months and at MWC the company was showing some interesting automotive applications. The company has developed audio systems for cars and other applications for a long time, but has been repositioning itself, especially since the acquisition of Redbend, an Israeli technology company, last year. Redbend is a specialist in wireless and over the air (OTA) software updates that can maintain systems with the latest versions of code. The firm supports 2 billion devices including phones from LG and Samsung, we heard.
This is an area that Harman will be working on for the future and plans to develop the updating technology to support the automatic and controlled updating of automotive software. One early plan is to eliminate the need for car owners to take their cars into service centres for purely software updates.
The firm had an interesting prototype car that had a motorised and articulated steering column that could move the steering wheel to convert the car from left hand to right hand drive or simply fold away. The car had a central display and also a driver display.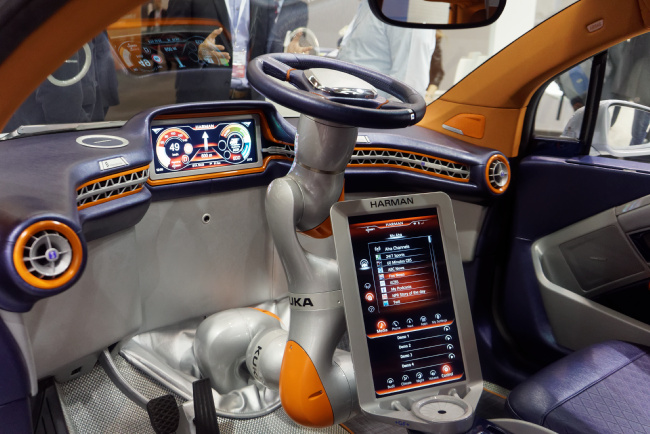 Harman's concept car allows left or right drive or folds the steering wheel away completely
Analyst Comment
Maintaining intelligent and especially autonomous cars at the right level of software is going to be a big issue. There are difficult questions of whether the control should and will be with the owner or with the auto brand that will need to be resolved. (BR)