Israel-based Giraffic was at CES showing off the latest advances to its Adaptive Video Acceleration (AVA) technology and demonstrating how it can increase video quality within a given bandwidth, or reduce bandwidth needed for high quality video delivery. Video delivery over the Internet is one application for the technology, but it can also be implemented for cable or telco delivery and to speed up file transfers as well.
Giraffic's solution is software that sits on your mobile device or appliance and acts to speed up delivery of video and files. There is no server side component. It uses standard protocols (HTTP/HTTPS, HLS, Smooth Streaming, DASH), works on any device or OS, includes a DRM, and is said to have little impact on receiving device memory or CPU.
The main result of a poor Internet-based video experience is reduced resolution and buffering that interrupts the playback. This can be caused by a number of factors.
Adaptive bit rate streaming is one way to address this issue by creating multiple versions of the video (fragments) that are encoded to be distributed at various bit rates. Once the connection is made, it is tested and the system delivers the video at the fastest possible bit rate without rebuffering. If conditions change, a lower bit rate fragment is accessed by using a manifest that says where the other fragments are located. The result is continual picture playback, but at the expense of loss of pixels or encoding artifacts if bandwidth drops.
Giraffic's AVA adds a session controller and an adaptive stream optimizer that sit between the video player on the end user's device and the Internet-based source. This session controller downloads multiple fragments simultaneously (adaptive streaming accesses video fragments in series, switching from one to the next). The adaptive stream optimizer seeks to predict the resolution of the next needed fragment of video.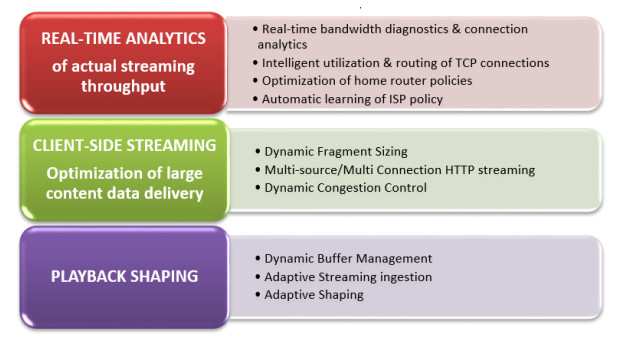 Since video over an IP network is sent in bursts, adaptive streaming can result in a large variation in data rates and picture quality. With AVA, analysis is done of the various paths by accessing the fragments to learn and optimize how to combine these and create a more consistent data rate. This works well when the connection is poor but if the line utilization is good and the network is clear, AVA will not kick in.
This benchmark below shows the results performed on a smart TV, streaming a Microsoft Smooth Streaming video clip through Amazon Instant Video, on an ADSL line with a speed of 15 Mbps. The adaptive streaming is quite variable without AVA, but with AVA engaged, it quickly levels off at a consistent 6 Mbps.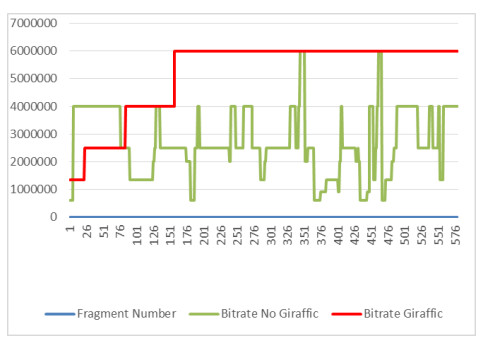 At CES 2015, Giraffic showed a number of side-by-side demos to show the advantages of AVA. We did not get a chance to see the demos, but the info below describes what they were talking about.
Samsung Smart TV – Giraffic's AVA enables true HD and UHD 4K, and accelerates video streaming by 3X on average. AVA is currently integrated in Samsung's Smart TV and Blu-Ray 2014 models and onwards.
Broadcom – Giraffic accelerates Broadcom based hybrid IP Set-top-Boxes and other media streaming devices, demonstrating side-by-side HD video streaming with zero buffering over regular home Internet connections.
Sigma Designs – Giraffic was showcasing its new turnkey reference design and SDK developed jointly with Sigma Designs' set-top boxes (STBs) and Smart TV chipsets that are designed to significantly improve the HD and UHD 4K video experience. Joint testing on the Sigma platform is said to have showed a 200-300%, increase in average download speeds, and elimination of buffering events, with minimal utilization of CPU and memory resources.
Vuser WiPao projector – Giraffic brings enhanced high quality and HD streaming innovation to China's over-the-top market through its partnership with Vuser. AVA is claimed to allow Vuser's set-top box with the built in DLP Pico Projector, WiPao, to deliver more consistent and higher viewing quality, offering true HD playback.
Intel Media Gateway – Giraffic's AVA accelerates video performance delivered to all consumers' home devices via one integration into the Intel Puma Home Gateway

Mobile – Giraffic will be unveiling its AVA mobile solutions, which accelerates:

OTT video apps to mobile devices delivering throughput of over 10 Mbps HD and UHD videos.
Large mobile-to-mobile file transfers over Wi-Fi enabling faster delivery and higher robustness and fault tolerance to network disconnects.
---