The quiet of the summer news cycle has been disrupted this week with the launch of new chips from Intel and the announcement of the Galaxy Note 8 in New York. Next week, IFA starts and then it will be time for IBC. So what do I expect to see at IFA?
IFA has a special resonance, still, in the German market. In the days of the cold war, when Berlin was an enclave surrounded by the Russian sector of Germany, but the IFA event was still held in Berlin, it became a statement of support for Berlin for German brands to attend the show, to support the city. It used to take place every two years, alternating with the Photokina photography event in Cologne, but changed to become an annual event in 2006. That was about the time when the big brands decided in the US to support only one event per year and chose CES over Comdex. In Germany, they chose an annual IFA over CeBIT, which has become a software and systems show.
IFA stood originally for Internationale Funkauststellung or International Broadcast Show, and the broadcast tower is a feature of the Berlin Messe.
I started attending and reporting on IFA in 1997, so this year will be my seventeenth trip to the event. A big change to IFA came in 2003, when commercial flat panel TVs appeared and we saw a rapid acceleration in the development of TV. Although it was clear that flat panel TV was the future, in 2003, our report included a new range of CRTs for TV applications from LG.Philips Displays.
Colour TV broadcasting started in Germany on 25th August 1967, so is celebrating its 50th birthday tomorrow, but the change since the arrival of LCD and PDP TV, along with the switch to digital has been dramatic. LCD, of course, drove out PDP. PDPs had a big problem with small pixels* which meant that the only market they could really address was large TVs, limiting the volume considerably compared to LCD, which is capable of almost any size up to around 100″, when driving becomes very difficult. It also meant that as resolutions changed from HD to FullHD, only larger PDPs could show that resolution. If I remember correctly, only Panasonic was able to make the panels in 42″ with FullHD resolution.
Resolution is not a problem for either of today's TV technologies, LCD and OLED. These two technologies are slugging it out for the premium end of the TV market and, at the moment, it seems to me that OLED is winning because of its better contrast and lack of 'halo' artefacts. Samsung decided to adopt an edge-lit design concept for its top of the range Quantum Dot backlit LCDs and this decision has cost the company the 'hearts and minds' of the TV enthusiast segment. The word on the street is that Samsung's high end TV business is really suffering in sales, at least in Europe and that's a major part of the profit of its TV business.
However, I don't expect Samsung to simply roll over and accept this, so I expect a huge effort from the company at IFA to promote Quantum Dots and the high peak brightness that its TVs can produce. The company may even show some aspect of the 'quantum dot in the filter' technology that I expect to see at CES in January. The technology ought to be able to solve the viewing angle disadvantage that Samsung's VA technology has against IPS. On the other hand, showing new concepts at IFA can risk persuading consumers to delay their purchases to wait for the newer technology, and there are a number of technology challenges with the approach, so it may be that it holds off until after Christmas, especially if it has lots of inventory.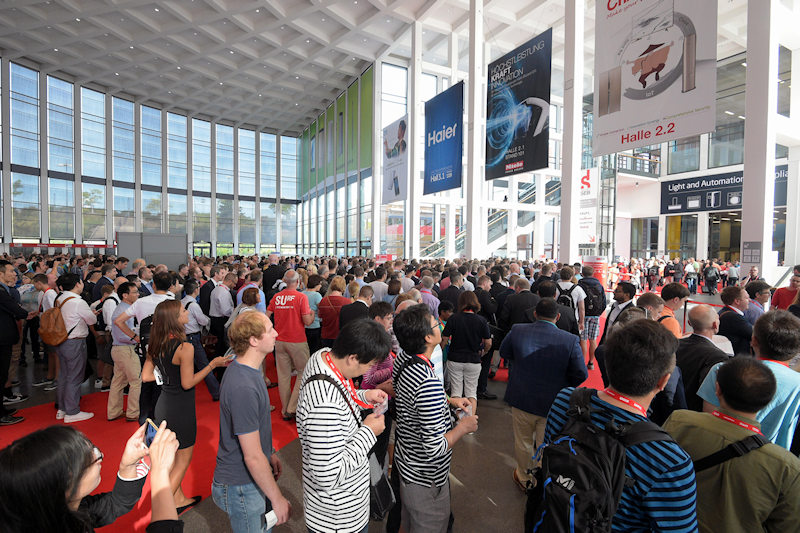 IFA is always busy, even at weekends, as the public can pay to enter, unlike CES.
I expect to see lots of HDR content and quite a lot of talk of HLG and high frame rates (HFR). The EBU, which represents public broadcasters in Europe, is keen to see HFR combined with HLG and there was a compelling demonstration by LG last year. I expect some demos of 8K, but we're still some way from commercialisation.
One of the stories of last year's IFA was the spread of OLED display technology from LG to many other brands. Panasonic is still active in the European TV market and always impresses with its OLED technology. In the past, LG Display has told us that working with Panasonic has really helped the company improve the video quality of OLED because of Panasonic's deep knowledge of video and display driving. LG will be enjoying its current winning position over image quality with OLED, although the limited production capacity that LG has at the moment for OLED may limit its development.
I also expect to see much more of the Chinese brands in the TV area. China has a lot of capacity for very large LCDs coming in the next couple of years and needs to start preparing the way for the sale and consumption of these panels in big TVs.
Last year saw quite a lot of activity in VR headsets, especially in the area of smartphone-based devices, but I don't expect to see any real breakthroughs in AR or VR at IFA. Samsung will be promoting the Note 8 and has a press event before the show, so there may be some other announcement in the mobile space, although nothing major.
Home cinema will be on show and Sony has news in that area, as well as LG, so we'll be looking at projectors.
Of course, since it became an annual event, IFA has also really embraced the appliance market, so there will be huge numbers of fridges, cookers, beauty products and cleaning appliances. Where CES has really adopted automotive to boost its interest beyond 'pure' consumer electronics, at IFA, it's the home appliances that have grown. That's partly because IFA is not just a trade show, it's for consumers to attend as well. Bob
* PDP pixels get less efficient as they get smaller. PDP pixels are like small fluorescent lamps and this size/efficiency trade off is the reason that fluorescent lamps are very long.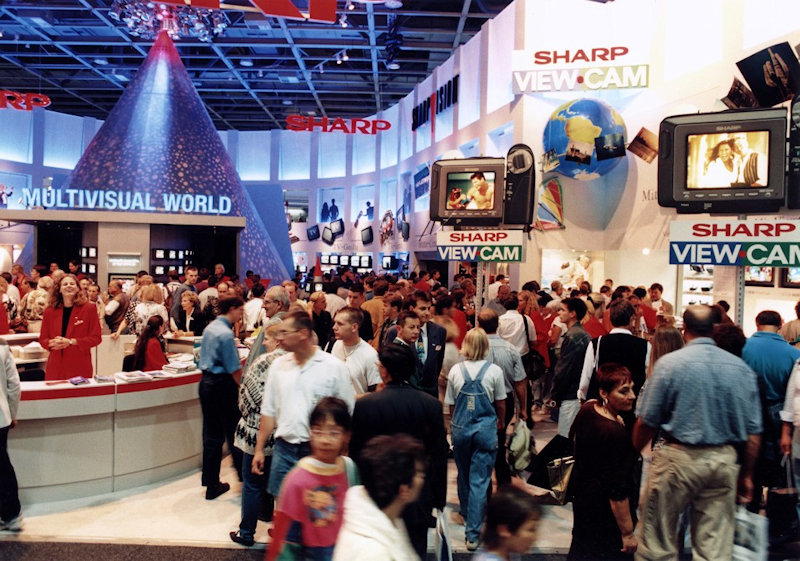 Sharp's booth at IFA 1997 – the first year I attended.