Flex has been trying to promote the range of design and manufacturing facilities that it is able to provide to brands, with its 'Sketch to Scale' tag line. The company saw that there are a lot of companies interested in AR, but the design of this kind of product needs a very wide range of technological knowledge, so is an ideal opportunity for the company. Therefore, it has created a reference design for an AR headset that was announced during CES. We spotted the release and headed down to a suite in the Venetian and had a look.
The headset has been designed for professional applications and has 8-12 hour battery life with a swappable battery for applications needing longer connectivity. The display is a 1080P resolution device although few details of the display device used although it is based around a DLP chip and Lumus optics. Connections include LTE and Wi-Fi and there is an HDMI outlet to allow the display of what the viewer is seeing. The system allows the recording of video from the integrated cameras and there is an integrated ToF depth sensor.
The processing is built around a Snapdragon 835 (specifically, the VR platform) and Flex worked with Atheer on the interaction module and its platform is available for software support. A 30 day licence to the Atheer SDK is bundled with headsets. Inputs recognised include voice and gesture. The processing unit is belt-mounted to minimise weight on the head, which is 330 grams. The design of the HMD has been created to allow a very balanced weight load to maintain comfort when worn for long periods.
There is no blocking of peripheral vision and the display can be mounted over prescription glasses and the optics are encapsulated and shatterproof for robustness. It is also Z87 safety approved for splashproofing and dust resistance, while it can survive a 2 metre drop.
Flex is still developing the system, with the next version due in April. If there are no major issues with the design, production could start in the summer.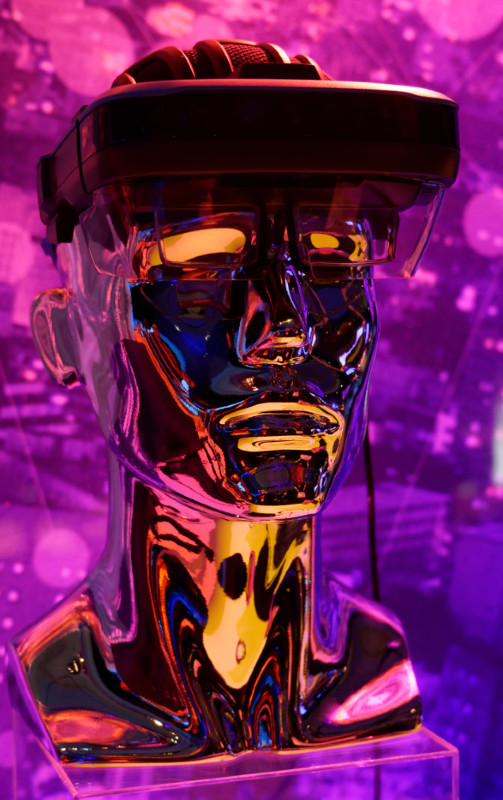 Analyst Comment
For brands looking to get into professional AR that does not have the full engineering power to start from nothing, this looks like a good option. (BR)