Local telco, Etisalat, was, as it does most years, was showing a range of IoT and other applications that exploit high bandwidth networks. We watched a presentation on the QNX operating system that was developed in Germany and was acquired in 2010 by Blackberry. The OS is widely used in vehicles, especially in the A/V systems. Many German and other brands including Bentley, Mercedes, Chrysler, Honda, GMC and BMW use the system and there is claimed to be an installed base of 60 million cars with the OS in the market.
Applications in automotive are developing and "the better the internet, the bigger the display needed" and Blackberry was showing a Mercedes CLS45 AMG that has dual displays – one for the driver and one for the passenger and entertainment and secondary applications.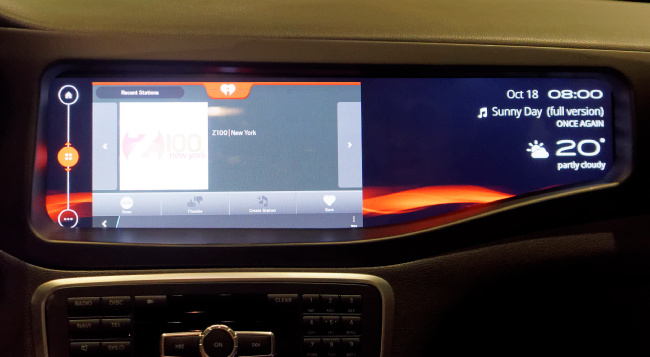 This display on the Mercedes concept car was running the QNX OS
Also on the Etisalat booth was a demonstration by Eon Reality of the US that had a "CAVE" environment using four Canon UST projectors (three for the sides and one for the floor) that were showing stereo 3D content including a demonstration of a medical education application where the user could look in detail at a head – investigating the bone, muscle and eye structures. The system used shutter glasses and a remote control that were fitted with "tracking points" so that the user was integrated into a virtual reality space.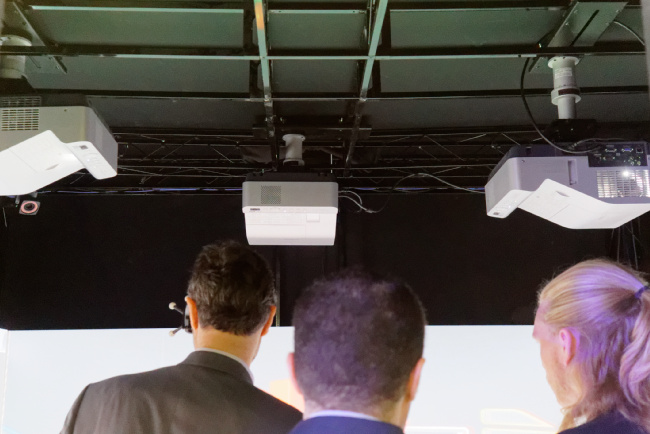 Also looking at medical applications on the Etisalat booth was zSpace which was showing a new version of the 3D system that it has previously licensed to and sold through HP. The new 300 system is an "All in One" and doesn't need a separate PC. It has a special output that can either show the same view (in 2D) as is seen by the main user (in stereo 3D) or can show a different image of the scene from another point of view. The extra display is especially aimed at education applications. The display on the new system is a 24″ FullHD unit and the system is available now for "around $6,000".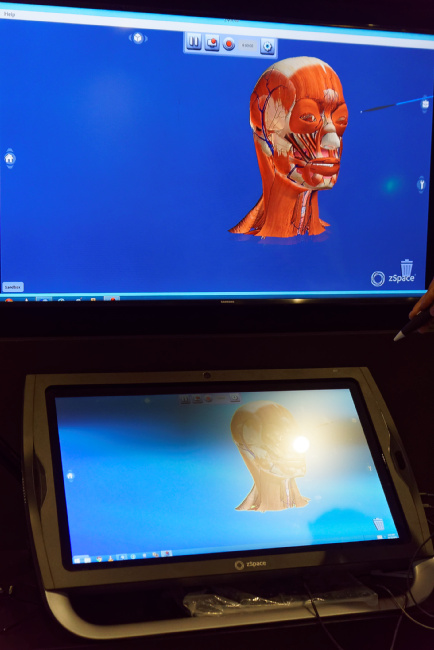 Other applications on the booth included a demo of the Recon Instruments AR glasses used for sports and new "connected socks" that can report cadence and stride details as well as feeding back GPS data allowing "virtual racing". The company also had a remote medicine system that packs into a case and can be used to transmit vital signs and video to a remote doctor and is intended for use in emergency situations, so that relatively untrained operators can act as the remote helpers for skilled doctors elsewhere. (BR)