Ericsson had what might have been the largest stand at the show, taking up one entire end of a hall by itself. However, the majority of the space was invitation-only, and only open to customers and partners. Still, the public part of the booth contained enough to see: Ericsson had filled it with future concepts.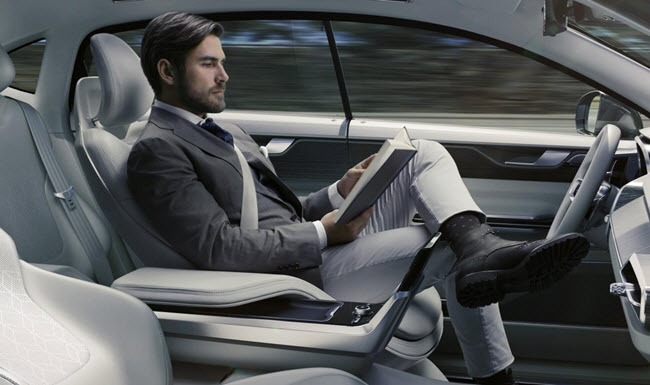 'Concept 26' was a prototype for an autonomous vehicle interior, produced with Volvo and named for the length of the average US commute (26 minutes). Volvo is responsible for the car, screens and autonomous driving; Ericsson handles the connectivity between the car and internet.
The basis of Concept 26 is 'taking the hassle out of driving'. A user can choose when to hand control of the car over to the autonomous system, such as in traffic jams, and when to take the wheel again. This is controlled by pulling on paddles behind the steering wheel (which doesn't seem like a very safe position! – TA), which then retracts as the driver's seat is pushed back. At the same time, the dashboard rotates to reveal a large screen.
The under-dash display is used to stream video. However, Ericsson knows that there are signal blackspots where live-streaming is slow or difficult; when a blackspot is detected, Concept 26 will pre-cache video to ensure continuous playback. Ericsson told us that the system will learn a user's route to work and can warn them of traffic jams (which also cause blackspots, due to everyone sitting and using their phones!).
Next to Concept 26 was Ericsson's vision of 'Immersive TV'. Although the concept itself was not new (it is simply a combination of all of the 'better pixels' features: HDR, wide colour gamut, UltraHD, etc), Ericsson wanted to promote its own involvement in the standardisation, compression and metadata aspects of TV.
At the entrance to the stand was an area where attendees could choose their top 'hot consumer trend' for the year ahead. Virtual reality and smart homes were ahead by a large margin!