IDC has reported that the EMEA traditional PC market (desktops, notebooks, and workstations) was almost flat in the third quarter of 2017, with shipments of 17.7 million units, representing a fall of 0.5%. The commercial sector had a slight growth of 0.1%, due to enterprise renewals and education deals, while holiday season promotions and gaming increased volume in the consumer segment.
Notebooks performed positively with a rise of 0.3%, and there was strong growth in CEE of 5.6%, although MEA fell 4.0% and Western Europe fell 0.1%. However, desktops were stronger in EMEA, falling just 2.9% with an 8.0% rise across CEE.
Malini Paul, senior research analyst at IDC added that while southern Europe witnessed solid results with Spain, Portugal, and Greece finally buying PCs, the Nordics slumped after several quarters of solid growth. Among the three big Western European economies, France outperformed Germany and the UK.
In Western Europe, the overall traditional PC market contracted 1.3%, based on the same quarter in 2016 and notebooks declined 0.1% after several quarters of positive performance. Although remaining negative, desktops showed some strength and fell just 5.2%. Southern Europe led growth, with France, Spain, and Portugal growing at 1.8%, 5.9%, and 32.2% respectively, followed by Benelux with 2.7%. The UK performed above expectations with only a 2.7% fall. The Nordics declined 3.2% with Sweden decreasing 4.1% and DACH also performed negatively, with Germany declining in volume by 2.9% and the consumer PC market declining 2.0%. The commercial space declined by 0.8%, though it benefited from the acceleration of Windows 10 uptake.
Nikolina Jurisic, product manager at IDC stated that the CEMA region reported flat growth of 1.0% and the CEE region posting overall growth of 6.4%, thanks to healthy demand from both the consumer and commercial sectors. The overall desktop market recorded further strong growth of 8.1% with demand mostly driven by a few large deals, while the consumer sector saw a marginal yearly decline of 0.5%. The notebook market had growth of 5.6% driven by demand in the consumer space. In the MEA region, there was a fall of 4.5%.
Traditional PC market consolidation is still progressing, and the three top vendors share continued to grow in 2017Q3. The top three players accounted for 60.2% of the total market volume, compared with 57.0% in 2016Q3.
HP remained the largest vendor in EMEA, gaining 1.3% market share to reach 27.2%.
Lenovo continued in second spot, gaining 1.2% market share to reach 21.3%.
Dell retained its third position gaining 0.8% with a market share of 11.7%.
Asus faced a challenging quarter, with 8.9% market share with its desktops declining further, but it is consolidating its position in the notebook space in CEMA.
Acer Group ranked fifth, with 8.4% market share, mainly driven down by Western Europe and MEA. In CEE, however, the vendor reported double-digit growth demonstrating its stronger foothold.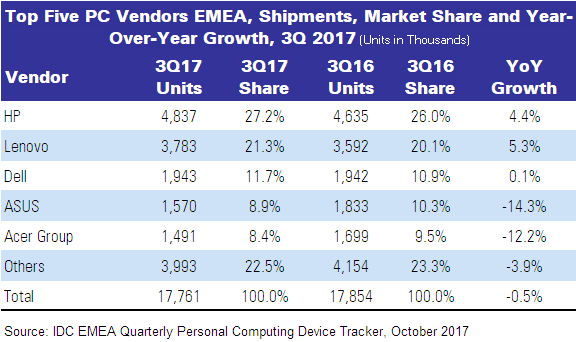 EMEA Traditional Market Almost Flat in Q3 2017 (shipments in thousands)