Elo started by telling us that it is seeing the Android environment 'booming' and it has very happy with its decision to focus on Android-based systems rather than just touch displays. The company told us that the 1 Series which has been 'retail hardened' and runs Android 7, has seen sales going 'through the roof', with sales 3X higher than early 2017. The company told us that many retailers liked the idea of using tablets to help assistants give better service and convert more sales, but early deployments based on 'pure consumer devices' showed the issues with designs that were not created for heavy duty use.
At the show, the firm announced I-Series 2.0 for Android in 10″, 15″ and 22″ devices. The new series uses a Snapdragon octacore processor, Android 7.1, 3GB of RAM and 32GB of storage. Power over Ethernet (PoE) is an option in 10″ and 15″ and all sizes are available in black or white.
Elo told us that it has done particularly well with its 10″ device which can be 'locked down' to limit the functions and apps that can be run. It also highlighted the recent version of Android that is supported – many Android-based devices often run older versions (and we found Android 4 and Android 5 to be common on the show floor – Man. Ed.). We reported at some length last year on the centralised control and management that Elo devices have and also from the NRF show a couple of weeks ago. (NRF: Other Technology)
At one time, the company had a wide range of different touch technology, but is now almost 100% PCap-based with just a 70″ display still using infrared technology.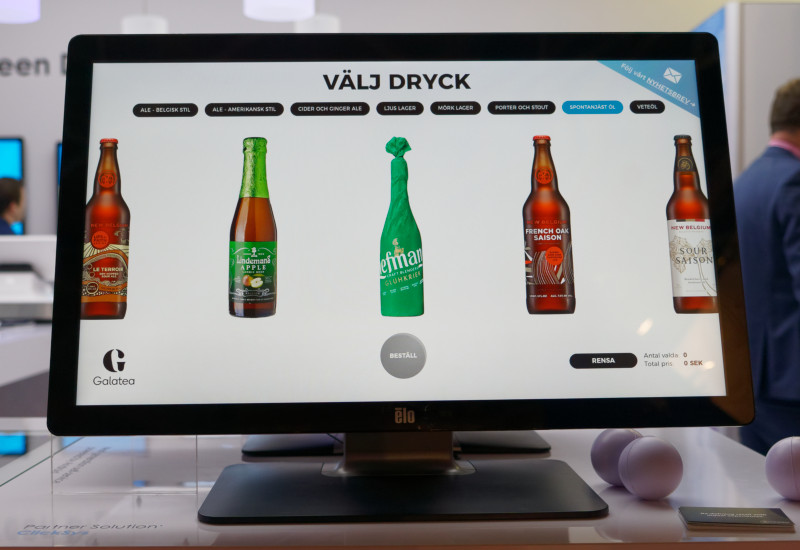 Retail is a strong market for Elo's Android-based systems. Image:Meko
Elo is working with a range of partners on full retail solutions including pedestals that can integrate printers from Star, Epson and Citizen, the major makers of POS printers. The company told us that it calls the pedestal "The Wallaby" as it has a 'pouch' for the printer! There are also a range of payment terminal options.
The company does still have monitors and announced the 03 series which are available in 19″ 5:4 aspect and 21.5″, 23.8″ and 27″ wide aspect ratios with FullHD. The monitors have edge to edge glass and are rated for IP54 and with IEC60601 certification making them suitable for applications including medical.