Eizo has released its first 27″ UltraHD monitor, the EV2785 which has a frameless design and USB Type-C connectivity and notebook charging up to 60W.
The display uses an IPS panel with 350 cd/m² of output and 1,300:1 contrast and 5ms response time. The monitor has a two port USB hub and DisplayPort 1.2 and dual HDMI inputs. The monitor has dual 1W speakers. Special modes include Paper, Movie, Dicom and sRGB as well as dual User modes. The monitor has touch controls Energy Star 7 and TCO Certified Displays 7 certification.
Separately, the company announced the MS236WT, an addition to the RadiForce medical range that has a PCap touch facility that supports pen input. The 23″ monitor has an IPS panel with FullHD resolution and 260 cd/m² of output. Inputs include DVI-D, DisplayPort and VGA. There are dual 1W speakers and a USB hub (with 1 port for the touch).
The monitor can be used for clinical review and has a Dicom mode. It will be available in December.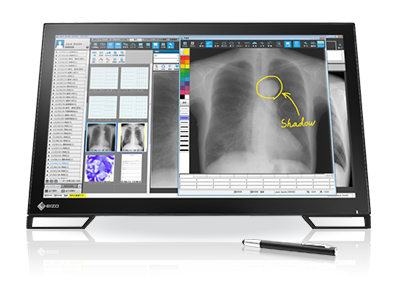 Eizo will be at the Medica exhibition in Düsseldorf from November 13th to 16th. There will be two new 3D monitors, the EX2620-3D and EX3220-3D as well as a new 49″ wall monitor for operating rooms. Another new monitor will be a 55″ UltraHD unit as well as a new endoscopic monitor with 4K resolution. The RX560 is a dual MammoDuo monitor with dual 5 megapixel (2048 x 2560) IPS panels and 1,100 cd/m² of brightness (500 when calibrated) and 1,500:1 contrast ratio.