OTT TV and video revenues in EEMEA [19 countries] will reach $2,635 million in 2020; up from only $52 million recorded in 2010 and the $616 million expected in 2015, according to Digital TV Research's Eastern Europe, Middle East & Africa OTT TV & Video Forecasts report.
From the $2.21 billion in revenues to be added between 2014 and 2020, Russia will contribute $795 million, with Turkey bringing in a further $219 million. Russia will remain the largest revenue earner by some distance.
Simon Murray, Principal Analyst at Digital TV Research, said: "OTT in Eastern Europe, Middle East & Africa will still be an immature sector by 2020, although this is an improvement on the very immature status by end-2014 and its nearly non-existent status in 2010."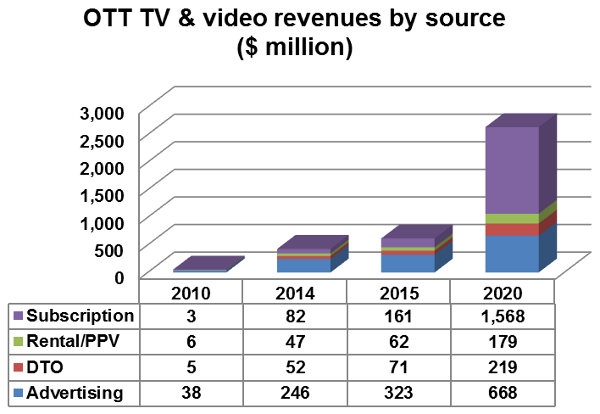 SVOD will become the region's largest OTT revenue source in 2017. SVOD revenues will total $1,568 million by 2020 (60% of total OTT revenues) – up from only $3 million in 2010 (6% of total OTT revenues).
Digital TV Research forecasts 24.22 million SVOD homes by 2020, up from 69,000 in 2010 and an expected 3.13 million by end-2015. Russia will overtake Poland to become the largest SVOD country in 2015. From the 22.71 million SVOD home additions between 2014 and 2020, Russia will supply 8.97 million, Turkey 2.37 million and Poland 2.07 million.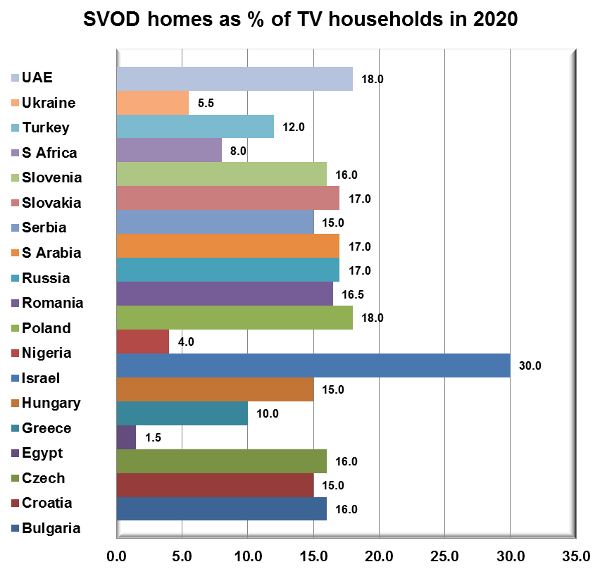 By 2020, 12.3% of the region's TV households will subscribe to a SVOD package, up from only 0.8% by end-2014. Penetration rates will vary considerably: from 30.0% in Israel to 1.5% in Egypt.