New research conducted by Omdia indicates that the Central and Eastern European (CEE) market is expected to experience restrained growth in the realm of free ad-supported streaming TV (FAST) revenues. While the CEE market is projected to reach $42 million by 2028, it lags behind other regions due to various market dynamics.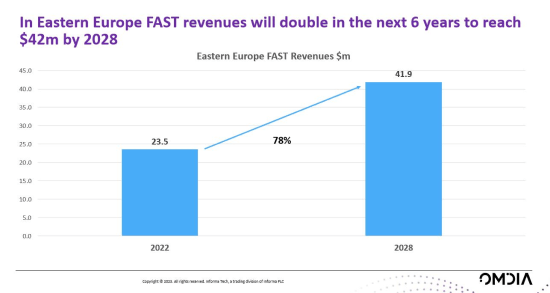 Traditional linear TV and social video platforms have traditionally driven video advertising revenues in the CEE region. Linear TV has generated $5.6 billion, while social video platforms have generated $1.1 billion. Pay TV and the enduring free-to-air viewing model continue to thrive in this market. However, the online advertising market in CEE is less developed compared to Western Europe, resulting in reduced consumer interest in FAST services.
At present, the CEE market is nascent in terms of FAST platforms. Rakuten and Plex are the only major FAST platforms available, with a few local players like Kabaret TV in Poland. The limited availability of FAST options hinders the market's growth potential.
International FAST channel operators have not yet ventured into the CEE region due to its smaller market size. ITV Studios, for instance, cited the cost of dubbing as a primary reason for not launching FAST in Italy or Spain. This factor implies that CEE markets, which encompass multiple languages, may fall further behind.
To address the challenge of dubbing costs, channel operators such as DAZN are exploring the potential of artificial intelligence as a cost-effective solution for providing dubbed content. This could pave the way for future expansion of FAST services into the CEE market.
While the CEE market is on track to achieve modest growth in FAST revenues, it faces hurdles such as limited availability of platforms and a less developed online advertising market. As channel operators seek cost-effective dubbing solutions like artificial intelligence, the potential for the CEE market's expansion in the FAST sector could increase.
| Summary | Figures |
| --- | --- |
| Projected FAST Revenues | $42 million by 2028 |
| Linear TV Revenue | $5.6 billion |
| Social Video Revenue | $1.1 billion |
| Available FAST Platforms | Rakuten, Plex, Kabaret TV |