Dolby was not showing anything new in its video and Dolby Vision technology, but was concentrating on highlighting the adoption of the technology which is now being supported by 18 different consumer electronics brands and there are now sets from €350 upwards that support the protocol. The adoption by Apple is significant and at both IFA and IBC we heard that Netflix is mandating that content is contributed in Dolby Vision format. That means that every major studio and content provider is likely to have to support the technology in future. (unless they decide to bypass Netflix and go directly to the consumer).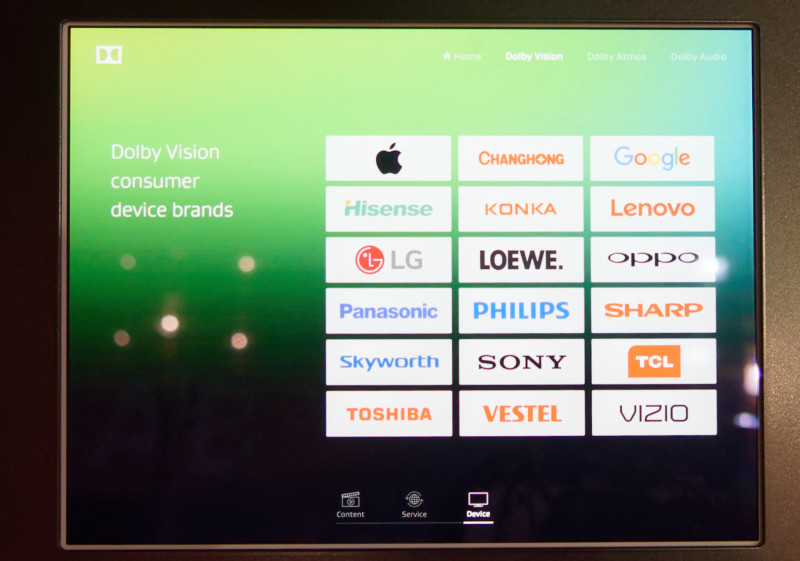 Dolby Vision has 18 CE device brands. Image:Meko
There are now 16 content partners and they go beyond the Hollywood studios. Dolby listed nine different streaming services:
QIY
iTunes
ivi
Netflix
Plala
Rakuten TV
Tencent
Vudu
Youku
In the professional space, Dolby Vision is now supported by Ateme and Elemental who can encode live broadcast streams based on the technology. Ten Cent in China is now providing live video using both Dolby Vision and Dolby Atmos. The XBox One is now enabled for Dolby Vision (Dolby Vision Comes to Xbox One — For Select TVs Only). The first PC game with support (Mass Effects Andromeda)
(We discussed the potential HDR format that is at candidate status in China and the staff we met weren't sure if Dolby Vision was included. However, given the licensing and fees issue, we'd be surprised to see the Dolby7 scheme being used).
Analyst Comment
We asked Dolby about how the Atmos next generation audio could be rendered for VR and we got a big smile and a request to "stay tuned for news, soon". (BR)