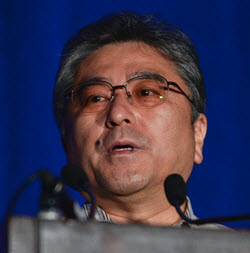 Keynote address are meant to set the tone of a conference and help point in the general direction of what's to be expected in the hurried and meeting-packed days to come. This was particularly evident in the JDI Keynote that opened DisplayWeek 2016 and entitled 'Opportunities and Challenges in Mobile Displays', presented by JDI's Senior Fellow, and CTO Hiroyuki Ohshima. He gave the standing room only crowd of the world's top display industry experts, (and writing hacks like me) his vision of display opportunities that include "System Integrated Displays", "Flexible displays" and what he calls "Integrated-Live Interface" or future input output device tailored to the human sensory system. He also looked at the challenges we face to getting there.
For example the JDI roadmap for Gen 3 system integrated displays include hovering, proximity, edge sensing, curved surface sensing and low power, that comes on the foundation of Gen 2 systems that support use of a stylus pen, brush pen, feature narrow border, and can display "real" blacks in "high" resolution. In Gen 4 integrated displays in the mobile space, the display is the sensor, hence the emphasis on system integration.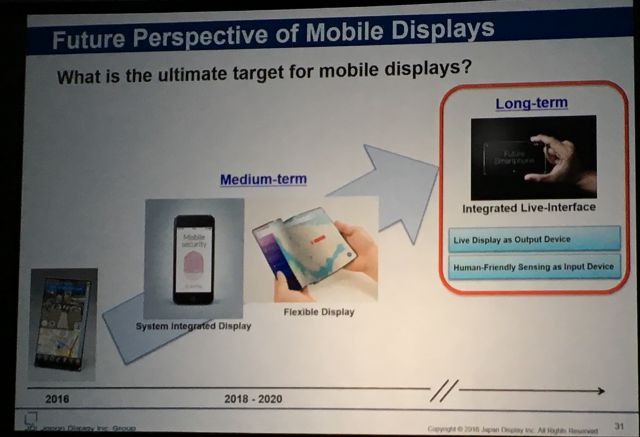 At Display Week 2016 Keynote, company CTO Ohshima-san gave JDI's version of mobile display's future, photo: SechristOhshima said ultimately, the target for mobile displays is this "Integrated Live Interface" that is the display not only as an "output device" but a human friendly, sensing, "input device" that supports a dynamic lifestyle with flexible, foldable attributes. Look for these anywhere from 2018 and beyond. Here the future display – input device will include both human and environmental sensors (vital signs and barometric pressure for example) bio security (palm and finger print) as well as more traditional input systems like pen, touch and camera.
On the output side, the display must continue to improve to offer "real consistency" in human visual performance, and we are already well on that path with impressive progress in the mobile space in the areas of established high frame rates, HDR, wide color, high resolution and wide viewing angle (he even mentioned 3D).
On the flexible side, Ohshima said design evolution began with the ultra thin displays, then moved to curved and upstream to flexible and foldable systems. Initial evolution will include both LCDs and OLEDs with both sharing the LTPS backplane according to Ohshima. LCDs will stay with flexible glass substrates, but he sees the technology giving way to OLEDs that can use plastic substrate material. The glass plus the requirement for a rigid backlight make it "challenging" for LCDs to continue mid- to long-term in the direction of flexible – foldable displays. JDI sees OLEDs dominating this space once you go beyond the mid-term (say beyond 2018, as inferred by his presentation.)
But while OLEDs are heir apparent in the long term mobile flexible – foldable space there are issues the technology still needs to address. The top ones for LCD include: reliability, system integration and a narrow border. In fact in Ohshima's view, flexible is the only attribute (albeit a huge one) that OLEDs really offer over the entrenched LCD technology.
Overall, we found this keynote to be a "feet on the ground" presentation of the LCD technology roadmap for mobile displays going forward. The keynote helped to set the tone for conference goers and those looking at mid-term direction of the LCD in the mobile space. It was also a great primer for the follow-up talk by mobile OLED display maker Samsung. – Steve Sechrist
---