If you never heard of Dispelix Oy before you are not alone, this startup company is a spin off from VTT Technical Research Centre, Finland. The company offers something that the AR companies have been looking for quite some time, a thin optical lightguide.
According to the press release, the new solution allows for distortion free images, a thin form factor (>=1mm), low manufacturing cost, and even complex shapes. It almost sounds too good to be true. Nevertheless, this kind of solution is really needed to advance the development of more fashionable consumer-oriented AR devices. The technology supports the development of sunglass-style smartglasses, a step that many see as an important step in the adoption of AR glasses.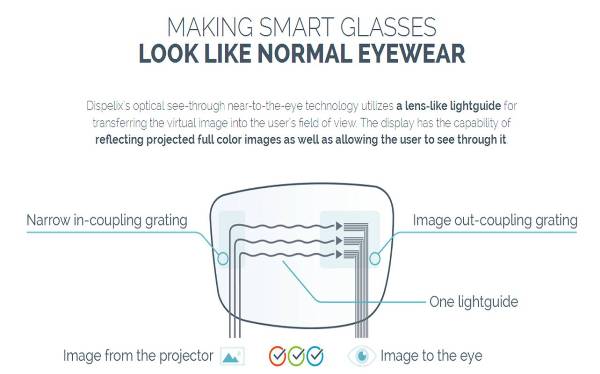 Source: Dispelix Oy
The technology was developed by the VTT Technology Research and has now been put into the hands of Displelix Oy and its managing director Antti Sunnari. They do say that the technology is patented, but a search under patent applications as well as granted patents in the US database does not show anything relevant. Maybe the patent application is not published yet, or the patent is well hidden.
Dispelix Oy shows how the system works in principle as shown in the image. There is a narrow in- coupling area based on gratings and a wider out-coupling area in front of the eye. This is where the image will appear. There is no more detail on how the optical system is designed and how the lightguide functions. Based on other patents from VTT, we found that they have worked on optical touch panels that used total internal reflection and this new system may very well be related to this work. Nevertheless, Dispelix Oy has produced prototypes that support their claims and shows the general possibilities of the technology.

Source: Dispelix Oy
Dispelix also says that there are no optical aberrations or rainbow patterns created in the lightguide. The out-coupling area reaches a transparency of 60% to 80% and a 29° field of view. All common forms of imagers including LCOS-, LCD-, and LED-microdisplays as well as LED / Laser projectors can be used in conjunction with the lightguide. (NH)