Digital Signage Week in New York was like a trade show without a convention center – every company supplied its own venue. I managed to make it to four different companies' locations during the week: the NEC Showcase, Leyard/Planar, Stampede and LG. Ken Werner also went to the LG event and covered the OLED displays shown there pretty well in his Display Daily on November 9th, so I won't write much about it. The Stampede event was a mini-trade show in its own right with multiple companies showing their digital signage and other pro AV hardware and software.
The NEC Showcase
The NEC Showcase was run by NEC Display Solutions of America and highlighted both NEC displays and hardware and software from NEC partners that worked with NEC displays. Of course, most of this partner hardware and software will work with non-NEC displays as well but that wasn't how it was featured at the NEC Showcase.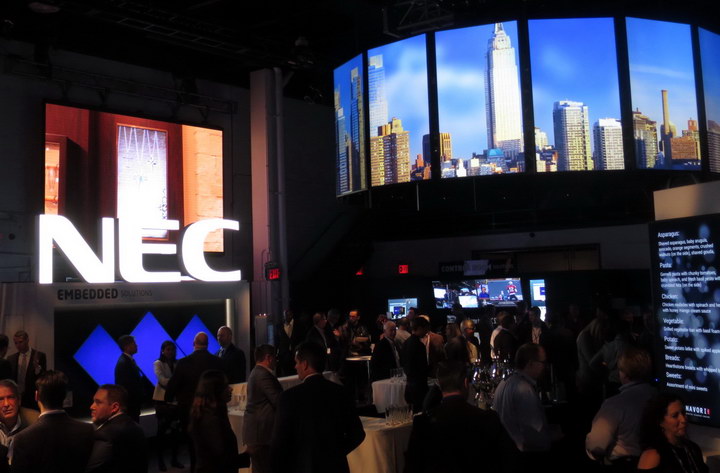 The NEC showcase featuring the main display on the left behind "NEC", a LED videowall array of NEC's L040i 4.0mm pitch tiles. (Credit: M. Brennesholtz)
I've been to the NEC Showcase several times before and all I can say is "The times they are a changing." The centerpiece display has always been a large screen projector in the past but this year it was an array of NEC's L040i 4.0mm pitch LED tiles. From across the room it looked like a projected image and I couldn't tell it was a direct view image until 1) I couldn't find the projector and 2) I got close enough to see the pixels. As an old projection guy, I'm sorry to see projection being displaced by direct view LED and LCD but… This photo also shows the digital chandelier display made from 16 55" V554 large format LCD displays in portrait orientation. The chandelier display used TVOne's Coriomaster to drive the content.

Left: The NP-PH3501QL projector mounted inverted on the ceiling. The ring structure is the support for the chandelier display. Right: The color gamut of the PH3501 and its 26K lumen brother, the PH2601QL. (Credit: Left, M. Brennesholtz, Right, NEC)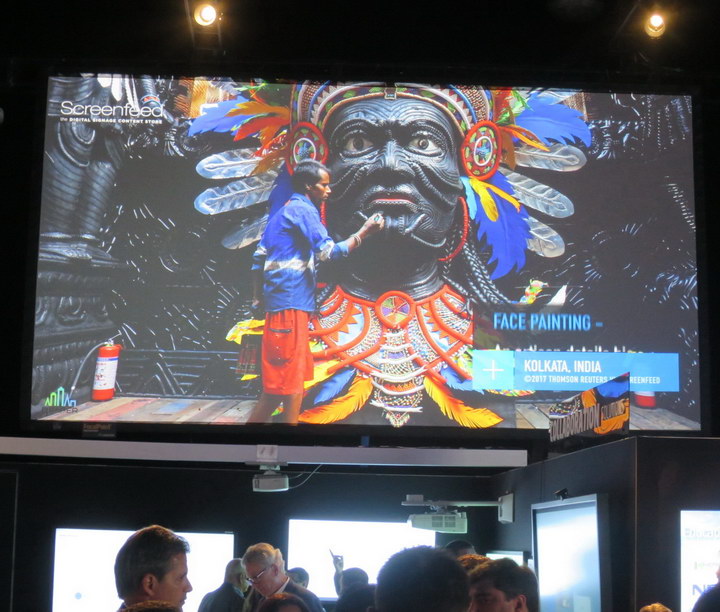 Image produced by the PH3501QL. (Credit: M. Brennesholtz)
NEC did have one large screen projector on display, the recently introduced PH3501QL, which was first shown in Beijing on May 25th but has not yet been covered in LDM. This 35,000 lumen laser-phosphor projector is a pro AV version of a digital cinema projector. It uses a 4K 3-chip DLP optical engine driven by pro AV electronics rather than DCI-compatible electronics. The HDMI, DisplayPort, HDBaseT and SDI interfaces and the electronics will show content up to 4K60P or 4K120P, including Rec. 2020, HDR and 3D content. Four lenses with 2K resolution and three lenses with 4K resolution are available for the projector.
The PH3501QL projector and its 26K Lumen brother, the PH2601QL, use red and blue laser diodes to make the red and blue light respectively. The green light comes from a blue laser diode and green phosphor. This arrangement is said to provide DCI-P3 colorimetry and have a 20,000 hour life to 50% output. The projector made a very nice image with, not surprisingly, very nice color. 4K still image content from Screenfeed was being shown, allowing time to inspect every image and I could see the resolution was very nice as well.
NEC calls this dual-laser approach "Laser Plus." According to Cui Yongxin, VP of sales support for NEC (China) Co., Ltd. display product solutions business group, NEC regards cold light (i.e. not lamp) projector research and development as its core strategy in the projection market.
While at the NEC Showcase, I discussed the question of video distribution of signals to the elements of a video wall with DataPath and Hiperwall. These two companies take radically different paths toward the same goal: dividing one or more input video signals up to be shown on one or more (mostly more) displays. For both companies, these displays can be in a regular array, an irregular array or completely separate from each other.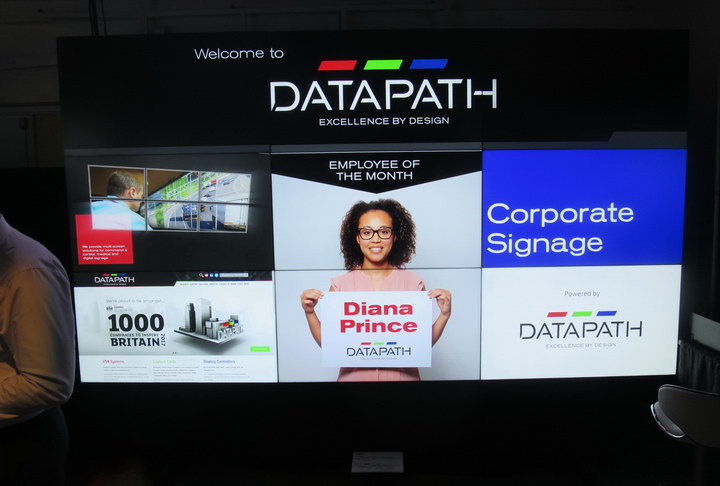 DataPath demonstrated their video routing hardware using a 3×3 array of NEC UN551S ultra-narrow bezel large screen displays. (Credit: M. Brennesholtz)
DataPath takes a hardware path. They were showing their VSNMicro 600 video wall controller which can handle up to six I/O cards and each card can handle up to 4x1080P or 2x4K signals. As shown at the NEC showcase, the unit had two input and 3 output cards and provided video not just to the array in the image but to several other displays as well. Other VSNMicro controllers can handle up to 11 I/O cards and two of the larger units can be daisy-chained to handle up to 64 screens. The output cards can provide a variety of video signal types and the controller connects directly to each display using a standard video interface. I was told the VSNMicro 600 controller as shown at the NEC showcase, including the five I/O cards, would sell for about $13,000.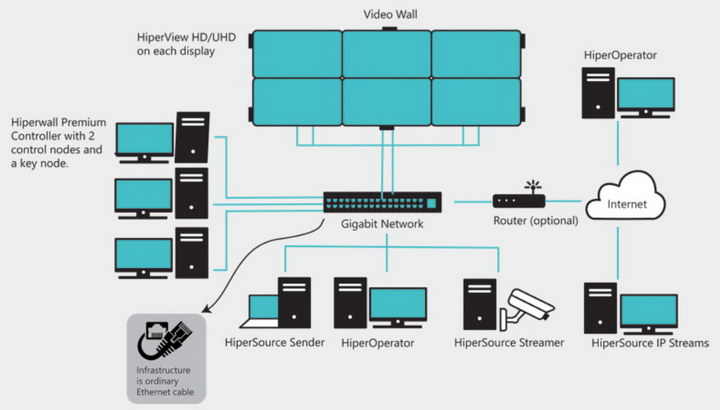 A sample Hiperwall network. Hiperwall would supply only the software for the system and none of the hardware pictured. (Source: Hiperwall)
Hiperwall is a software-only company and the end user (or his system integrator) must supply all the needed hardware. The Hiperwall software is designed to send the video over Ethernet IP connections to the displays. A standard PC can be the master system and the video can be routed through standard IP routers, no special video hardware needed.
Their system (and similar systems from other suppliers – see Key Digital below) does not use the media over IP (MoIP) protocols currently being developed by SMPTE and others as the SMPTE 2110 suite of standards. This MoIP system is being developed by the broadcast industry to satisfy their needs for real-time, uncompressed, low-latency video.
The Hiperwall signals are H.264 AVC compressed by the controller PC. The signals are then routed over Ethernet to a small H.264 decoder at each display. For the NEC displays used at the showcase, this Hiperwall decoding software at the display ran on a NEC Open Pluggable Specification (OPS) card installed in the display's card slot. The only hardware requirement on the Ethernet router(s) in the path is it be Internet Group Management Protocol (IGMP) compatible. IGMP is an IT protocol, not a video protocol, so it is common for routers to follow it.
The Hiperwall system can have significant latency for the video. The H.264 encoder at the source imposes between 100mS and 600mS of latency plus there can be additional latency, normally less than 200mS, when routed through Ethernet. Typically, this IT latency would be minimized by having a closed network that is used only for the transmission of the video signals. Hiperwall software is targeted at low-end control rooms and digital signage applications where this level of latency would normally be acceptable.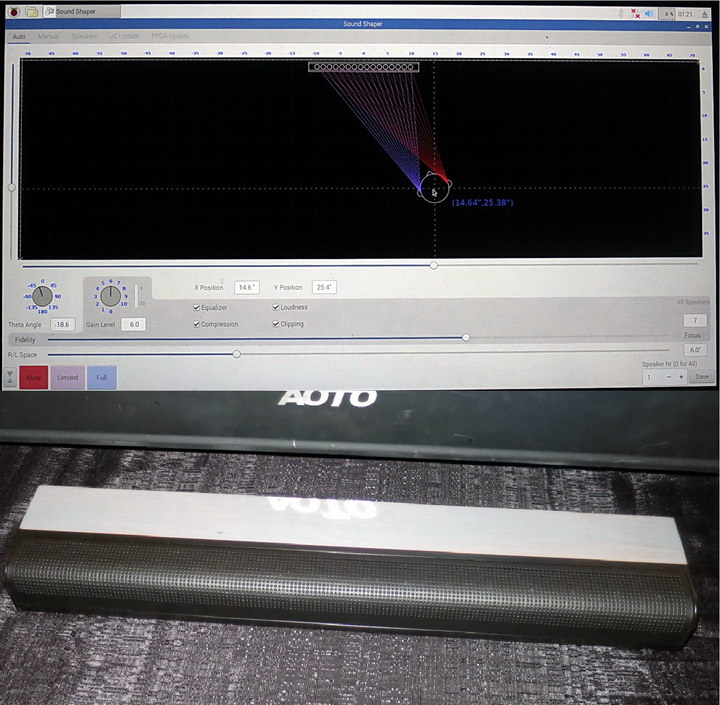 Brown Innovations Sound Shaper system to control the direction of sound. Top: the control screen showing the sound aimed off-axis. Bottom: the 16-speaker sound bar. (Credit: M. Brennesholtz)
Brown Innovations was at the showcase with their highly directional sound systems. These create small areas of sound and can create multiple areas of different sound for museums, digital signage, tradeshows, restaurants, or other public environments. I talked to Jeremy Allen who showed off the companies new Sound Shaper system that not only was highly directional, but the direction could be controlled from a computer. The system was based on a 16 speaker sound bar with all speakers omnidirectional. The direction of the sound was controlled by controlling the phase of the sound at each speaker, creating a phased array that directed the sound as desired. Cool!
Leyard/Planar
Leyard/Planar held an open house at their permanent New York location, a space they share with one of their large New York installers. Vince Schuster, Director of Sales for the Northeast, gave me a tour of the space and explained the products being demonstrated. None of the products I saw were new so I'll just cover them in brief.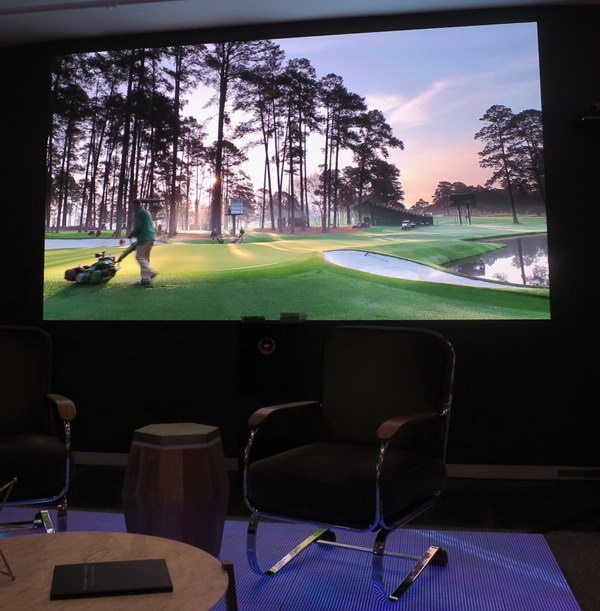 Leyard/Planar 1.2mm PLTS videowall. The room was actually quite bright but this photo is underexposed to catch the detail on the video wall. Even so, Leyard was only running the display at 20% of its maximum output. (Credit: M. Brennesholtz)
I got to see and test the Pliable LED Touch Surface (PLTS) direct view LED videowall that had been introduced at NAB earlier this year. (See LDM 24:17 and 24:16) The PLTS serves to protect the 1.2mm pitch videowall from the user's touch. The actual touch system is IR and surrounds the wall and the PLTS material can be replaced if it gets damaged or dirty. The touch walls can be built in 2×2, 2×3 or 2×4 arrays, with the 2×4 array having a 190" diagonal. The primary market is expected to be collaboration with a secondary market in museums. The unit is also suitable for on-air broadcast use, hence its introduction at NAB. According to Schuster, most LED videowalls for on-set use have a 1.4mm or 1.6mm pitch and this is fine enough to avoid moiré with the camera. In an on-set touch system, the camera will often focus on the talent, including his hand which is touching the LED array. When focusing the camera on the array, it is believed to be necessary to use the finer pitch to avoid moiré.
He added that Leyard/Planar installed a 1.5mm pitch touch screen unit at Fox Sports about four weeks ago, primarily to test the usability of 1.5mm vs. 1.2mm in the broadcast environment.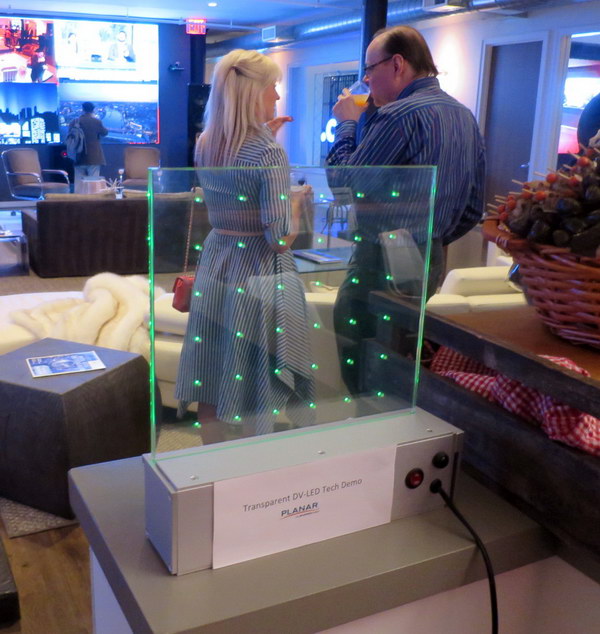 Technical demonstration of a fully transparent LED array (Credit: M. Brennesholtz)
He showed me a demonstration of a fully transparent LED array. The unit shown at the open house had a 65mm pitch and the company has also built units with 32mm pitches. The color of each LED could be varied through the complete range of red, green and blue, including desaturated colors and white. This unit was not a prototype of a product but, rather, a tech demo. It was in New York for the Leyard/Planar Digital Signage Week open house so the company could talk to their digital signage customers to see if there is any interest in a product like this and what the applications would be.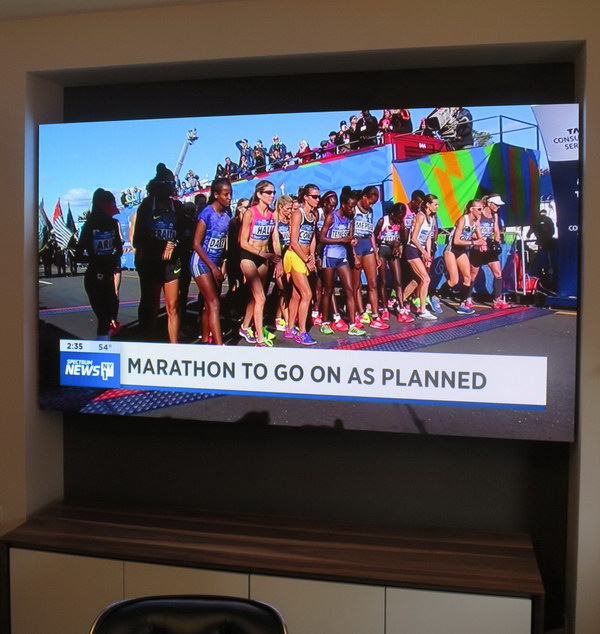 108" 2×2 array of 0.9mm LEDs is seen as a replacement for 103" Plasma panels. (Credit: M. Brennesholtz)
I was also shown a 2 x 2 array of 0.9mm pitch direct-view LED modules with a resolution of 1920 x 1080. The unit had a 108" diagonal. Schuster said this has been very popular as a replacement for end-of-life 103" plasma displays in meeting rooms and other venues. He also told me about a 0.7mm pitch LED video wall that Leyard/Planar is planning to put in production in the first half of 2018. This unit will target higher education, boardrooms and the military with secondary markets in oil & gas and medical applications. He expects that this technology will eventually replace 4K projectors, at least in high-end applications. He said that projector sales at Runco, a Leyard/Planar company that makes ultra-high end home theater projectors, are declining from the competition with LED videowalls.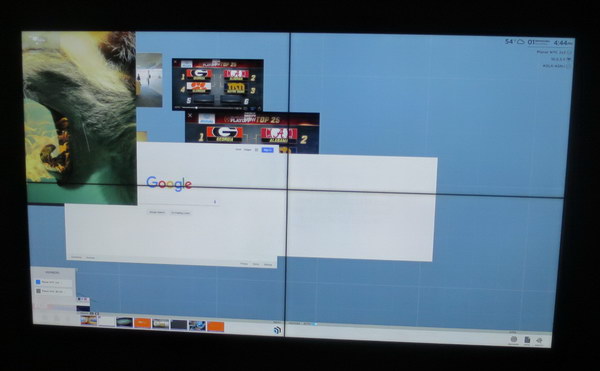 2×2 array of HDX-series LCD panels (Credit: M. Brennesholtz)
I was shown a 2×2 array of Leyard/Planar's HDX series LCD panels that represent the company's narrowest pixel-to-pixel gap. Schuster said the gap between pixels was 1.7 mm but it seemed like more than that to me. Perhaps that's because the week before I had seen Barco's 3×3 array of Barco's new UniSee panels with a 1.09mm pixel-to-pixel gap. Perhaps the UniSee system has spoiled me for anything at all with a larger gap.
Stampede
Stampede is a value added distributor of Pro AV hardware and software that ran its annual "Big Book of AV tour" in New York during Digital Signage week. This tour focuses on sales to pro AV integrators and they typically show only products currently available, not the next generation that will be available "real soon now." As such, most of the products shown have already been discussed in LDM so I'll only go into a few things that were being exhibited.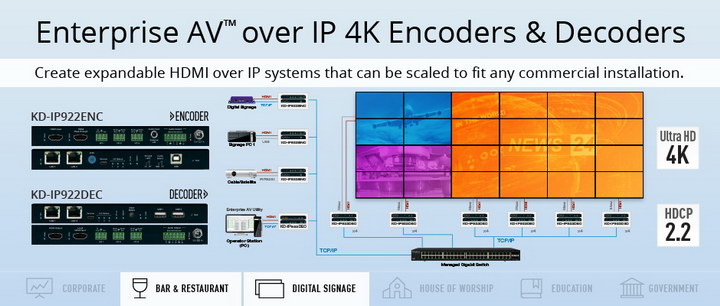 Key Digital's Enterprise AV over IP in a 4K application (Credit: Key Digital)
Key Digital was there with their Enterprise AV system. This is an Ethernet & IP-based video distribution and control system very similar to the Hiperwall system discussed above. One key difference between Key Digital and Hiperwall is that Key Digital is not just a software supplier, it is also a hardware supplier so it can sell an integrated system. Like Hiperwall, generic IT routers can be used as long as they are IGMP compatible. Also, one encoder is needed per source and one decoder is needed per display.
Like any IT-based video distribution system, the Key Digital Enterprise AV system is subject to latency. The Key Digital decoders cope with the IT portion of the latency by having a buffer that can provide up to 200mS of delay for lip synchronization. While Key Digital also can provide system control software so simpler systems can be controlled by an iPad,, the system can also be controlled by a Crestron system. The system is HDCP 2.2 compliant and can route HDCP encoded video, including breaking down HDCP encoded video for the multiple displays in a tiled array..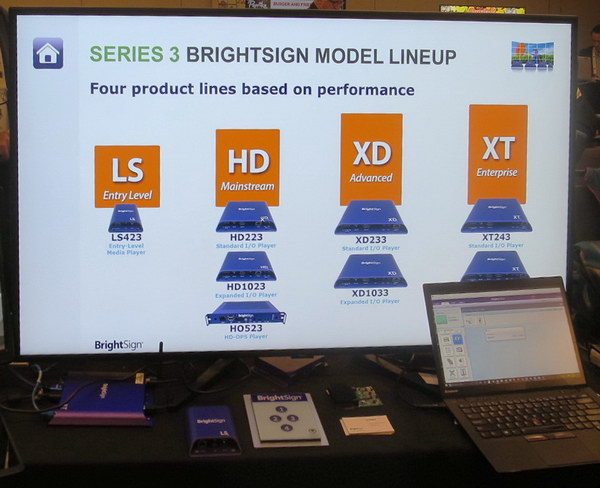 BrightSign digital signage product lineup. Note the LS and XT modules on the table under the display (Credit: M. Brennesholtz)
BrightSign was also at the Stampede event featuring their Series 3 digital signage media players from the entry-level LS model to the Enterprise XT models. These units range in price from $250 for the LS model to about $600 for the XT model. All of the units, even the high-end ones, are fanless and therefore silent. According to the BrightSign rep, both the XD and the XT series media players can play 4K 60P content. The content is uploaded to the media player over Ethernet, but not in real time, so latency isn't an issue. The stored content then plays back according to a schedule stored internally or under the control of a digital signage control system.
BrightSign has recently sold its one millionth media player. According to the rep at Stampede, they are selling about 300,000 units per year and are currently shipping >1,000 units/week. He said they are often used in big box retail stores to provide content for the televisions on display. He added that BrightSign has recently agreed to sell the controller board alone on an OEM basis to an unnamed display manufacturer. The board will then be built into the digital signage displays and there will be no need for an external BrightSign module. (for more detail on this see our ISE report (ISE 2017 Round Up)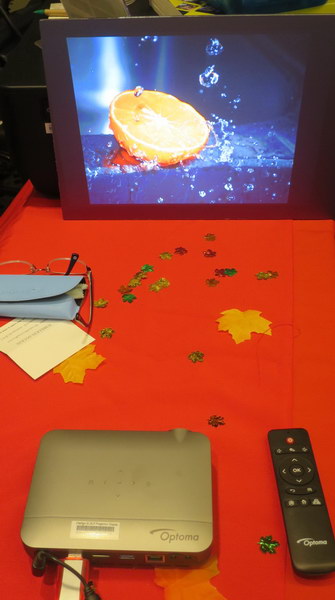 Optoma's Intelligo S1 projector and the image it produces on a contrast-enhancing screen from Draper. (Credit: M. Brennesholtz)
Optoma's Intelligo S1 pico projector was shown at CES 2017 where they said it would start shipping in February or March. It was not actually introduced as a product until July. I got to see one at the Optoma booth at Stampede and would say it was worth the wait. The projector produced a very good image on a contrast-enhancing screen from Draper, providing good contrast even in the high ambient light of the Stampede show floor. The projector has a specified resolution of 720P HD (1280 x 720) even though it uses a native 16:10 WXGA (1280 x 800) 0.65" DLP imager and will show WXGA content.
The 20,000 hour RGB LED light source produces 500 "LED lumens" output, whatever that means. Anyway, the projector was bright enough for both movie watching and business applications. The version shown had an Android 4.4 processer built in. At CES they discussed a Windows 10 version of the projector at a higher price point for business applications but, currently, only the Android version is available.
The projector has a variety of wired interfaces including USB 2.0, USB 3.0, HDMI/MHL and Ethernet, along with Wi-Fi 802.11 b/g/n @ 2.4GHZ and 5GHZ plus Bluetooth 4.0. Audio can either be from the internal 2W speaker or external wired or Bluetooth speakers. The projection lens has a manual focus and a 1.21:1 throw ratio. The unit contains no battery – external power is always required. The lack of the battery keeps the unit lightweight at 1 pound (455g). Currently it is available from a variety of sources at prices as low as $399, compared to the $599 MSRP announced at CES.
Philips (actually TPVision, as we all know) was at the Stampede event showing their signage solutions. According to the Philips rep, the company is planning on refreshing its entry level, prosumer grade Q-Line displays in January. Currently the largest Q-line display is 65" but 75" and 85" displays will be added to the line-up. In addition, all of the new models of Q-line displays will include an Android media player. He added that the Q-Line series has been very popular in K-12 educational applications.
I visited with the Just Lamps representatives at the Stampede event. As the world's largest distributor of replacement projector lamps, by definition, they didn't have any new products to sell. I wanted to ask them if LED or laser phosphor-based projectors, which never need a replacement lamp, were beginning to cut into their replacement lamp business. Their short answer was no.
For high end-projectors, many users go directly to the projector manufacturer for the replacement lamp, not to a distributor/manufacturer like Just Lamps. They said this is where the bulk of laser-phosphor projectors are currently being sold. At the low end, which represents most projector sales in terms of numbers, the majority of projectors sold are still lamp-based. They said that low-end laser-phosphor projectors aren't as reliable as the manufacturers would have you believe. Users know this, or at least the integrators serving large end users like schools know this. This problem with laser-phosphor projectors is supporting the sales of new lamp projectors. Besides, they told me, there is a huge installed base of lamp-based projectors that will continue in use for years to come. They saw non-projection large screen displays as more of a threat to their long-term business than laser-phosphor projectors.
I understand and agree with their argument, as long as you only consider a 5 – 10 year time frame. If you look at a longer horizon, the replacement lamp business is likely to drop off to zero, or at least very low levels as the installed base of lamp-based projectors is gradually replaced by laser, laser-phosphor or LED projectors and large-screen direct view displays.
LG Commercial Display NY Roadshow
The LG Commercial Display NY Roadshow focused on, well, commercial displays, mainly digital signage. The digital signage displays shown were mostly very, very thin OLED displays. Since Ken Werner did his Display Daily article on November 9th on the OLED displays at this LG road show and Bob Raikes covered the OLEDs and 5K curved monitor in his reports from ISE, InfoComm, IFA and Technology Exposed, I will not go into any detail. But I couldn't resist these photos of the ultra-thin, double sided display targeting in-store digital signage, especially high-end stores.
55" double sided in-store LG display. Left: front; Center: edge; Right: rear. For reference, my finger is about 16mm wide. Different images are shown on the front and rear displays. A second double sided display with a transparent glass frame was also shown. (Credit: M. Brennesholtz)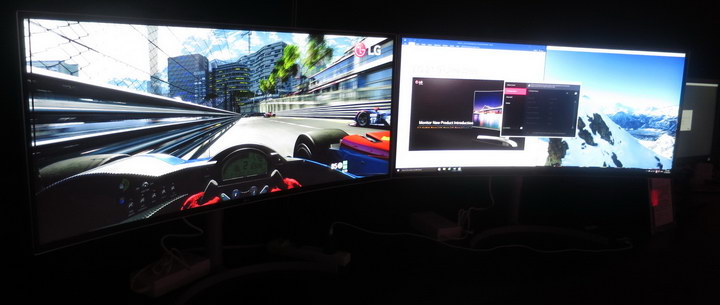 Two prototype LG 38WK95C HDR curved monitors at the LG showcase. (Credit: M. Brennesholtz)
The curved monitor on display at the LG showcase was the HDR 38WK95C and is similar to the commercially available 38UC99-W. Both are 38", 21:9 UltraWide WQHD+ (3840 x 1600) IPS Curved LED monitors with a color gamut of 99% of sRGB. The 38UC99-W is currently on sale for MSRP of $1499 and has been discussed previously in LDR. According to the LG representative, this was the first showing of the HDR version of this monitor, scheduled to launch next year. Since the representative didn't know the difference between Dolby Vision, HDR-10 and HLG HDR, no details are available. Even though this was the LG Commercial Display Roadshow, the two HDR monitors were showing gaming and video content, since the real target market for this monitor is gaming and, to a lesser degree, still and motion image editing. In addition, dual installations of the 38UC99-W are sometimes used in the financial services industry in order to show a lot of data to a single user.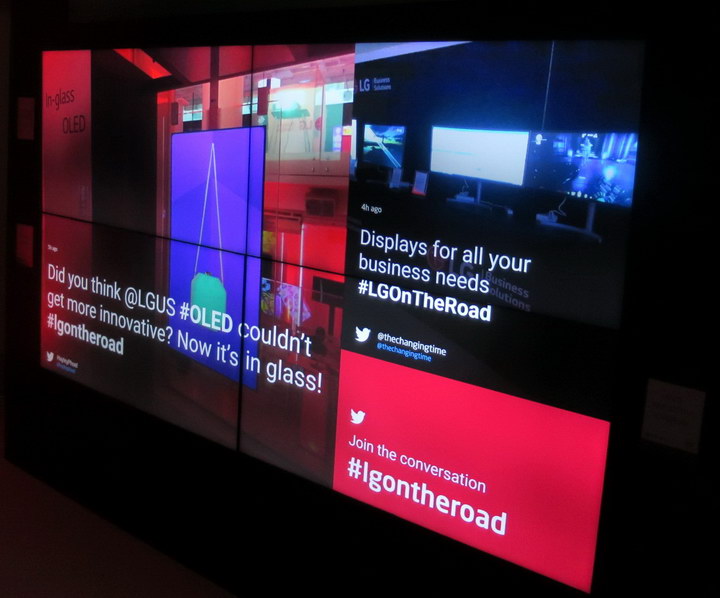 2×2 array of LG 55VH7B panels in the TSI Touch booth. The top two panels have no cover glass while the lower left panel has TSI Touch anti-glare protective glass and the lower right has TSI Touch anti-reflection protective glass. (Credit: M. Brennesholtz)
LG partner TSI Touch was exhibiting at the LG Showcase. Gary Mandrake, President of TSI Touch showed me their IR touch system in a collaborative environment, which seemed to me to have a rather slow response time. He added that his company expected to have P-CAP touch systems for large screen displays within about six months. In the TSI Touch booth there was also a 2×2 array of LG 55VH7B narrow bezel LCD displays said to have a 2.0mm pixel to pixel gap. The gap looked narrow, but not as narrow as the Barco UniSee display. It also looked narrower than the 1.7mm gap Leyard/Planar had claimed for the display I'd seen the previous day. (See above.)
This video wall was non-touch but showed off different types of protective cover glass TSI Touch can supply to the digital signage market. In the relatively dim light of the TSI Touch booth, the difference between the regular glass, anti-glare glass and anti-reflection glass was not really apparent. While at the LG Showcase, TSI Touch used LG displays exclusively, Mandrake also described some other TSI Touch installations on individual panels and video walls that used displays from other manufacturers. –Matthew Brennesholtz