The Summit included an exhibition area that is in the atrium of the Hilton hotel. This is an attractive area, but has very high levels of ambient light, so almost anything except a dedicated high brightness display, of which there were a number, with Dynascan looking especially good, tends to look washed out. Experienced exhibitors had their higher brightness products on show.
AOpen was showing its low cost rugged ChromeBox products. It can make fanless metal-boxed 'industrial strength' boxes at very competitive prices – the one on show costs €380. The company is also working on other Chrome-based products including a 21.5″ LCD "ChromeBase" product that uses 3H glass to make it very robust and us rated to IP65.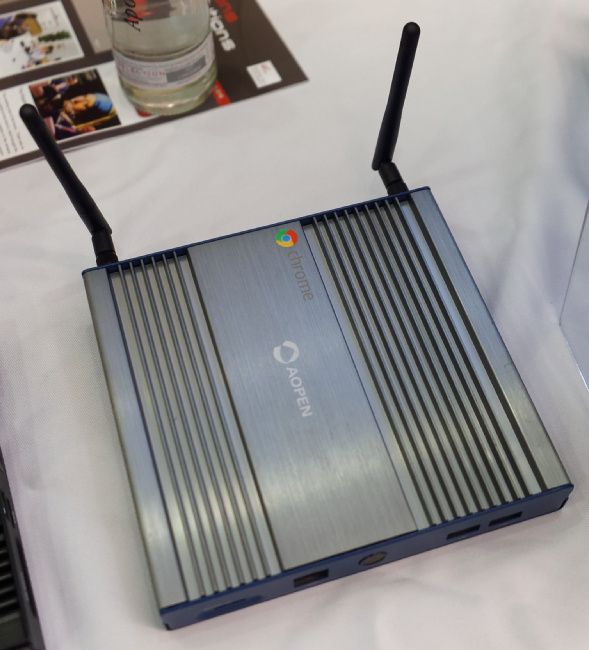 Asus, like BenQ and Acer, is looking to develop into B2B applications and was showing thin clients, monitors and its Chrome solutions. IT believes that its strength in being able to supply complete hardware solutions will help it enter the market. The company told us that its corporate presence is improving and that it has recently won a 70K desktop monitor order from Volkswagen.
BenQ was highlighting the 48″/55″ and 64″ UltraHD systems, based on Android, that it showed at Infocomm. It also had its projectors as they are still an economical solution where really large images are required and the elimination of lamps helps to make them more attractive in digital signage.
Chief was showing its carts which can make large format displays mobile. The model we looked at was shown as a prototype at ISE, and supports displays up to 80Kg. The display can be moved up and down manually. The company had considered making this motorised, but it tended to make the movement slower. There is also a wall-mount version and we heard that the mobile one costs €1950.
Now that Epson has projectors for higher brightness installations, it is increasing its presence in professional and A/V markets and Lee Harrison of Epson Europe was at the show to highlight the latest projectors, shown at Infocomm.
Iiyama had 42″, 49″ and 55″ 24/7 monitors with 6.5mm bezels and OPS slots and integrated USB media players and which are shipping now. The company's monitors have a recess to make it easy to mount an Intel NUC on the rear. The company has also made its 55″ PCap monitor available in a white casing as a number of clients requested this – too much black is seen as dull!
Iiltis and Weisel is a German company has a patented way of using wires to hang LCDs from museum gallery rails. The company has a range of more than 100 different picture frame designs that can be attached to its monitors, which are available in 27″, 42″, 46″ and 55″ with Android/Windows integrated system units and optional PCap touch. The company specialises in customisation and doing whatever is needed to 'hide the technology'.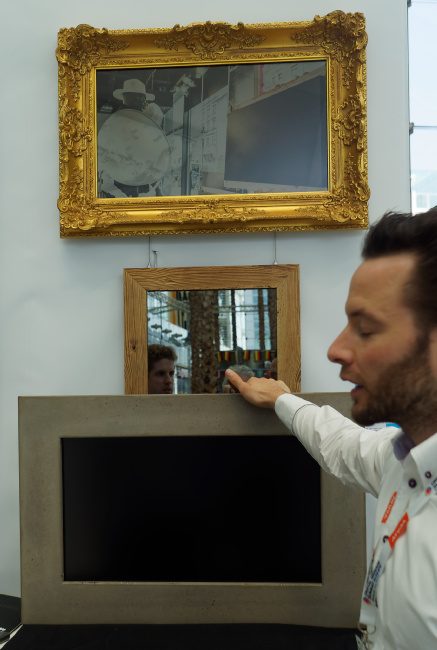 A concrete LCD frame, anybody?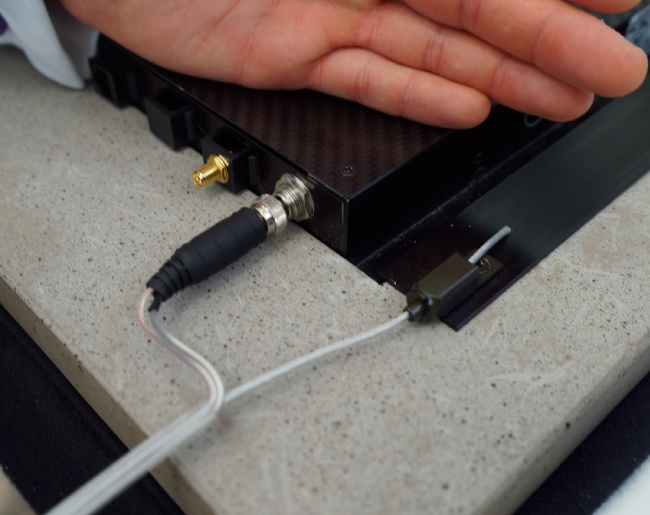 LG was showing its dual OLED displays as well as LCDs (which were better able to cope with the high ambient lighting). Staff admitted that the reason that its OLEDs are not rated for 24/7 use is because of image sticking.

I'm still surprised at the slimness of the double-sided OLED from LG.
Matrox was highlighting the C900 3 x 3 video wall card which should start shipping in "one month or less".
NEC was well represented at the show, but wasn't showing anything new since Infocomm.
Peerless was showing its latest small design changes, which are intended to make the installation of its display mounts quicker and easier. The controls have been highlighted in red to make them easier to spot in difficult lighting and staff told us that it can supply special spacers to make the accurate placing and alignment of video walls very quick. The company told us that one of its own staff has put the attachment for a 3 x 3 array on a wall in 11 minutes, single handed! Gordon Dutch of Peerless told us that a number of the UK integrators that he spoke to last year at the event (we missed last year's as it clashed with the first day of IBC) did not return this year and he believes that this is because there was too much of an emphasis on data from Germany.
PNY demonstrated how its graphics cards could be used for real time rendering of very high image quality on video walls. It had a 1U mediaserver based on the NVS810 that can support 8 outputs.
Samsung was highlighting its mirror displays. We were surprised to discover that the cost increment is only around 10% which is making them quite attractive for applications such as hotel lobbies and even in some hotel rooms. The monitor has an integrated proximity sensor so that the display can detect if someone is nearby and change from mirror to display mode. Samsung is rolling out its latest IP56 outdoor signage and told us that it is seeing good sales in applications including menu boards at fuel service stations. The company told us that it has also seen a lot of interest from big retailers in using 'stretch' displays along the back edge of demonstration table areas in stores, for example where phones are being sold.
Sharp was showing its 80″ touch display. We asked about the controlled colour displays that we had seen at ISE and staff told us that demand is muted at the moment – they are still finding the right users and applications.