Vivitek/Delta had a substantial booth at the show and had plenty to show us. The company also set a high bar for the show in terms of the value for money at the event.
The first projector that we looked at was the DK2688 which is a new UltraHD DLP projector with output of 4,000 Ansi lumens of output using a lamp and a DarkChip3 DLP device with BrilliantColor, as do all of the new projectors shown at the event. Features include three HDMI inputs and support for HDR10. The lens has a 1.39 to 2.09 throw ratio and has vertical lens shift. The unit is expected to ship at the end of Q3 when pricing is expected to be $2,499.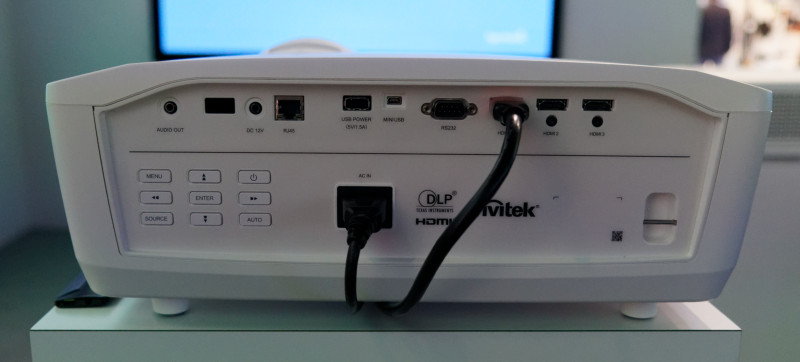 The DK2688 has three HDMI inputs, supports UltraHD and costs $2,499. Image:Meko
The DH768Z is a laser phosphor projector also with 4,000 Ansi lumens but with FullHD resolution. The company claims 20,000:1 contrast and again the unit has three HDMI inputs, but this time with version 1.4 rather than 2.0. The optical engine is sealed which means that along with the lack of a lamp, the unit is expected to be basically maintenance-free for 20,000 hours. The unit is due to be released in mid-Q4 and will again cost $2,499.
Moving up to larger units, FU4771Z also uses a L/P light source but offers 6,000 Ansi lumens of 1920 x 1200 WUXGA resolution and with a 1.65:1 zoom lens with horizontal and vertical shift and corner adjustment. As well as the triple HDMI ports, the unit adds HDBaseT for professional installation.
The DH7195Z is a laser phosphor unit that has 8,000 Ansi lumens of output and 1920 x 1200 resolution, but this time with a choice of seven different lens options from 0.77:1 to 5.0:1 throw ratio. The unit includes HDBaseT connectivity and dual HDMI ports (one with MHL) as well as DVI-D and component connections. As an L/P unit, it can operate at any angle and supports long term operation in portrait mode. It will ship in mid-Q3 with a price around $12K plus the lens.
The DK8500Z is an existing 7,500 Ansi lumen L/P UltraHD product that was being shown in a UST configuration, although it can be used with one of eight lens options from 0.38:1 to 8.4:1 throw ratio. The projector features motorised shift and zoom and has a number of memories. The projector was being shown in its Rec. 709 colour mode.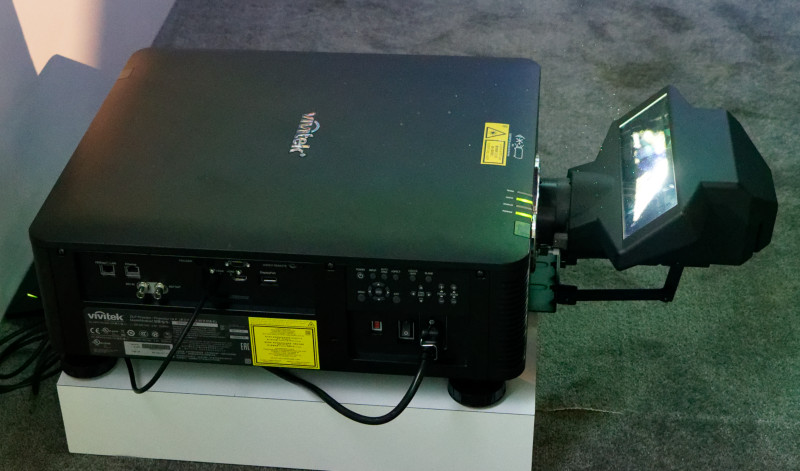 The DK8500Z was shown with a UST lens.
Delta has taken on some senior staff from Promethean and that is allowing increased penetration into the education market.
Next we looked at video walls and the company was showing its laser-based cubes which it markets under the Delta brand. The company told us that it is the only company that has a true 4K cube and it is developing an 8K cube for later release. The 4K 70″ cube produces 4,000 lumens of output (up to 1,600 cd/m2) and has a depth that is 22″ (55 cm) deep. Lifetime is quoted at 100,000 hours (11.4 years) and the cubes are claimed to use 33% less power than previous LED models. The units have IP6X dust protection and were being driven by the company's ActiView controller. The 70″ cube costs around $25,000 and staff told us that the use of cubes is around one third the cost of using LED.
The company told us that its cubes now include a red laser to improve colour performance.
There was also a 60″ FullHD laser video wall that is 49.5cm deep and produces 2400 lumens of output and was being shown in a 2 x 2 configuration. The 60″ costs around $12,000 and was described to us as 'extremely affordable'.
The company has a full upgrade path for cubes from older resolutions to FullHD or UltraHD. It has some very big installations with one installation of 324 cubes and in the US, AT&T has an installation with 140 cubes. China is a good market, but so is India which has been growing well.
Delta showed its laser-based cube UltraHD video wall. Image:Meko
Next we moved onto the firm's LEDs and there is a new FE series which is supplied in a 16:9 aspect ratio with 1.58mm pitch and that uses magnetic attachment to allow front service. The units have quick connections and each of the cabinets has individual power connections. The company also showed the 1.2mm LED that it had previously shown at NAB and a 3mm indoor LED system for sports and transportation.
The company has 4mm, 6mm and 8mm LEDs for outdoor use and the company told us that a 155′ (5m) banner from the firm was used at the Superbowl. It also has installations in Minneapolis and Memphis.