There are occasions and situations where it would be really great if you could share your big screen 4k monitor with two PCs, maybe they are both yours or maybe one is a visitor's.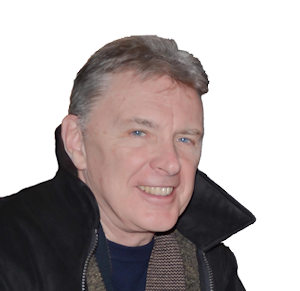 (There are other occasions when this is essential. For example, sometimes you may have a certified and un-modifiable older system, such as a medical system. You may have a legacy system with no prospect of upgrade – that's not uncommon in government applications. Finally, if you are working on movie or other content, sometimes there are regulations that mandate that the system storing the content must not be connected to the internet. – editor)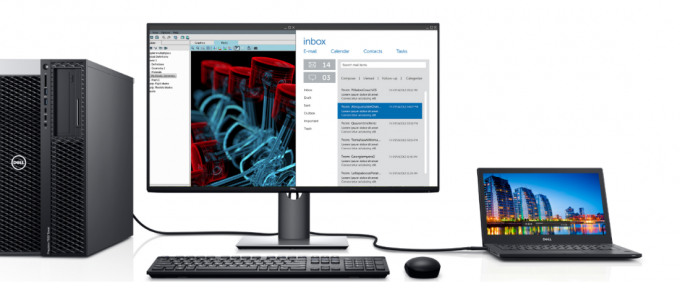 And what if you could window the other PC? How cool would that be?
Well Dell agrees and so they brought out a new, and very affordable 31.5-in, VESA-certified DisplayHDR 400, IPS 4k monitor, the U3223QE. The monitor has a 4K, 60Hz panel with 400 cd/m² brightness, a 2000:1 contrast ratio. It has an 8ms response time. Some might argue that 400 nits aren't enough to meaningfully display HDR content but that just isn't the case. The color reproduction of the U3223QE is excellent and plenty bright. In fact, I had to turn on the Windows night light feature to dampen the light. The monitor is specified at 98 percent of the DCI-P3 color space, and 100% of Rec 709.
Also, the U3223QE is the world's first 31.5″ 4K monitor which allows daisy-chaining of an additional 4K monitor at full resolution via USB-C—enabled by the VESA standard Display Stream Compression (DSC).
Connectivity and other options
The U3223QE has two DisplayPort 1.4 and an HDMI 2.1a port, plus five USB 3.2 Gen2 ports, one standard USB-C port, and two additional USB-C ports for upstream and downstream connections, respectively.
And it also offers limited tilt, swivel, height, and pivot adjustments.
The U3223QE is a studio-quality monitor with the blackest of black screens and full HDR color range at a commercial monitor price of $1,150.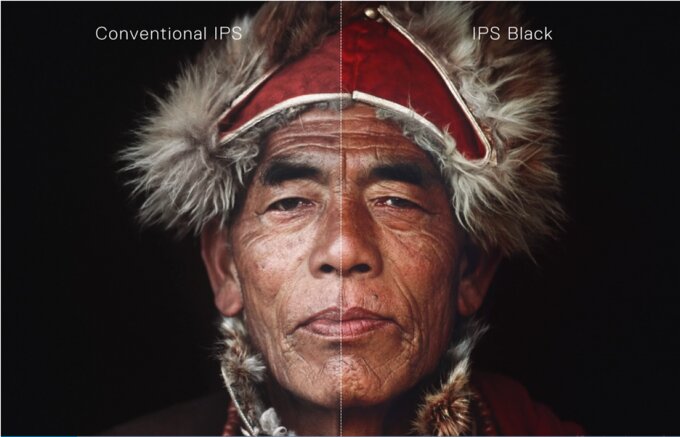 If you are doing content creation including video, photography, or even just watching video an IPS monitor is ideal. Dell has used an LG IPS Black panel to give viewers an even better view. (Source: Dell)
The screen also has what Dell calls ComfortView—a low blue light screen that delivers vivid blues without fatiguing your eyes or causing insomnia.
And Dell's Display Manager lets you slice and dice your screen in 16 different ways.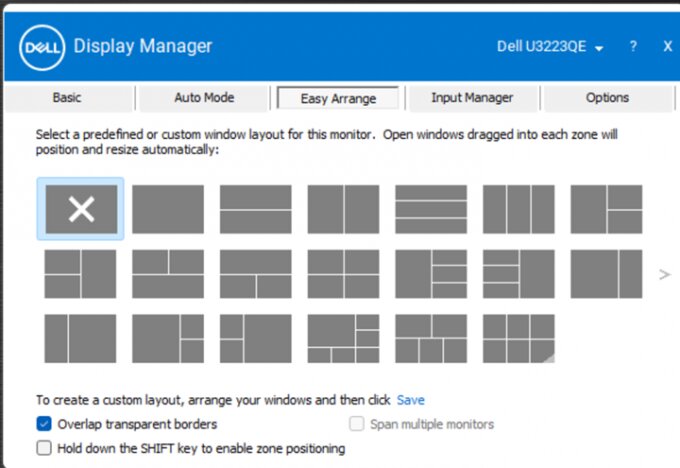 Screen sharing choices with Dell's Display Manager
In addition to screen segmentation choices, Display Manger (DM) gives you two long-missed but now returned controls – brightness and contrast slider controls. I run three super high-res monitors on my system and the DM allows selection of each one for segmentation and brightness/contrast adjustment.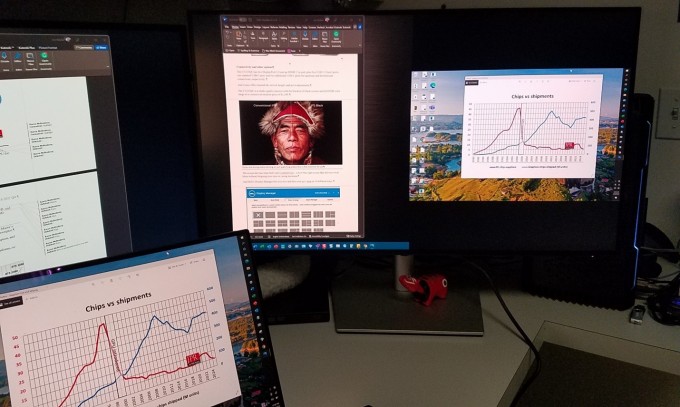 Possible multi-monitor configuration in use at JPR HQ: The U3223QE in split-screen mode, workstation driving left half, notebook driving right side. Notice how black the screen is on the right.
The notebook in the above image is a 17-in 4k Dell Precision mobile workstation, FYI. The connection was via a USB-C to HDMI dongle, and then HDMI into the U3223QE.
Setting up the monitor was a breeze. Put the base plate on the desk, snap the vertical mast into it, and then snap the monitor into the mounting plat at the top of the mast—done <1 minute.
What do we think?
The Dell U3223QE has outstanding image quality with the kind of desirable features that make this a terrific choice for an all-around useful monitor for any professional or enthusiast. Whether its video editing, or engineering, or page layout, this monitor can do it all and more.
Dell also has a 27-in version of the monitor, the U2723QE for $800.
---
Part 2 – HDR
---
Dell's U3223QE epilog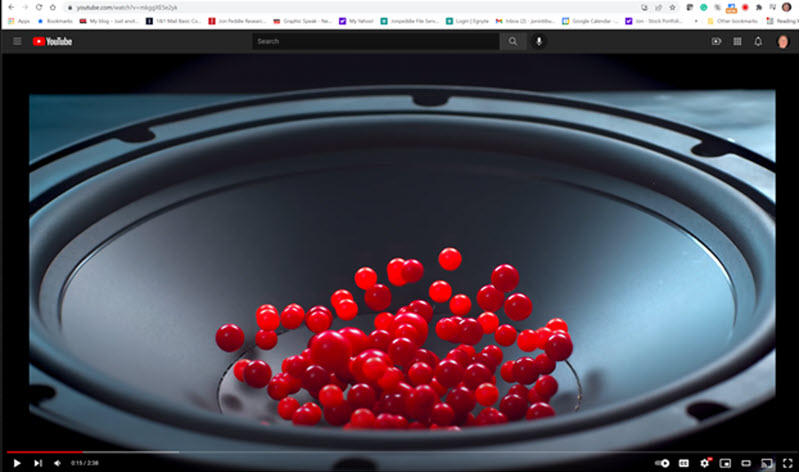 Bezels, HDR, and service
We are still getting familiar with the new super black, 32-inch HDR monitor. It is such a feature-rich display, it is difficult to digest all of its capabilities and characteristics at one sitting.
For example, it has the thinnest bezels of any 32-inch 4K display—just 6 mm (0.25 inch).
As you may know, since Windows 10, Microsoft has offered HDR control capability in Windows. But it just doesn't happen automatically. You have to use the monitor's settings controls to invoke it.
Go into Windows' Display settings, find your monitor (if using more than one), scroll down, and click on HDR. The next screen will show you two feature choices: play streaming HDR video and use HDR. Chances are Windows will tell you: HDR not supported.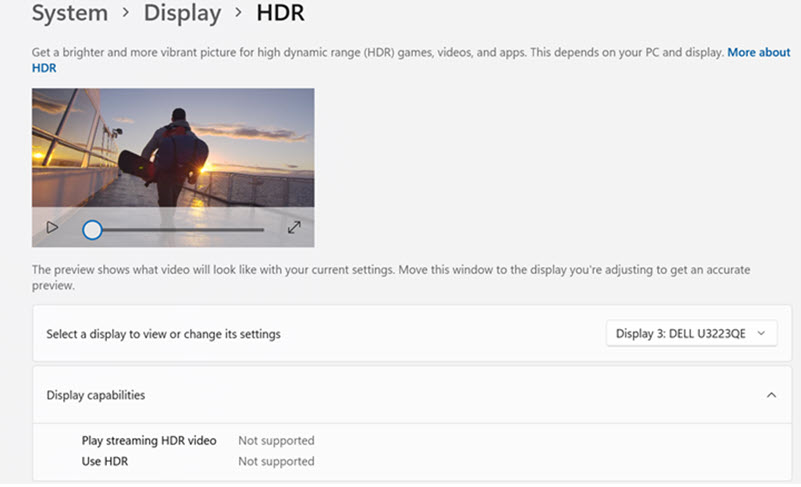 Windows' display settings for HDR
That's Windows default mode. And, chances are also that if you try to click HDR on, it won't accept it. BUT, . . . if you have a monitor from Dell, HP, or other top of the line suppliers, you will also have a driver for your monitor and a setup or display manager program. Dell calls theirs Dell Display Manager (clever name, right).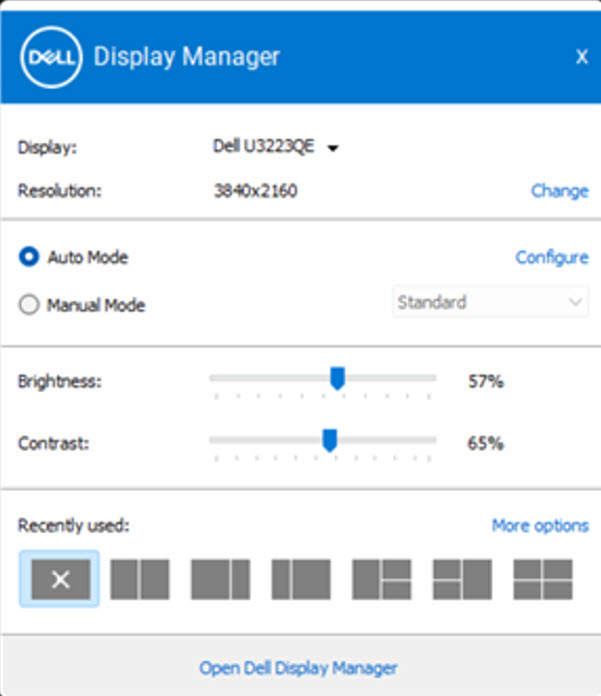 Notice the sliders for brightness and contrastTo turn on HDR, you have to use the setup controls in the monitor. In the case of the Dell U3223 series monitors, there is a protruding button on right hand side (facing the screen) in the back of monitor next to the power on/off button.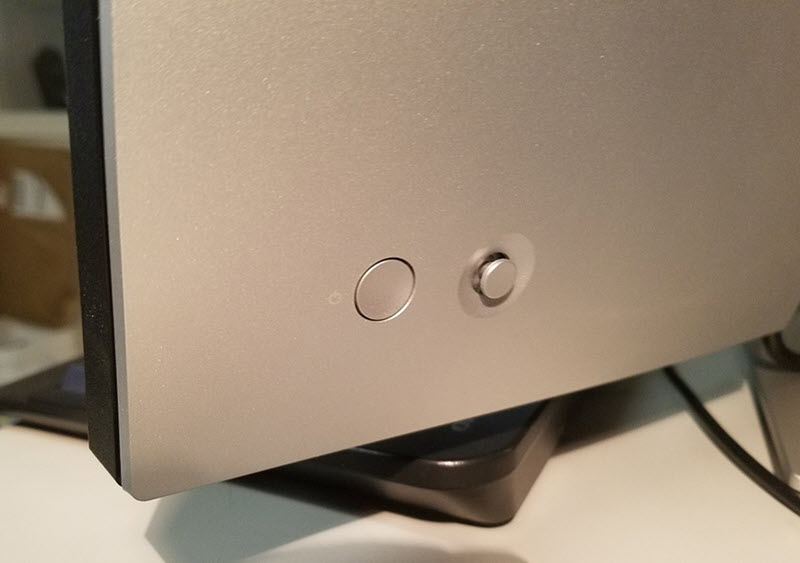 Dell's U3223 series setup button
Dells' in-monitor controls reveal the HDR setup functions and reveal that you have to explicitly turn HDR on. Use the protruding button as joystick, and slide over to the right column, and then down to the off/on and press the button to turn on HDR.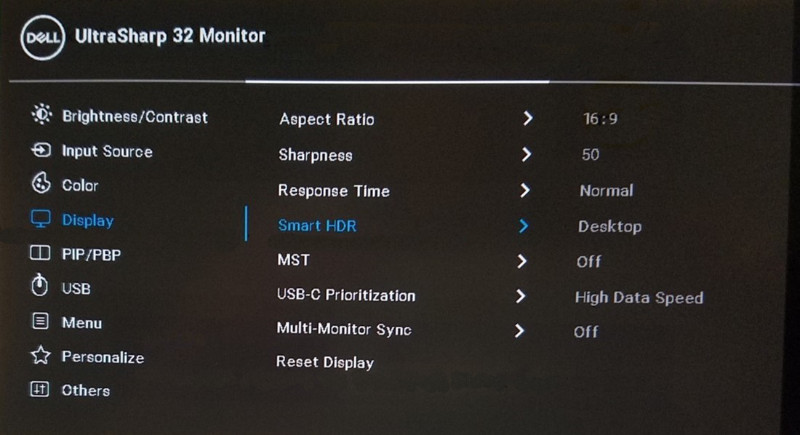 Dell's monitor setup controls
On the far right are the HDR choices, more on that in a minute.
As soon as you click Smart HDR on in the monitor, Windows gets it. But, just to be sure, reboot your system. And then be prepared to be amazed. If you look at Display Settings for your HDR monitor, you will see that now it is HDR compatible.

Windows display settings indicate HDR compatibility
And the other thing you may notice is in Dell's Display manager's controls.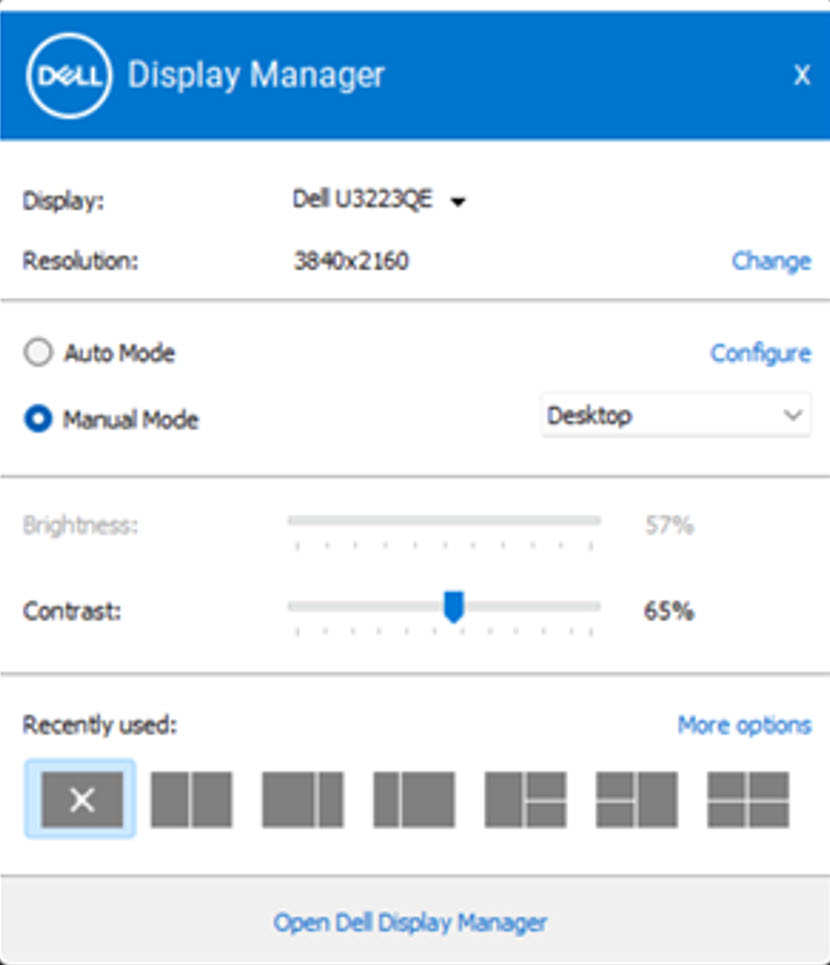 Dell's display manager has had its brightness control removed
When HDR is turned on, the brightness level is controlled by the application.
And now you can choose what kind of HDR you want, Desktop, movies, game, or 400, by bringing up the monitor's control panel with the back panel button.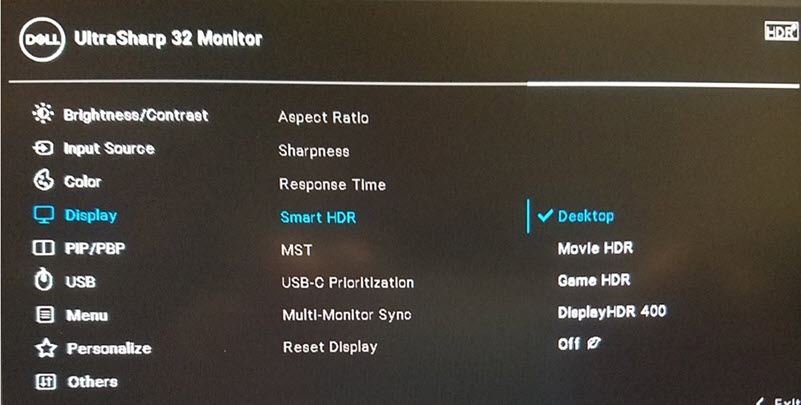 Dell's monitor control panel gives four choices of HDR
The monitor comes with a 3-year Advanced Exchange Service so that if a replacement becomes necessary, it will be shipped to you the next business day during your 3-year Limited Hardware Warranty. And, the Dell Premium Panel Exchange allows a free panel replacement during the Limited Hardware Warranty period even if only one bright pixel is found. That is amazing.
What do we think?
HDR can be more satisfying than 4k because you can actually see the differences. Many people argued you could see 4K. And Microsoft scales up the screen to 150% (default), which defeats the true 4K capability. But HDR is unmistakable at any resolution. One of the things you will notice is the colors are not saturated and are more realistic. Some people prefer saturated (over amp'ed) brightness and color, and for them HDR is not a good choice, nor is 4K for that matter. For me, I can't wait for a super wide 5K with HDR. It won't be long, certainly by CES. (JP)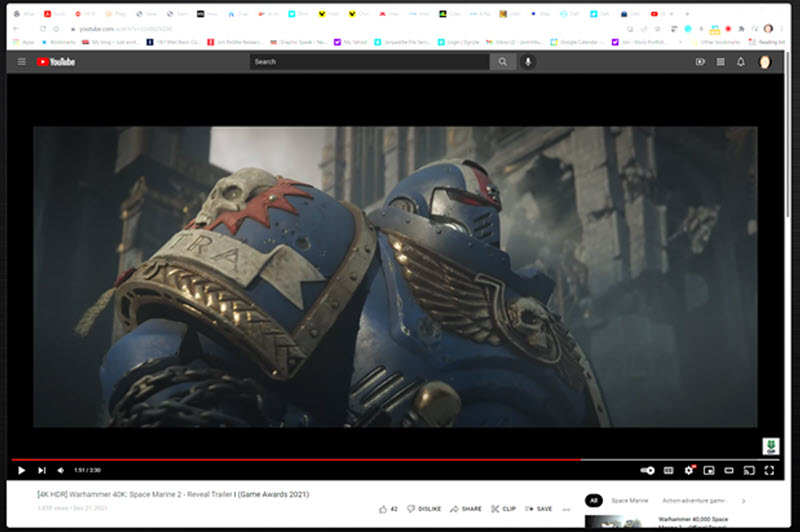 4K HDR Warhammer 40K: Space Marine 2 reveal trailer
Analyst Comments
Although the picture-by-picture feature that Jon describes is not particularly new, but can be very useful as I mentioned above. It really becomes helpful when, as is the case with the Dell monitor, the feature is integrated with a USB hub that has two upstream connections. If that is switched along with the video, the monitor becomes a Keyboard, Video Monitor or KVM switch. Some vendors in areas such as medical monitors have extended this function so that the switching happens automatically when the cursor becomes active in one or the other part of the display. That's very cool.
The Dell monitor splits the incoming video signals into left and right halves of the display, an established way of doing it. A couple of years ago I met in the Eureka Park a Korean company called Techon Vision that has a special monitor controller that is configurable to split different ways (50/50, 60/40, 70/30). The system was developed to support Korean
government requirements to separate internet/extranet applications. It was available on a 27" or a 50" with four inputs).
It's good to see Dell using the IPS Black technology. LG is being very coy with us about what it is doing to boost the contrast from 1,000:1 to 2,000:1. If any readers have more detail, please contact me. (BR)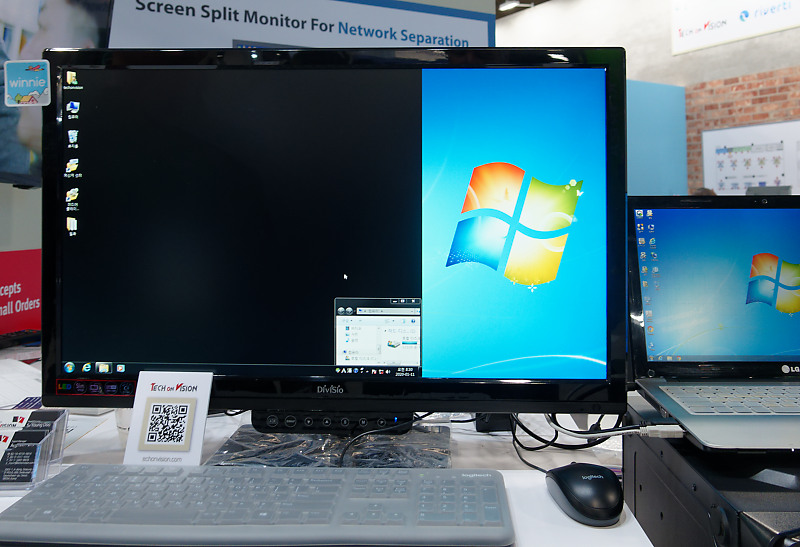 Techon Vision of Korea at CES 2020. Image:Meko
Correction – this article originally reported that this monitor supported DisplayPort 2.0, but this was incorrect and has been amended.