DD Technologies, a Vancouver, Canada-based company has started its crowd funding campaign on Indiegogo. So far it has reached around 35% of its $50,000 goal in one week.
The head up display (HUD) is projection based and comes with a resolution of 720p. Most interestingly there are two versions under development, Iris DLP and Iris Laser. While the company has not said this directly, it seems obvious that the DLP version uses a DLP chip as imager, while the laser version uses a laser as light source. However, it is not stated whether the laser version user a laser light source with an imager, or if it uses a scanned laser system. In any case, the company said that the laser version provides a crisper image, especially at night.
While the DLP version is available for $299 during the Indiegogo campaign, the expected MSRP is $499, while the price for the laser version is $699. This also appears to be the expected MSRP, as a later and higher expected price is not mentioned.
Source: DD Technologies
The Iris device is a version of an aftermarket HUD that connects with a smartphone and offers typical HUD functionality such as:
Navigation
Camera Alerts
Zone Alerts (allert when approaching a known intersection with red light camera)
Calls and Texts (all messages will be displayed in real time)
Speed Check (provides alerts when hitting the speed limit)
The device is mounted at the roof of the car in place of the visor, and installation requires removing the visor completely. There is also a sunshade visor in case of intense sunlight entering the display. The image is, of course, displayed above and not overlayed over the actual real world object.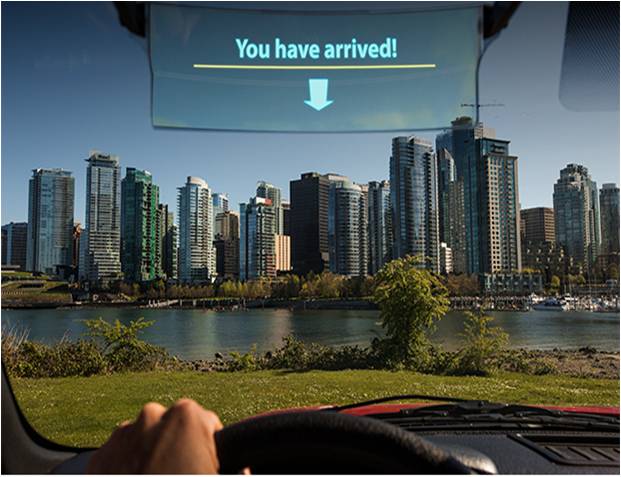 Based on the image, it basically does what most car navigation devices already do today, however it can be argued that the position in front and up is better than in the dashboard (down and to the side) for paying attention to the surrounding traffic.
The device also allows for voice and gesture control input to avoid unnecessary distraction of the driver. It can also connect to the car's on-board diagnostic (OBD) interface, which provides the car speed as measured by the car itself and not the GPS system of the smartphone.
DD Technologies states that the Iris HUD is an "improved version of OEM display screens pre-installed on luxury vehicles". The company does say that this does not make it legal and the user has the responsibility to check with local law enforcement. – NH