Panasonic announced its PT-RZ12K laser phosphor projector at Infocomm, a new model that comes with 12,000 lumen and three DLP chips (0.96″ WUXGA 1920 x 1200 resolution) and boasts a 20,000:1 contrast ratio. With a 120 Hz refresh rate it is compatible with high frame rate content. The projector comes with no standard lens and will be available in September of this year. There are a wide variety of lens options available including the short throw lenses used in the Infocomm booth, as shown in the image below.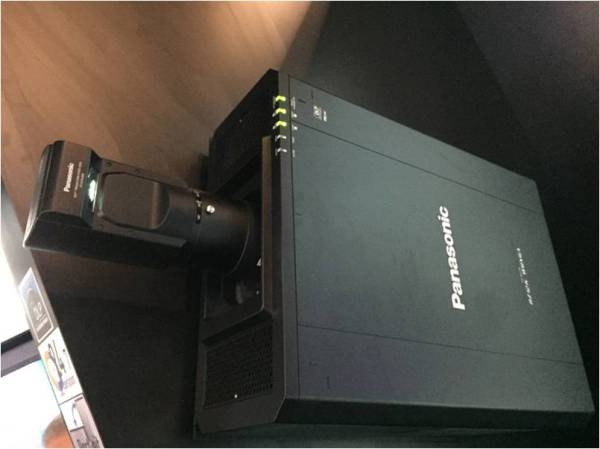 The new projector weighs in at under 95 pounds (43 Kg), which Panasonic claims is the lightest projector in its class. The new laser phosphor light engine provides a lifetime of 20,000h for 24/7 operation. This quote is for a projector running at full brightness in a 24/7 operation environment.
Panasonic also showed a prototype on the same chassis but with 4k+ resolution. The PT-RQ13K provides above 4k resolution, based on quadrupling the native WQXGA 2560 x 1600 resolution of the 0.9″ DLP chips. Each pixel gets shifted in the X & Y planes in each of the sub-frame addressing periods. Since the panels are driven at 240Hz, the resulting image shows 5120 x 3200 pixels at 60 Hz. Panasonic calls this 4k+. However, we have to realize that each pixel is landing on a position that was before showing the content of another pixel. Panasonic carefully calls this 4k+ performance.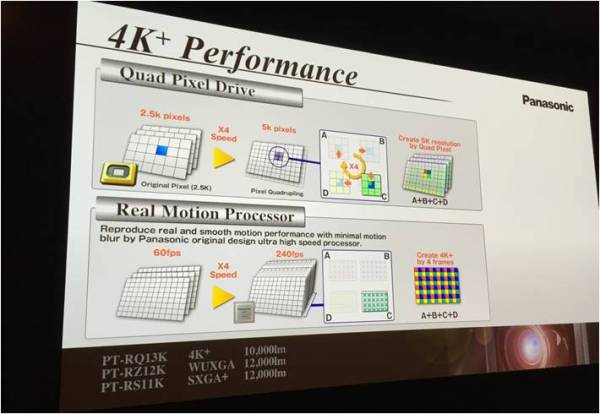 The company also adds a 'real motion processor' to the projector that produces 'real and smooth motion performance'. The performance was shown in a demonstration set up by moving text quickly over the screen. One half of the screen showed the content without motion processing, and the other half used motion processing. The effect was well demonstrated, as the viewer could read the text in the motion processed half, while the other half was illegible because of motion blur.
The RQ13K is rated somewhat lower than the RZ12K projector in brightness, because of the use of a slightly smaller DLP chip (0.9″ versus 0.96″). The movement of the pixels is achieved by a component in the optical path that Panasonic would not further describe. It did say that the image block is not a moving part in this design.
As a consequence of this approach, Panasonic can offer a wide range of horizontal and vertical lens shift. Other 4k projectors based on the 4k DLP chip have very little lens shift capability as a result of the overall lens size.
Panasonic also announced the PT-DZ780 series, a single DLP chip-dual lamp projector that comes in a variety of resolutions and provides 7,000 lumens with WUXGA (1920 x 1200) and WXGA (1280 x 800) resolution and 8,200 lumen in XGA (1024 x 768) resolution. This series has an ultra low noise level of around 30dB making this projector ideal, Panasonic said, for confined spaces where noise is an issue. – NH
See this article (Panasonic Starts with Smart Signage) for the flat panel coverage and our video Panasonic Shows Projection Mapping.