Data Modul is headquartered in Munich, although the main activity of the display business is in Weikersheim, in Bavaria. We're used to seeing the company's Conrac-branded displays at a range of vertical market shows, but at Electronica, the focus was clearly on industrial and automotive solutions from its distribution business.
First we looked at the range of single board computers, which have been upgraded to include the latest Skylake processors. There are also versions with less powerful processors and based on Intel Atom chips. The lower power consumption means that the boards can be made small and fanless, so can be more easily built in to display-based systems.
JDI Memory in Pixel Goes Large
The first new display we looked at was from JDI, for which Data Modul is a distributor. The first panel was a very impressive new model that is a reflective 32″ FullHD design using memory-in-pixel technology and the first time that the panel was shown in Europe (although it was shown in the huge number of technology firsts from JDI at SID this year – JDI Impresses with Low Power and High Resolution). This kind of technology has been shown by Sharp in monochrome, but the JDI panel is a colour version that had, to us, surprisingly good colour saturation.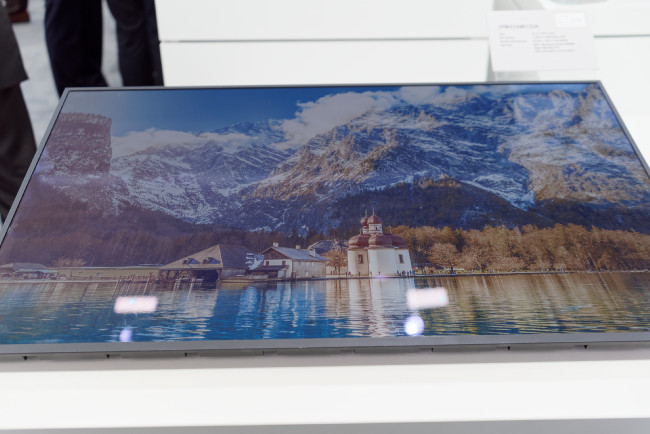 JDI's 32 inch memory in pixel LCD. It was hard to get a good picture at the show. Image:Meko
I was assured by staff that in bright sunlight ("on the balcony at Weikersheim") the performance was dramatically good, but it was good enough to impress me even at the show. The aim is to try to get to 30% reflectance, although we understand that the current samples are below this level, and probably near to 20%. The panel is said to take just 250mW of power when it is in reflective mode, so can be run for a long time on a small battery. Final samples are expected to be available for integrator customers in February.
Smaller memory-in-pixel displays have already been supplied and are used in a bicycle computer from power meter supplier, SRM and in a sports watch from Suunto. In both cases, continuous display in bright conditions at low power consumption is a compelling benefit of the technology. Data Modul told us it had "lots of interest" in the technology.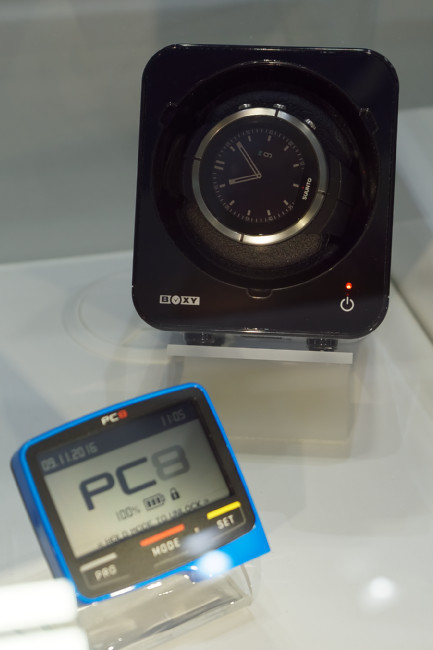 SRM and Suunto are using MIP in existing products. Image:Meko
New Medical Review Monitor
A new monitor for medical review and data applications was being shown. It is an 18.5″ FullHD unit, based on a Sharp panel with 400 cd/m² of luminance (panel before the touch overlay) and with an integrated touch system (10 point). It uses 3mm cover glass over the whole of the front surface and has a slim controller (based on a Data Modul board) at the back. The front is waterproof, so it is easy to clean, although the back has ventilation slots. It uses a DisplayPort input and has USB for the touch output, while the power supply is 12V (external).
New Touch Being Developed
Data Modul has been developing touch add-ons for its displays for a long time (and touch and bonding was one of the reasons that Arrow tried, but failed, to take over the company completely, although it remains a dominant minority shareholder). Now the company is responding to a desire for force touch. This is normally measured by looking at the deflection of the glass, but in industrial and kiosk or other public-facing applications, the cover glass is very thick and doesn't bend easily, so the firm is developing a force detection system based on measuring the deflection at the corners of the display The prototype on display was a 12.1″ unit, but any size can be developed. At the moment, the accuracy and number of levels of force that can be detected is not finalised.
(This reporter is old enough to remember IBM (if I remember correctly) developing a similar system for CRT monitors. It calculated not only the force, but where the display had been pressed by using four sensors in a monitor stand)