Ultra High Definition, or UHD video quality is rapidly becoming a mass-market expectation, as the move by producers to adopt the new TV image quality gains pace.
Ten of the best known TV brands in the world now carry the UHD logo developed by DIGITALEUROPE, half of which joined in the past six months.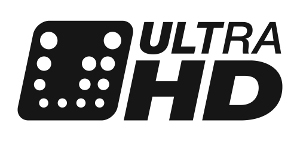 Grundig, Loewe, TCL, Technisat and Thomson, have recently joined LG, Panasonic, Samsung, Sony and Philips by signing up to the UHD logo, which aims to reassure consumers who are considering buying a new TV equipped with the latest video technology. (See the table below for the full list of participating manufacturers and their brands.)
"The fact that so many TV brands have now adopted the new video technology shows that UHD is well on the way to becoming a mass-market, must-have quality standard for TV viewers across the world," said John Higgins, Director General of DIGITALEUROPE.
UHD TVs are expected to attract a great deal of attention among consumers at this year's IFA consumer electronics fair in Berlin, which opened last week. The UHD logo was launched exactly a year ago at the event.
Ultra HD display devices have a much greater concentration of pixels than earlier models. With 3840 x 2160 pixels, the new screens are four times more detailed than HD screens which have 1920 x 1080 pixels. The 8 million pixels of Ultra HD allow displaying images with a depth and a clarity never achieved until now.
DIGITALEUROPE has years of experience in promoting innovation in the area of TV screens. It helped pioneer the previous step-change in TV image quality – High Definition. Over the years it has offered four different logos supporting high definition (HD) quality products, as new technical standards became available: HD ready, HD TV, HD ready 1080p and HD TV 1080p.
The HD logos attracted over 200 signatories and helped drive demand for each wave of TV innovation.
The Ultra HD label informs consumers that the display device they are considering buying is compatible with all major sources of Ultra HD content and that it displays this content in Ultra HD format.
Participation in the logo programme is open to any brand of display device, provided they sign the licence agreement and commit themselves to the quality and interoperability requirements defined by DIGITALEUROPE.