PC shipments in EMEA performed above expectations, reaching 17.9 million units and posting a 3.3% on-year decrease in the third quarter of 2016, according to IDC. Notebook shipments increased by 0.7%, supported by interest in new thin and light solutions from Western European enterprises and by political stabilisation in the Middle East and Africa.
Despite challenges from econcomic and political uncertainty, commercial notebook shipments remained strong, growing 5.6% in EMEA compared with the third quarter of 2015, although consumer notebooks decreased 2.6%. The planned increase of panel prices for notebooks before the end of 2016 drove notebook orders up earlier for year-end business. The large shipment volumes are expected to contribute to a buildup in stock.
Desktop PCs in EMEA continued to contract by 10.6%. The bankruptcy of Hanjin, a South Korean shipping company, had an impact on shipments from some PC vendors. However, Western Europe seems to be only marginally affected.
Notebooks performed well in both Western Europe and the Middle East and Africa, increasing respectively by 1% and 14.5%, but registered a 10.2% decline in Central and Eastern Europe. In Western Europe, the consumer market continued to be a challenging segment. Many factors related to price increases and market uncertainty are leading price-sensitive consumers to extend the lifespan of their devices. But preferences are evolving toward thin and light solutions.
In Q3, the aftershocks of the Brexit vote were more tangible in the third quarter of 2016, with the pound weakening and with some PC vendors announcing price increases. The UK and Ireland faced challenges, especially in the commercial segment. Overall, Sweden and Italy posted higher on-year PC growth while the other Mediterranean countries (Greece, Portugal, and Spain) performed below market average and continued to be challenged by slow market rebound. In particular, political instabilities are affecting Spain. Contrarily, the Nordics continued to post growth and performed strongly in the commercial segment. Germany did not show dramatic changes compared with last year and remained overall flattish.
"While anticipation of hikes in panel prices drove vendors to stock up large PC volumes, a usual large back-to-school volumes contributed to strong seasonality in the commercial space," said Malini Paul, senior research analyst, IDC EMEA Personal Computing. "The Nordics and DACH (Deutschland, Austria and Switzerland) regions posted solid growth in commercial PC (respectively 20.2% and 4.6%) as well as France (5.7% on-year growth). Southern Europe was relatively weaker, with Italy being the only exception, recording stronger results (3.1% on-year growth)."
The PC market in Central and Eastern Europe reported worse results than expected overall, posting a double-digit decline, contrary to the forecast single-digit decrease.
"The Central European market suffered the most: Czech Republic, Poland, Hungary, Slovakia, and Slovenia all reported double-digit declines compared with the third quarter of 2015," said Nikolina Jurisic, product manager, IDC CEMA. "In 2015, during the crisis in Russia and the CIS, vendors focused their market strategies toward the Central European markets and pushed large volumes into the channels across the countries. However, what is becoming clear is that the inventory and stock situation in some of these countries is affecting sales-in, as demand remained low. In contrast, Russia, Kazakhstan, and Ukraine performed reasonably well. Russia, in line with the forecast, remained negative at 7% on year".
The PC market in the Middle East and Africa was quite different from Central and Eastern Europe, performing slightly better and reporting a flat market with a slight growth.
"The winner of the region was Turkey, with an annual increase of 30.3% on year," said Stefania Lorenz, associate VP CEMA. "The PC market is finally regaining momentum in the country after the very negative results recorded in the five quarters between the first quarter of 2015 and the first quarter of 2016. The PC market showed improvement thanks to the political stabilization which was in question immediately after the attempted coup. Financial factors such as cash-flow management were a serious problem for retailers in the previous months, but it has also improved thanks to a more stable currency against the US dollar, and consumers have reached into their wallets."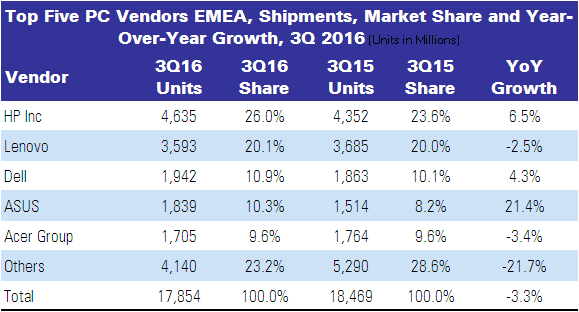 Vendor highlights
Market consolidation is ongoing, with the top five players increasing overall market share from 71.4% to 76.8% compared to Q3 2015. The major three players accounted for 57% of the total market volume compared to 53.6% last year, outlining marketing consolidation.
HP outperformed the market and reinforced its position in EMEA with a 26% market share. Innovation is HP's core strategy, which remained powerful and once again it gained in the commercial notebook and consumer desktop segment, thanks to a boost in gaming.
Lenovo consolidated its second place with a 20.1% market share, almost flat compared with last year. The vendor continued to lead in the consumer space, supported by new product launches.
Dell ranked third and increased its share to 10.9% compared to the third quarter of 2015, driven especially by a positive double-digit performance in the commercial notebook segment. Consumer notebook performance was particularly strong in the UK.
Asustek climbed to fourth place and posted a market share increase in the consumer notebook market, as well as a very positive performance in both the Norwegian and Italian markets.
Acer ranked fifth. The vendor remained challenged in some geographies, but performed positively throughout the Nordics. The launch of new products contributed to its momentum in some market areas.
Below the top five, Apple kept its sixth place ahead of potential product refreshes. Fujitsu ranked seventh thanks to good results in Germany, and Micro-Star International (MSI) ranked eighth supported by very strong notebook shipments. Wortmann and CMS Computers closed the top-10 ranking in ninth and tenth positions respectively.
---