In 2022, the CIS (CMOS image sensor) industry experienced a transitional phase, as reported by Yole Intelligence recently. While revenues remained steady, overall volumes saw a slight decline. Notably, the market structure underwent significant changes, with the automotive segment witnessing growth and the CIS average selling price rising (ASP).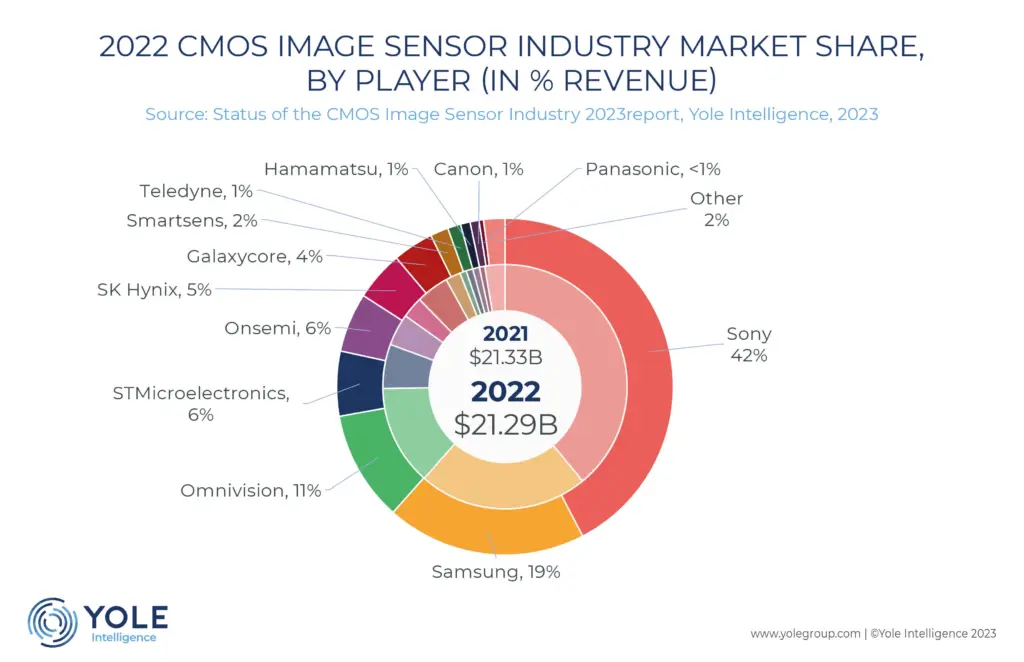 Key players' positions also shifted during this period. Sony continued to strengthen its dominant position, while Omnivision returned to its pre-COVID-19 market share. Samsung reduced its presence, benefiting SK Hynix. Onsemi experienced exceptional growth in 2022, driven by the automotive and industrial markets. On the other hand, GalaxyCore and SmartSens faced challenges, partially due to market disinflation in low-end mobile and security camera segments.
Geopolitical tensions between the U.S. and China had a notable impact on the competitive landscape. Initially, U.S. sanctions on Huawei affected Sony but boosted Chinese CIS players, enabling them to prosper in the domestic consumer, automotive, and security markets. However, the security market faced a downturn in 2022, and U.S. efforts to target Chinese semiconductor firms also affected CIS suppliers.
To adapt to the changing market dynamics, Chinese CIS suppliers are aiming to reduce exposure to slowing mobile and computing markets while focusing on gaining market share in thriving segments like automotive and industrial applications, which offer higher value and ASPs. The domestic market presents significant opportunities for these applications.
Amidst these developments, Yole Intelligence projects a return to steady growth in the CIS industry. In 2022, CIS revenues stagnated at $21.3 billion, indicating a soft-landing situation after the inflated growth of previous years. General inflation contributed to a 10% decrease in consumer product sales, particularly smartphones. However, the mobile CIS market is expected to sustain in the coming years due to higher-end CIS products and emerging sensing opportunities.
Automotive cameras are also experiencing positive growth, driven by in-cabin, viewing, and ADAS applications, further promoted by safety regulations. Consequently, the mobile CIS market share is expected to decline relative to the increasing share of automotive, security, and industrial CIS, maintaining an overall ASP beyond $3.
Yole Intelligence has adjusted its long-term CIS forecast, projecting a 5.1% revenue CAGR from 2022 to 2028, with expected CIS revenues reaching $29 billion by 2028.