This was the first time that Cima Nanotech had attended ISE. The company is clear that its priority has been the development of its business in the US and Asia first. However, now the company wants to get started in Europe, hence its presence in Amsterdam.
The main item of news at the show (and we interviewed the company about its Santé procap touch technology at the recent CES (Cima NanoTech: Pro-cap Writ Large) was the announcement of a deal with Anoto of Sweden. Anoto has a technology that puts a pattern on a surface (from paper to whiteboards to displays) that is recognised by the camera in a special pen to give an accurate position. The LCD version is called AnotoLive Surface. Cima Nanotouch, the JV that Cima has with Foxconn for touch modules, has developed a procap touch screen using Anoto's technology and a pen from Panasonic (which uses Anoto technology in its UltraHD tablets).
The pen can capture data and writing which can then be used electronically and shared via Bluetooth. Pressure can be recorded to allow better content creation.
Anoto was also in Hall 9 at ISE and was showing a 55″ UltraHD monitor using its technology and called the Anoto Live 55″ Collaboration Display. The monitor has 450 cd/m² of brightness and 4,000:1 contrast. We believe that this unit, which also has touch input, is based on the Cima technology. The monitor has dual HDMI & DisplayPort inputs as well as video (component and composite), VGA and DVI.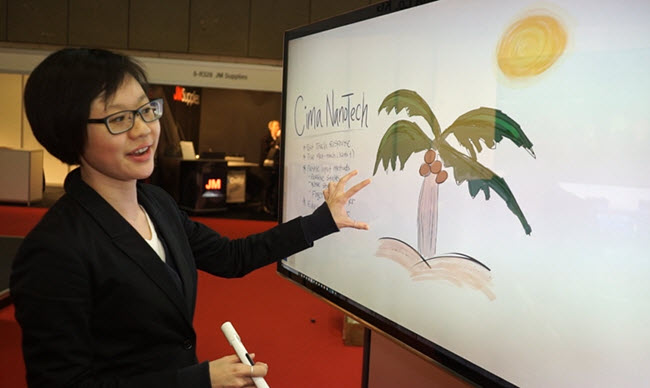 Cima Nanotech was demonstrating the Anoto technology. Image: Meko