Christie had a good demonstration of what it could do with different LED pitches on the front of its booth. Christie has been selling its LEDs under the "Velvet" brand since last year. 4mm, 3mm, 2.5mm and 1.9mm products are already available, while 1.5mm pitch is under development, but was being previewed at the show.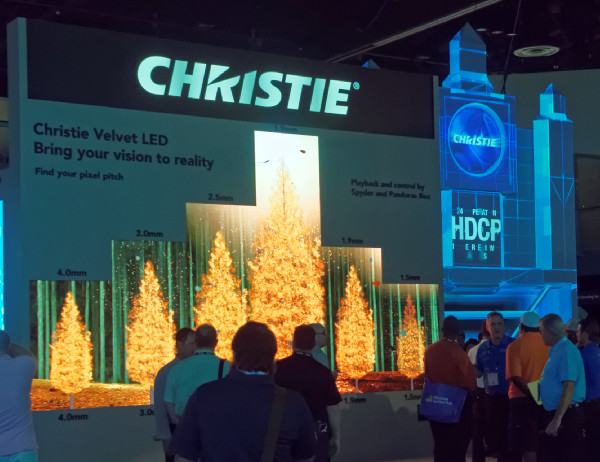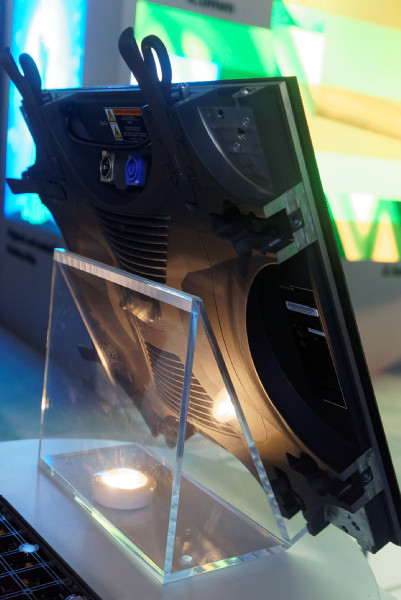 Christie is, of course, at the top end of the LED market, so was emphasising the lifetime of its solutions and the ease of installation with its modules, which can be detached from the front for service and repair. The company also uses larger tiles which are easier to install. We commented on the good look of the Christie small pitch LEDs and the firm told us that it has a different proprietary configuration to improve fill factor (the proportion of the pixel over which light is emitted, rather than the black). Christie also told us that when it supplies a video wall built on LEDs, it also provides spare tiles that are factory matched to the rest. Finally, to minimise the joins between the tiles, there are micro-adjustment features.
A new 46″ narrow bezel monitor for video wall applications has an image to image gap of 3.7mm. The FHD462-X has 500 cd/mm² of brightness with 3,500:1 contrast.
Still on the flat panel side, the company was showing a 98″ UltraHD panel that can operate in landscape and portrait modes. There will also be 55″, 65″, 84″ and there will be options with 10 point infrared touch.
We looked at the 70″ Entero HB DLP cube, but this is not a new product.
Christie was showing both its own Spyder controller and the high end "Pandora's Box" controller that Christie got access to when it acquired Coolux at the beginning of the year. This extends Christie's A/V controller range upwards. (Christie Acquires Coolux). Norbert spoke to Coolux (Coolux Media Systems Comes to InfoComm as Christie)
For details of Christie's projectors, see our separate article – Christie Focuses on Applications at InfoComm.