In the second quarter of 2023, the Chinese smartphone market faced a challenging environment, with 65.7 million smartphones shipped, indicating a 2.1% decline compared to the same period last year, according to the IDC Worldwide Quarterly Mobile Phone Tracker. The first half of the year saw a total of 130.9 million shipments, reflecting a 7.3% year-on-year (YoY) decrease.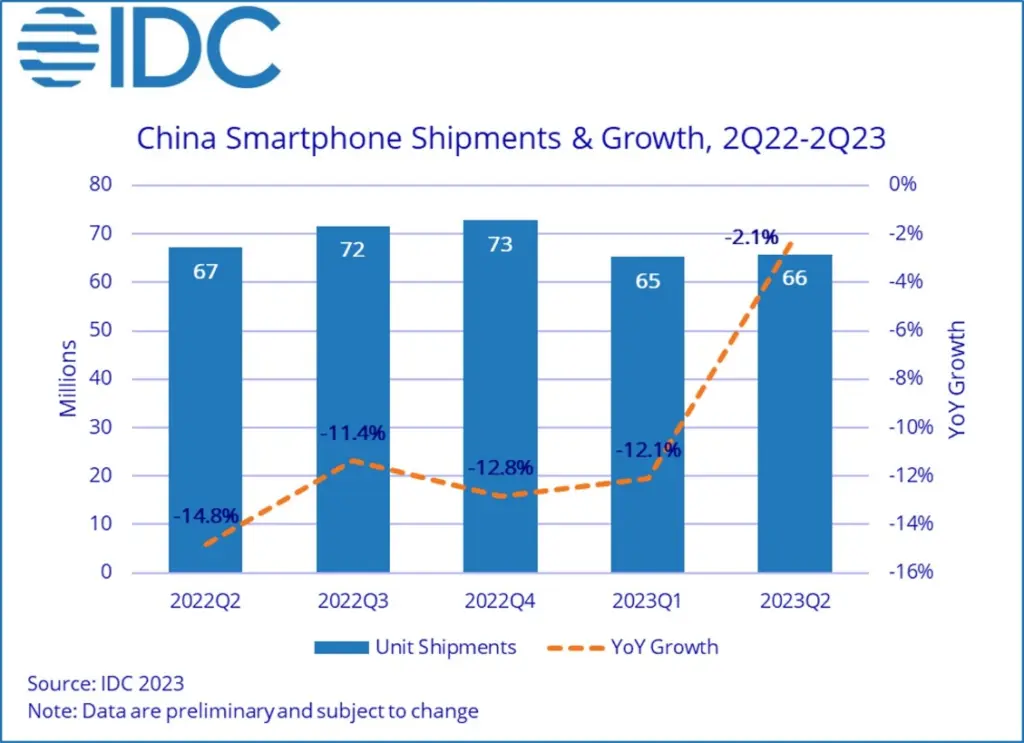 According to IDC, despite bigger discount efforts from smartphone vendors and e-commerce operators, the consumer demand recovery remained sluggish, resulting in a more-than-5% drop in sales during the "618" online shopping festival.
The Canalys Perspective on China's Smartphone Market
Canalys estimates that smartphone shipments declined by 5% YoY to reach 64.3 million units. The company also reports vivo emerged as the frontrunner, retaking the first place with an 18% market share and shipping 11.4 million units. This resurgence was aided by several successful product launches and the effective management of inventory levels. Following closely was Oppo (including OnePlus) with an 18% market share, driven by robust online performance and improved channel capabilities. Apple secured the third spot with 10.4 million iPhones shipped, closely trailed by Honor with 10.3 million shipments. Xiaomi managed to improve its market share sequentially to 13% and held onto the fifth position.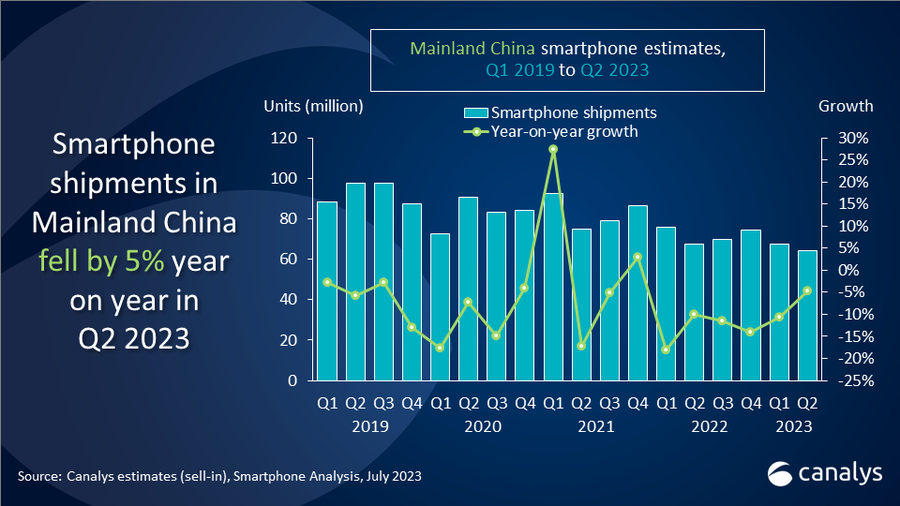 In recent years, the average selling price of smartphones in China surpassed $450 and is expected to continue rising in the upcoming quarters. Both Apple and Huawei witnessed impressive YoY growth through their flagship devices, indicating strong and sustained demand for high-end products. This trend is motivating vendors to invest in more product innovations to stay ahead of the competition. The introduction of foldable phones, such as the Honor Magic V2, vivo X Fold2, and Huawei Mate X3, has generated significant interest among consumers and sales channels, offering new form factors and use cases.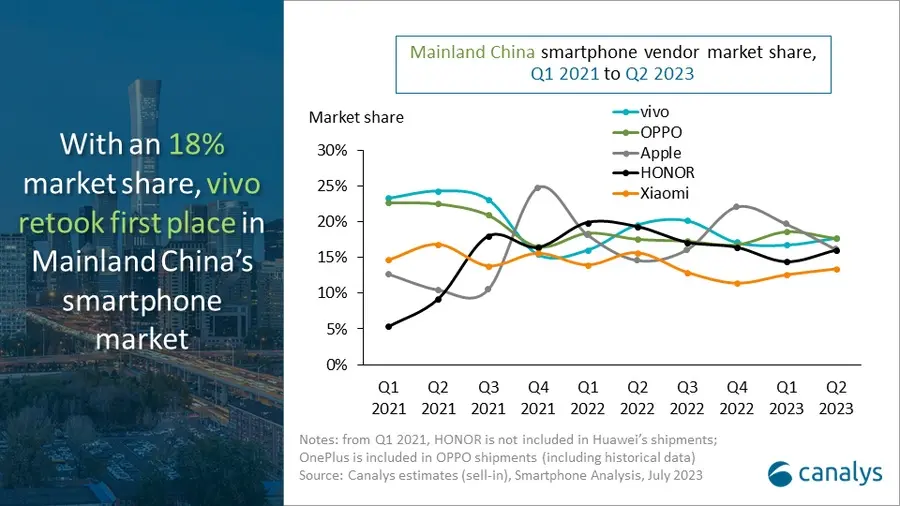 Several vendors are expanding their offline coverage, which is anticipated to become a crucial battleground in the forthcoming quarters. Oppo is investing in upgrading and developing its flagship stores, while Honor follows suit after a significant channel shakeup last year. Distribution-led vendors are leveraging fulfillment distribution models to address existing channel issues, prevent inventory build-up, and mitigate pricing conflicts.
Will Wong, the senior research manager for client devices at IDC Asia/Pacific, points out that the challenging environment is not the only concern for top-tier vendors. The return of Huawei has potentially triggered more competition, especially in the high-end segment. As a result, more intense rivalry can be expected during the product launch period and the Singles' Day shopping festival.
Canalys Analyst Toby Zhu believes a moderate market recovery is anticipated in the second half of 2023. Government-led incentives are expected to boost demand for consumer electronics in lower-tier cities, while operators will likely increase entry-level smartphone device subsidies, favoring local brands. With the gradual improvement in local market sentiments, vendors should start mobilizing resources for important product launches in the latter half of the year to capitalize on early signs of recovery.
| Vendor | Q2'23 Shipments (million) | Q2'23 Market Share | Q2'22 Shipments (million) | Q2'22 Market Share | Annual Growth |
| --- | --- | --- | --- | --- | --- |
| vivo | 11.4 | 18% | 13.2 | 20% | -14% |
| Oppo | 11.4 | 18% | 11.8 | 18% | -4% |
| Apple | 10.4 | 16% | 9.9 | 15% | 5% |
| Honor | 10.3 | 16% | 13.0 | 19% | -21% |
| Xiaomi | 8.6 | 13% | 10.6 | 16% | -19% |
| Others | 12.2 | 19% | 8.9 | 13% | 37% |
| Total | 64.3 | 100% | 67.4 | 100% | -5% |
People's Republic of China (Mainland) smartphone shipments and annual growth . (Source: Canalys)