The HPA Tech Retreat took place last week and Display Daily's own Pete Putman gave a talk on things from CES 2022 and called 'CES 2022:Back to Reality'. We were 'drinking from the firehose' during the event so this seemed a good point to look back and see what it looked like with a little perspective. SMPTE released an extended version of it.

SMPTE's Director of Education, Joel E Welch, introduced the webcast which was 'the Director's Cut' and extended from the strict 30 minute limit at the HPA event.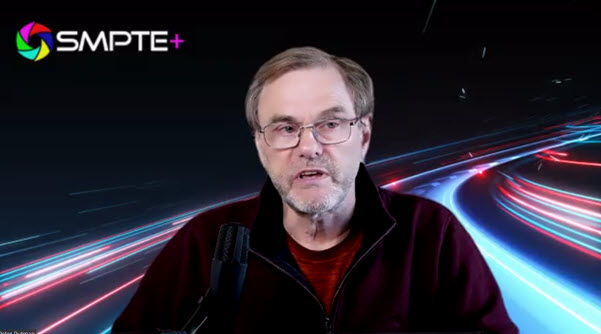 We're all fed up with Covid, Putman said, – and it has hit event organisers like the CTA which depends on CES for much of its annual revenue. The number of exhibitors rose from an early number of 1800 to 2200, growing but still a long way down from 2020, but then omicron hit the US and a lot of big brands pulled out. The flight was almost empty! The hotels were almost empty – the food courts were almost empty and even gaming areas at the Westgate were empty. Organisers imposed a lot of rules that included testing and masks (although he managed to get Covid on the way out – thanks to someone on his nearly empty flight!)
The CES app didn't work on tablets and phones, only on a PC, which was strange as that was almost the only way to watch press events, which did not take place in person, but only virtually.
TVs have always been a big thing for CES and Putman looked back ten years at how the pricing had changed. He said that TVs aren't profitable (although I would argue that in recent years the big brands have been quite profitable on an ROI basis). He compared today's prices and showed what a lot of change there has been over the ten years.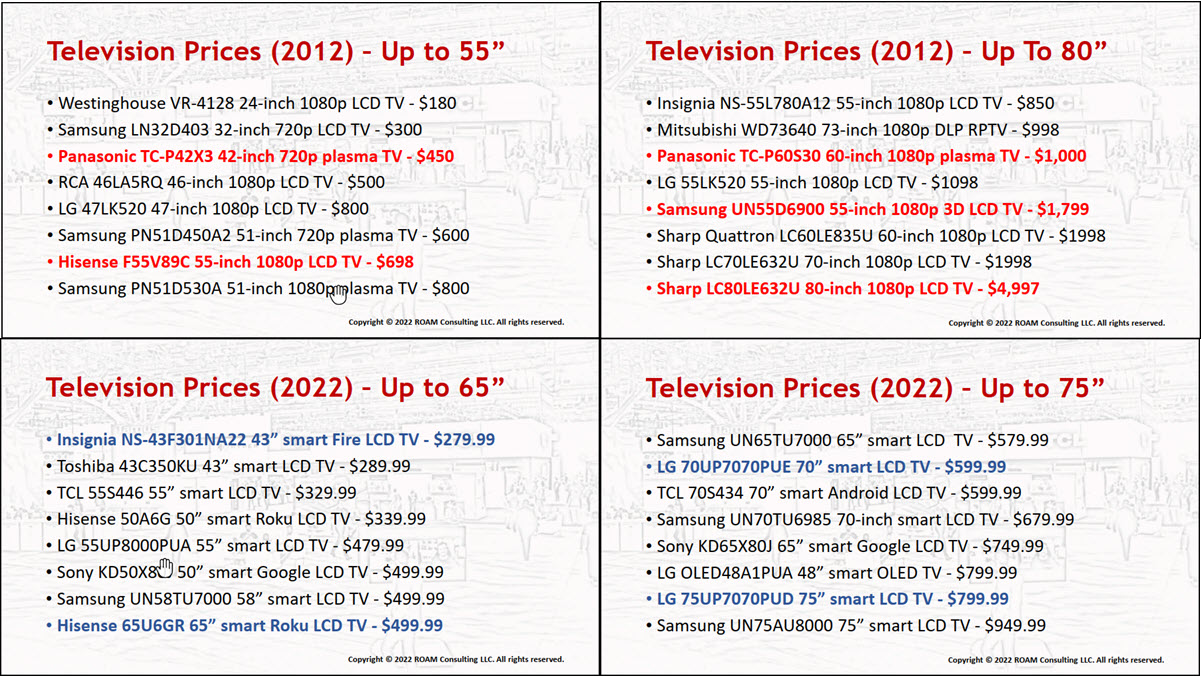 TV Prices 2012 vs 2022 – Click for higher resolution
The Booths
The organisers, Putman said, had made it clear to exhibitors that they should 'Shop up or kiss your booth goodbye' – that is to say, locations at the event would be put back into the lottery for allocation if firms didn't appear. There were some strange solutions. LG's booth was bizarre – a floor and some boxes with QR codes for information – but no products.
LG did announce some new TVs – and the firm is now effectively replicating an LCD line up. OLED is now brighter – and OLED sets are even turning up even in discount stores such as Walmart.
Panasonic's booth was also mainly some big projection screens.
LG Display, usually a highlight for display geeks, had meeting rooms but did its press briefings virtually… The firm showed some interesting concepts using flexible, curved and transparent OLEDs. Putman was impressed with the ideas shown.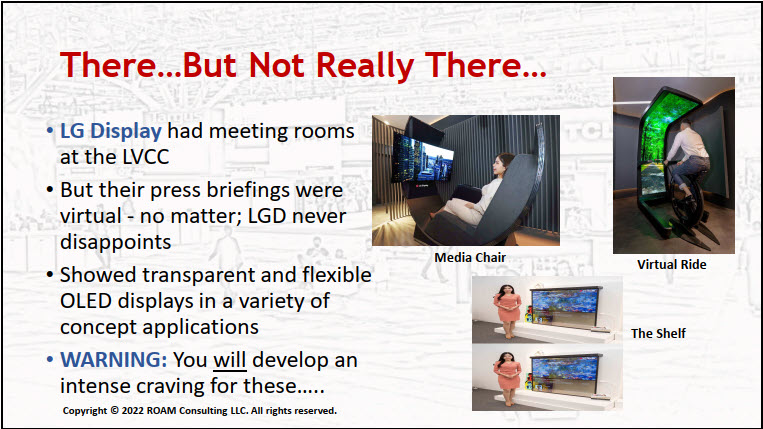 He described how Samsung Display has created the QD-OLED and he showed a video that highlighted the technology. Power consumption 335W at 65″ did see peak luminance of 1500 cd/m² – however some picture highlights were 'crushed' and he thought the display needed calibration. He speculates that when calibrated, the peak luminance might drop to 1,000 to 1,200 cd/m².
Sony didn't show any TVs for the first time. Although Sony had an electric car (and today, Sony said it was joining with Honda to make one.)
MicroLED will probably be the 'end game' for TV, Putman believes and Samsung Electronics had a new 89″ and a 101″, although they are eye-wateringly expensive. They are not any brighter than the QLED sets but have wide viewing angles, deep blacks and very good colour. SiliconCore, a new name to him, but not to Display Daily, also used the show to launch expensive microLED sets for consumers, having been purely in the professional AV market up to now.
Hisense were showing a new dual cell LCD P9F in a 32″ size, but he couldn't get any release or pricing information about it from staff on the booth.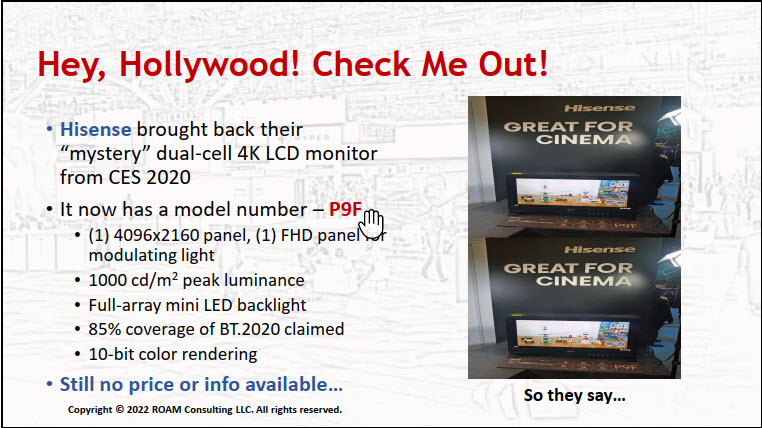 Rose of China had an LED-based LCOS projector – he expressed surprised that anyone was still shipping LCOS, apart from JVC. (In questions, it was pointed out that Sony is still making and selling SXRD which is an LCOS variation and my understanding is that there are a number of suppliers in China, still – editor).
He did not see much activity in 8K TV. TCL, Hisense and Samsung all had 8K LCDs but 4K is 'dirt cheap' and good enough for most viewing distances, probably. However, 8K is a capture technology and the new Galaxy smartphones from Samsung can capture video in that resolution.
UltraHD UltraShortThrow (UST) DLP projectors are doing well with BenQ, Samsung, TCL, Hisense and Sony offering them. Overall, only a handful of companies were showing projection. A horizontally folding sample smartphone concept was shown by Samsung.
The Toshiba brand is licensed by Hisense for TVs and plans to offer 'value' OLEDs in Wal-Mart, Target, BJs, Costco and Sam's Club. The brand will also feature miniLED sets.
BOE – the biggest display maker in China (and the biggest LCD maker globally – editor) used the event to show dashboard displays and HUDs. It also had centre console displays based on OLED, but with just 300 cd/m², Putman thought they might not be bright enough for that application.
Moving on from Displays
Canon showed a dual 5.2mm fisheye 180 deg stereo lens that could be used on its SLRs using a single sensor to be used in the creation of 360° images. The images are very distorted as captured, so need processing on a PC before use and the lens will cost around $2,000.
AR is 'hanging in there' – and he saw 'hardened' models from Vuzix & TCL AR
The North Hall was all medical technology and he found some ear buds with noise cancelling for sleeping! LED pads were being used to treat injuries with LED light by Carewear of Reno, Nevada.
He went through the automotive area but it was very quiet because of withdrawals.
Next Gen TV was there – now supported by LG, Samsung and high end Hisense TVs. In questions he said that although the technology is really good, many people don't realise that they can get FTA video – they are so attuned to promotion for streaming and cable TV. Changing that is a challenge (as an RF geek, he took an antenna and got 44 channels on is Airbnb TV – the owners were very surprised that they didn't need Roku sticks to get TV!).
As an experienced event visitor, he looks out for 'what's not there' as well as what was. He said there was
no UHD Blu-ray at the show and
no discussion about 5G or Wi-fi 6.
There were few demos of VR or
voice or gesture recognition compared to the past.
No tablets.
Really not even much buzz about smartphones – they are basically good enough.
He looked back at the questions that he asked at the end of 2012 and compared them to today. (BR)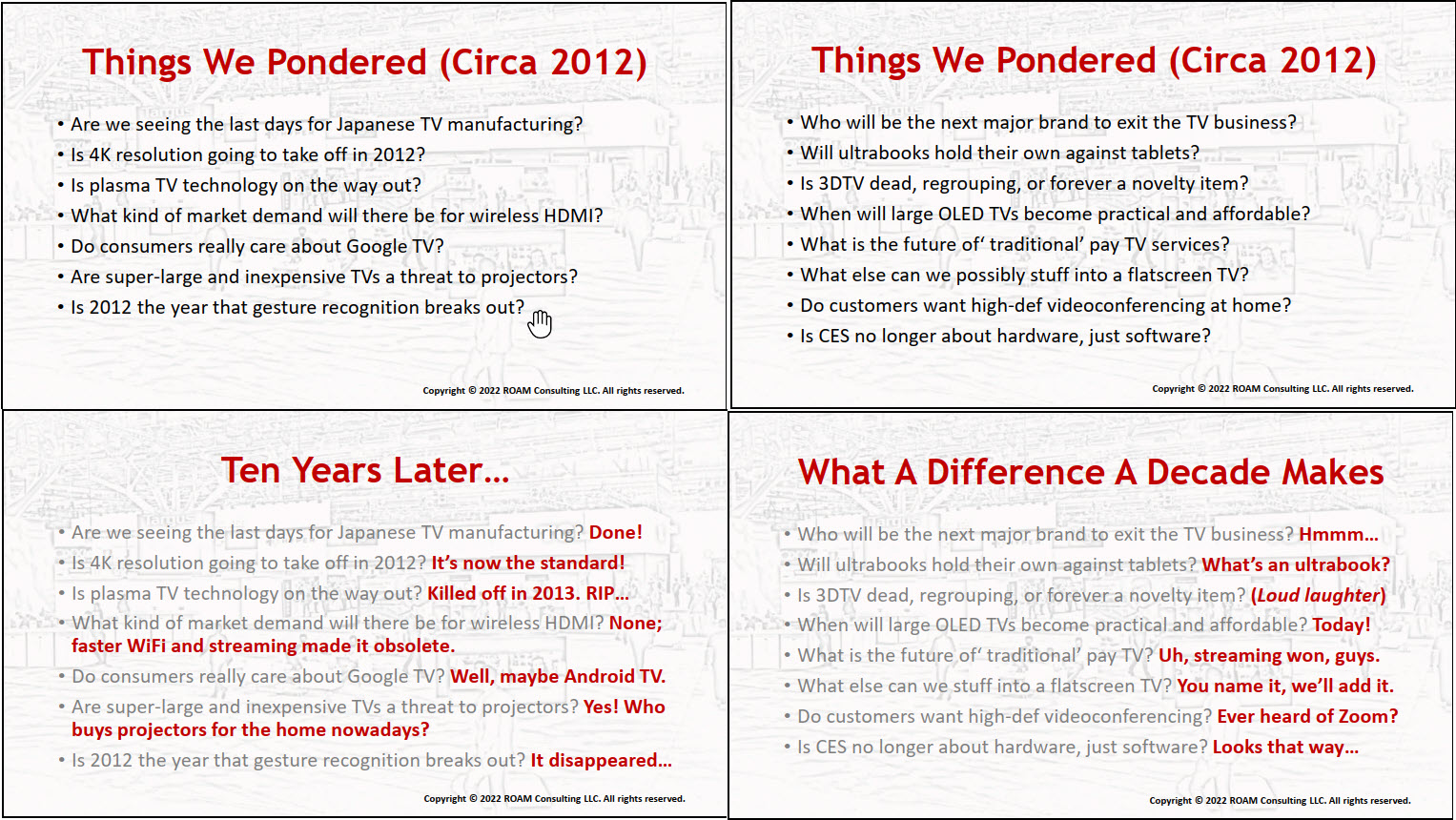 Click for higher resolution