BOE had too much to report, again! No doubt we missed some points. We found that staff were not able to give much detail beyond what was on the labels of the products, which was a little frustrating, so we have shown some of the huge range of products shown.
We started by looking at TV panels, including a 110″ UltraHD panel and we then moved on to a 75″ 8K panel. Response time is 8ms and the output is 380 cd/m². Colour gamut is more than 90% of NTSC and the panel supports 10 bit operation. The backlight uses KSF phosphors to support the wider gamut. The bezels are slim at 6/6/6/7.5mm.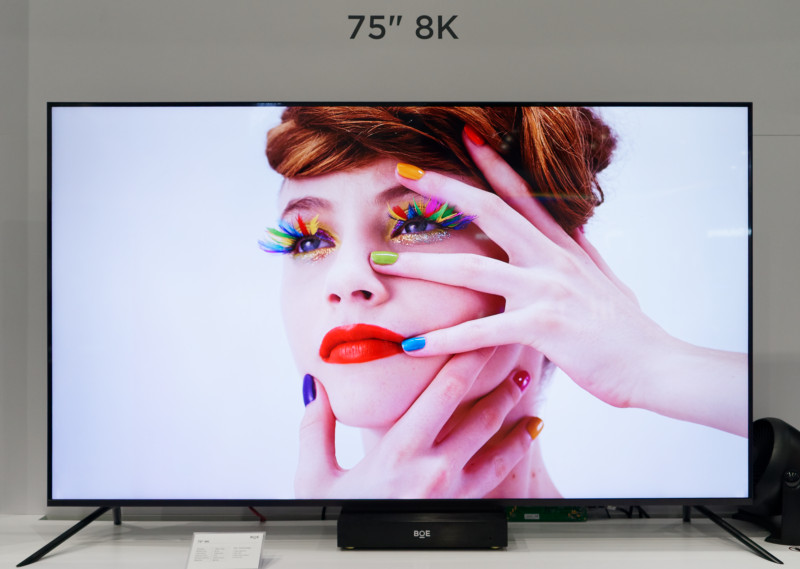 The performance of the BOE 75″ 8K panel was good. Image:Meko
The next product that we looked at was a 65″ 8K glasses-free 3D panel, again with 380 cd/m² of output and maintaining 90% of the 2D brightness in 3D mode.
8K was a big theme from BOE at the show and as well as the TV panels, and BOE had a 13.3″ 8K panel with 664 ppi! Brightness was 300 cd/m² and contrast was 1,300:1. The panel uses 2.8W (excluding the backlight) and borders are 2.5mm on three sides and 8.5mm on the bottom. We hear some say that even UltraHD is too much on a notebook because of the power consumption and relatively limited visual improvement.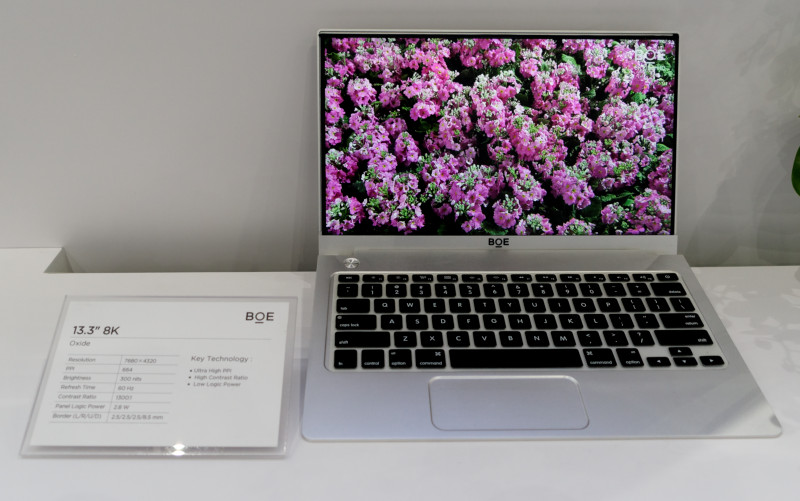 BOE has extended its 8K range right down to notebook size. Image:Meko
Another strong theme at Display Week was flexible displays and BOE showed a 6.2″ 1440 x 3008 (18.8:9) flexible OLED with 538 ppi and 118% NTSC of colour gamut. The thickness is just 0.21 mm and the radius of curvature on the incurved panel was just 1 mm. The company said that it has been tested 100K times. The panel includes touch with five touch point support. The panel has very narrow borders of 0.7 on three sides and 2.0 mm on the bottom.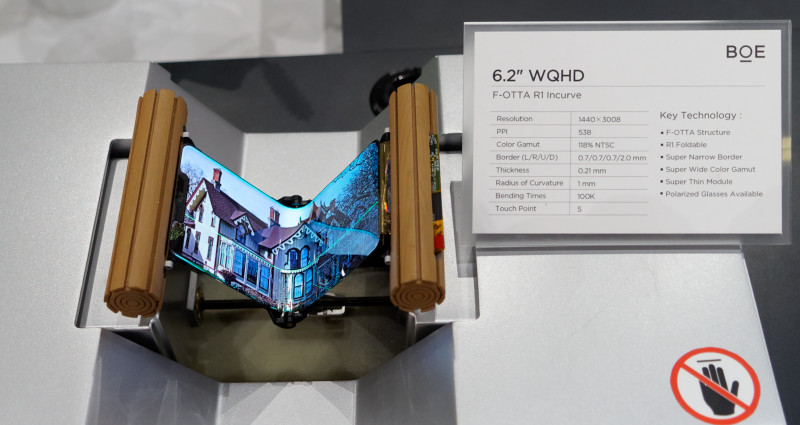 BOE showed that it can make (at least one) incurve flexible OLED. Image:Meko
Next we looked at a 5.5″ FullHD flexible AMOLED display with 100,000:1 contrast and 1ms response time. The panel is just 0.3mm thickness and has 0.85mm borders on three sides and 4.2mm on the bottom. The panel did not have its brightness quoted. The campany, as it did last year, highlighted that it is developing inkjet printing for material deposition. The company is also developing the concept of 'fingerprint under the display'.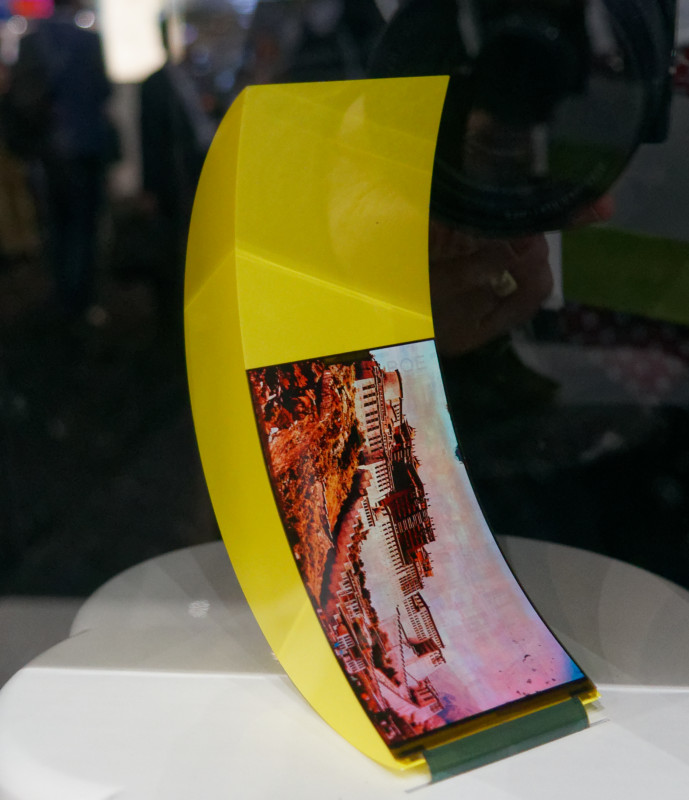 BOE showed this 5.5″ flexible OLED. Image:Meko
A 5.99″ FullHD flexible OLED was shown in an unusual 'robot' configuration. The aspect ratio is 18:9 with 1080 x 2160 (403 ppi) with 10,000:1 contrast and 390 cd/m² of output. Colour gamut was 99% of NTSC and borders are 1mm on three sides and 2.45mm at the bottom. Thickness is just 0.45mm. The display was also shown in a 'smart loudspeaker' application, wrapped around the cylindrical device.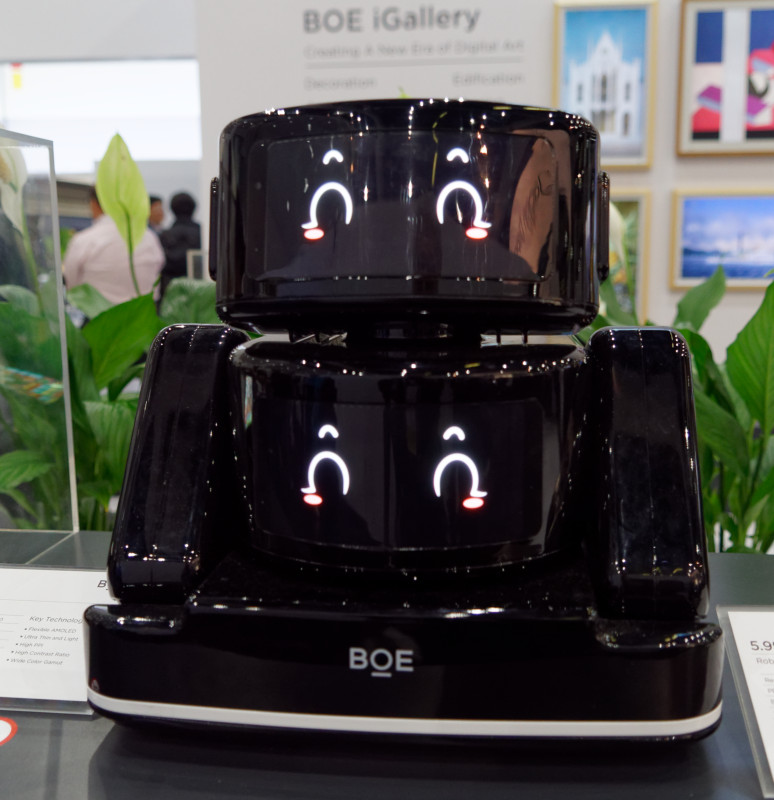 This display was also shown in a smart loudspeaker application. Image:Meko
A demonstration of the reality of real flexibility in OLEDs was shown by BOE. The display was set up above a fan that was literally causing the display to 'flap in the breeze'.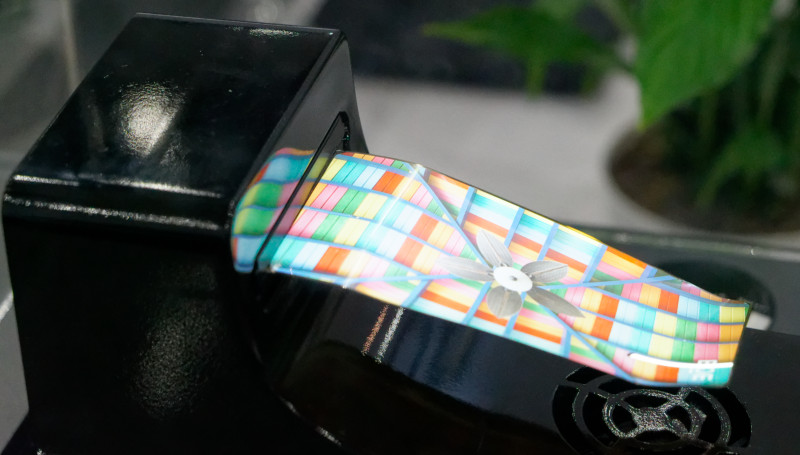 This display was, literally, flapping in the breeze. Image:Meko
A more practical application of a flexible display was a 'Phonblet' which uses an outward folding 7.56″ OLED with 2048 x 1536 resolution, 380 cd/m², 1 ms response time and 100% of NTSC. The borders are 2 mm on three sides and 5.5mm on the bottom. The thickness is 0.66mm.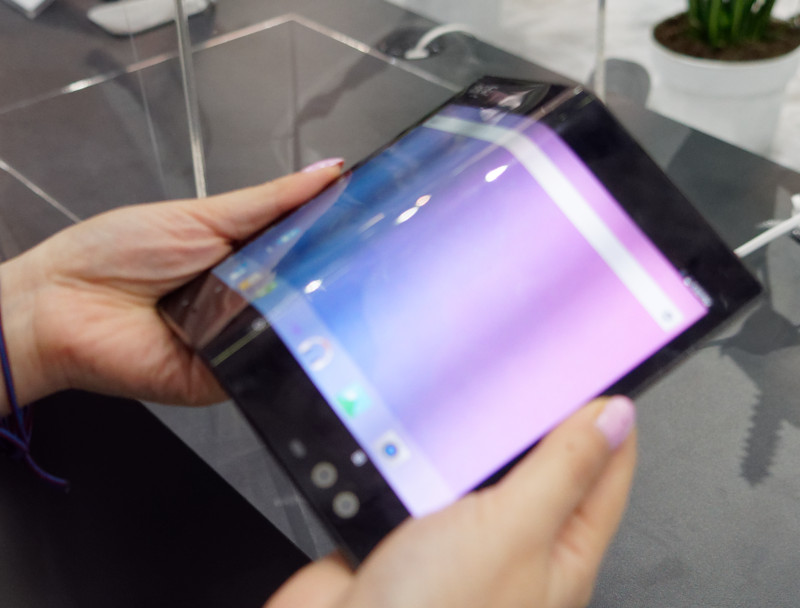 Apologies, the focus system on our camera was confused by this display, but it was still worth showing. Image:Meko
We tried the 'fingerprint under display' on a 6.18″ panel with 1440 x 2992 resolution (537 ppi) and a 'notch'. Brightness is 385 cd/m² and contrast was quoted at the slightly bizarre contrast ratio of 439,220:1. The fingerprint recognition system has resolution of 800 ppi along with 'pore identification' and 'anti-fake fingerprint' technology.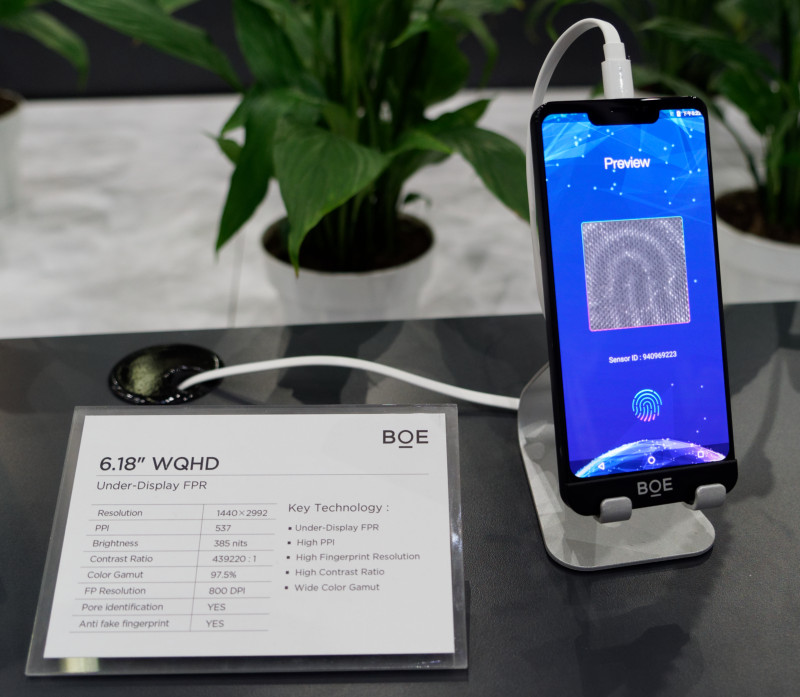 This display uses an 'under the display' fingerprint recognition system. Image:Meko
As well as all the OLEDs, BOE was also showing its developments in miniLED backlights and there was a 5.99″ FullHD+ (1080 x 2160 18:9) LCD with 403 ppi and no notch. Contrast is 180,000:1 and colour support is 100% of NTSC with 450 cd/m² of output. The borders were 0.5mm on three sizes, 1.4mm on the fourth. The company was not quoting the number of LEDs in the backlight, but it did look good. The company also had a display of the same size and resolution that uses an oxide substrate that also supports TDDI for integrated touch. Contrast on this one drops back to 1,000:1, although brightness was boosted to 630 cd/m². The borders were 0.65mm on the sides, 0.8mm at the top and 1.7mm at the bottom.
The company also showed a 5.69″ HD+ (1512 x 720 – 294 ppi) panel which supports a 'notch' and TDDI support, but is based on an a-si substrate. The LCD has 26ms response and 450 cd/m² of output. The panel has even borders of just 1mm all around, and curved corners.
Another LCD prototype was using a RGBYCM colour filters so that the multi primary display could show 113% of the NTSC colour gamut.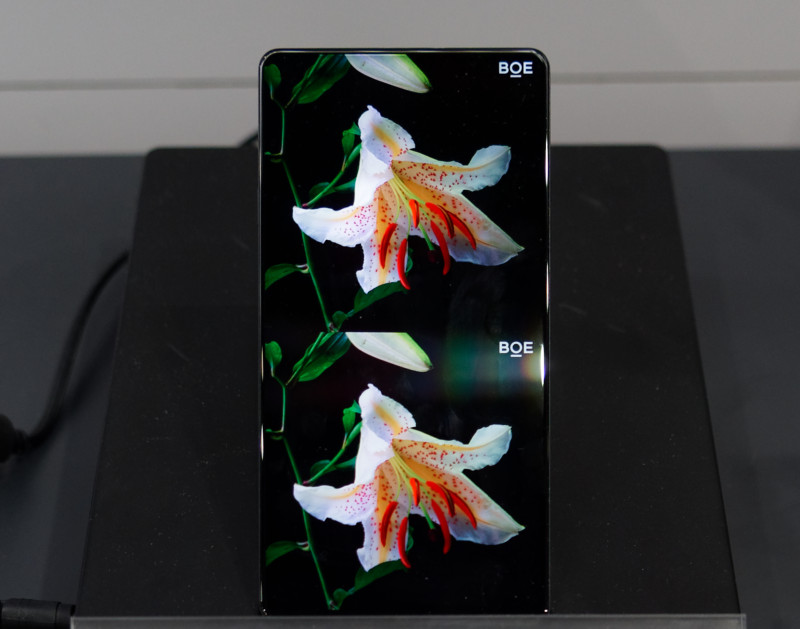 This display is based on LCD and uses miniLEDs to give high contrast. Image:Meko
The miniLED theme continued with a 27″ UltraHD monitor panel that has brightness of 600 cd/m² from the miniLED backlight system with contrast of 1,000,000:1, 99% of DCI-P3 and 100% of NTSC colour gamut. Despite the direct backlight, the thickness of the display was just 8mm thick. Again, BOE gave no details of the number of dimming zones.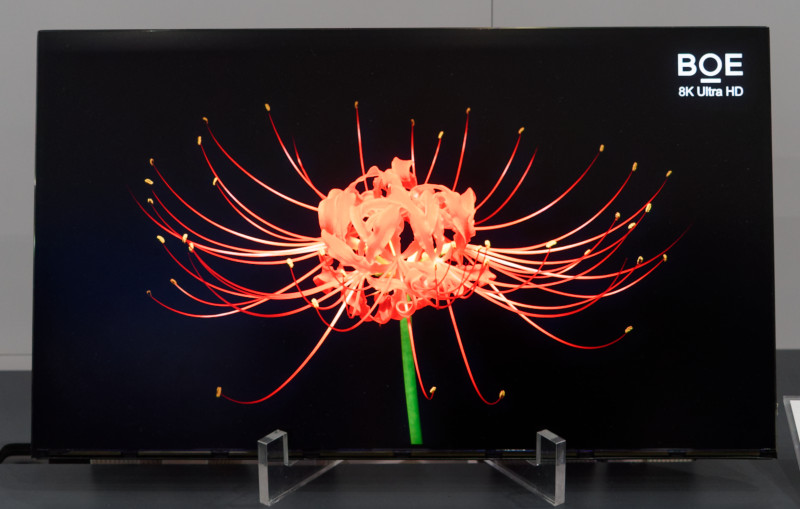 Despite the direct backlight, this panel is just 8mm thick. Image:Meko
In notebooks, as well as the 8K version, the company had a 13.3″ UltraHD panel with 300 cd/m² and contrast of 1,500:1 and based on an oxide substrate. Colour gamut is 96% of NTSC and the panel can support frame rates down to 15Hz, allowing lower power driving where the application does not need higher frame rates. Borders are 0.7mm on the sides, 0.8mm at the top and 6.2mm on the bottom.
Turning to VR, we tried the company's dual 3.5″ 4320 x 4800 displays (1850 ppi) which produce 200 cd/m² and 75,000:1 contrast. The displays give a field of view of 100º and the response time is less than 5 ms. No details of the refresh rate were give, but the backlight uses miniLEDs in 720 blocks to give the high contrast to compete with OLED.
For single panel VR headsets, there was a 5.7″ UltraHD (773 ppi) display with 70Hz refresh and less than 5ms response time, with brightness of 120 cd/m² and the panel was shown in a 120 deg FOV system.
In the automotive area, there was a 42″ 'W-curved' system (800 R concave and convex) for cockpit use and made from three separate 1920 x 720 12.3″ panels with 800 cd/m² of output and 1200:1 contrast. The colour gamut is 102% of NTSC.
This curved cockpit display uses three separate curved displays. Image:Meko Click for higher resolution.
The final panel we looked at was an 8″ 960 x 540 'waveguide' display that has over 80% transmittance and contrast of 5:1 to 15:1 and using polymer-stabilised LC material and with field sequential colour.