BenQ had some new products, but they were in a private area off-booth. They will be launched at ISE (this was a recurring theme at BETT).
CTouch had a prototype 65″ display (the Leddura XTS 65″), which will be launched officially at ISE. It is an UltraHD model with IR 10-point touch and an OPS slot. The big draw is a seven year warranty, with next-day on-site replacement! That should be great value, but it depends on the final cost of the monitor. The largest display at BETT was an 84″ Leddura XT, but a 98″ screen will be launched at ISE. A touch table prototype was also on show.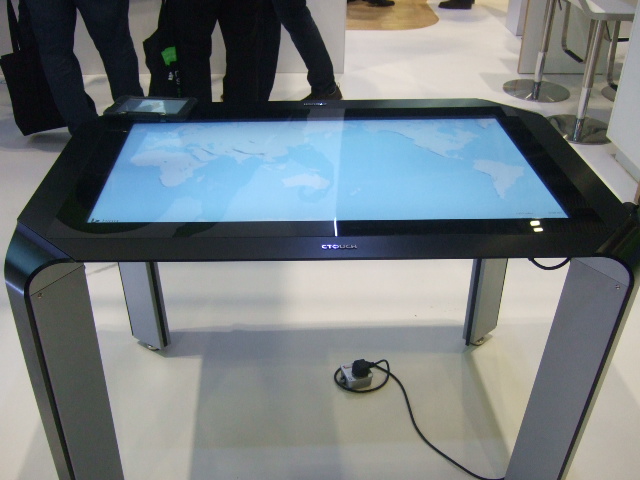 DisplayNote is collaborative classroom software, which is now being expanded to a more business-focused approach. The new version, Swoodle, is about to enter beta testing. Swoodle is a small-group collaboration tool for mobile devices, which enables calls, messages and real-time document sharing and annotation.
Since 2013, Epson has been working with Smart Technologies in the USA, integrating Smart's software into its products to make it easier for teachers to use Epson's projectors for their own content. The software is being rolled out to six projectors in EMEA this year, beginning in Europe in February and MEA and Russia later in 2015. NEC, which bundles the software, was supporting the company at the show.
Having shown its IR curtain module and TW-3003/TW-2503 UST projectors at ISE 2014 (Display Monitor Vol 21 No 7), Hitachi was demonstrating them again at BETT. An existing LCD screen, the HITFHG-6514 (65″ with four-point touch) was also on show.
Huawei was present with its Enterprise division, showing switches, servers, storage and W-iFi network products.
Ingram Micro was promoting the Classroom of the Future initiative; a UK-wide movement that aims to showcase new technologies for education.
Intel focused on its partners' products, primarily promoting their low cost.
Although Microsoft's stand was very busy, the company was only showing its partners' products and some Surface tablets for education use. A focus was on the new devices from HP (see our separate coverage), which are part of the drive towards sub-$200 computing products.
Ricoh had no new products and was instead demonstrating how its technology can be used. For example, we heard about groups of students located in different areas of a country using Ricoh's displays and connectivity hardware to work together.
Sahara UK was at the show under its CleverTouch name. The main change was the addition of a cost effective (the firm doesn't quote SRPs) 8″ 1024 x 768 tablet which runs Android 4.4.2 (kitkat). The firm already supports Android on its displays with intelligence, and has added an app store as well as enabling communication between the display and the tablet. There was one new display – a 75″ UltraHD panel that will ship in April. Specification and price are being finalised.
It feels strange to put Sony in the roundup section, but the company had no new products – they will all be launched at ISE. The Playstation area of the stand was popular with the visiting schoolchildren, though!
The newest product on Toshiba's stand was the Z20T laptop (Display Monitor Vol 21 No 45), but the company also had a concept 7″ Windows convertible prototype – it was non-operating, as the base was made of wood! There will also be a 10″. There was no information available aside from target pricing, which stands at sub-£150 ($225) and sub-£200 ($300), respectively. Toshiba will also be launching a 13.3″ Chromebook this year, but did not have it on the stand.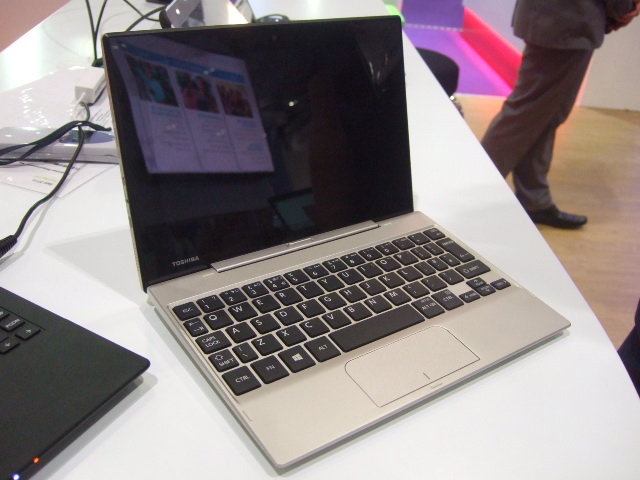 Triumph Board was demonstrating a large-screen video conferencing system using a projector, but wouldn't speak about it to journalists. There was also an interactive DLP projector, with an IR curtain unit bundled, called the PJ3000; it is a UST model with 1280 x 800 resolution and 3,500 lumens of brightness. There was also an IWB, with IR modules in the bezels.