Bill Simser is from 3M where he looks after automotive displays. He started by saying that the challenge is to use displays to drive the user experience. A real target is to get the funcitionality of our smart devices in our cars, but that is very difficult. Higher resolution and better colour are becoming important along with touch, voice and gesture.
Simser covered four areas, the rear view mirror, HUDs, the instrument cluster and the centre stack display
For rear mirrors, the device has to work both as a mirror and as a display, to meet US legal requirements (although we heard that this is different in Europe) and that needs some work, including using light enhancement films and polarising reflective films.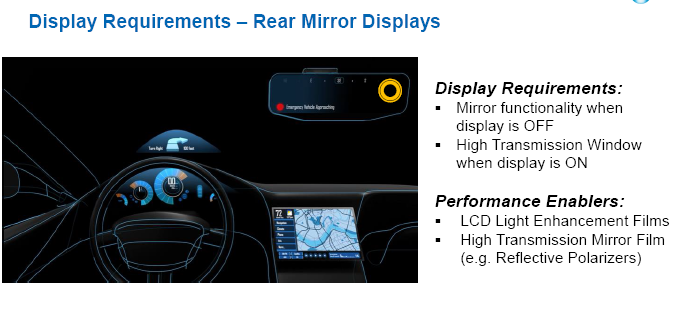 On HUDs there are challenges in dealing with solar heat, but also making sure that they work well with polarised sunglasses.
For the last two, achieving a wide viewing angle and managing light reflections are challenges. Fingerprint mitigation is a real need and you even need to think about head impact in the case of an accident. These many issues mean close cooperation with display suppliers and vehicle makers.