The final session of the day was on Automotive displays
Mark Boyadjis of IHS, a specialist in 'automotive user experience', started by showing a boost in the annual production of automotives themselves to around 108 million by 2023 from 89 million in 2015. The APAC region is the strongest for growth in vehicle production.
The car as we know it is changing and the interior is radically different and will become more so as code and software in automotive systems becomes the dominant technology. The car changes from running on oil to running on code! Boyadjis said that there is a change in the number of people renting a car to get to the conference – only a couple of attendees had rented a car to get to the event – mobility is arriving through Uber and other services.
Center stack and instrument cluster digital displays which were rare in the past are 'must have' features across all generations. Boyadjis said that 40% of millenials are willing to pay $533 for a HUD on their next car – they are taking their CE choices into the car. Voice and other technologies are also interesting for the future.
Japan Display is the biggest supplier to the automotive industry, but on a regional basis, Taiwan is in the lead with 56% with contributions from Innolux, AUO and CPT. IHS released data last week on display suppliers (Automotive Displays are Fragmented, Says IHS)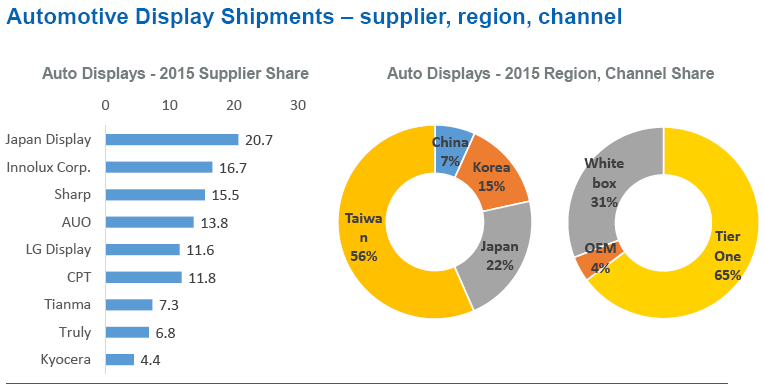 By 2021, the value of the display market will be just over $18 billion. This growth is driving innovation in the segment. AMOLED will start to ship in 2018 in 'hundreds of thousands per year', but with a 60% CAGR. The true black is very positive for auto makers as well as the flexibility which allows more design freedom.
IHS said that DMD/DLP could be a disruptive technology in HUDs with units starting to ship this year. However there are some challenges, especially in the space used for projection systems.