Bob O'Brien of DSCC then talked about the global TV market. He started by saying that in the developed world there is little chance to increase TV set sales volume, but there are opportunities in the developing world. Unfortunately, demand in those regions can be limited by high duty levels and inefficient supply chains.
Panel makers' margins are declining, but TV brand results have been improving. Sony recently made a 7% operating margin, which represents a 32% return on capital – a good return in any business and unusual in TV. LG Electronics did well from OLED TV sales, but Samsung has not been doing so well. O'Brien said that 8K would help to drive the move to larger sizes.
TV Brand Margins have been improving
O'Brien expects OLED to struggle with G10 manufacture because of the difficulty in building an OLED fab. DSCC believes that inkjet printing could help the OLED TV segment to grow, but today OLED is a lot more expensive to make. Quantum dot (QD) technology has some opportunities to help LCD to compete with OLED.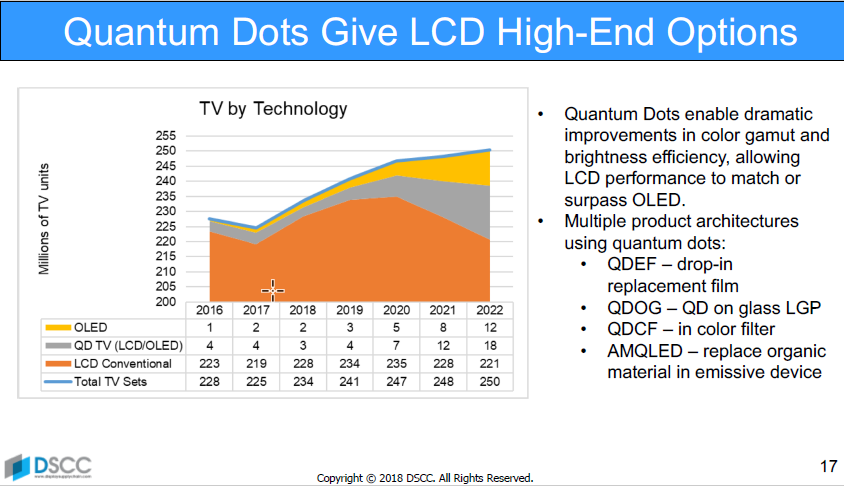 DSCC has this forecast for QDs
Turning to the US vs China trade dispute, O'Brien asked the audience if they thought the dispute would 'blow over'? About half of the audience thought that it would blow over, but only one person in the audience thought in October 2016 that Trump would be elected as president! He then looked at the value of the imports of TVs into the US.
In Q1, TV imports from Mexico were down, but imports from China increased, as did imports from Vietnam. Some brands would be winners if the tariff comes in, including Samsung which doesn't import from China, but from Mexico and Vietnam – it switched from China during 2017. DSCC believes that Foxconn will start TV production in the US this year. Sony is unlikely to be affected by tariffs and LG may shift some production from China to Mexico.
TCL and Hisense may be adversely affected and the whole industry will be hurt if prices rise.
Turning to the Foxconn factory in Wisconsin, there has been money put in by Softbank to help Foxconn and there is work already happening on the ground, even though the official groundbreaking ceremony hasn't happened, yet. There is lots of support financially from local authorities although it depends on jobs. The factory is expected to start with TV production under the InFocus and perhaps the Flying Eagle brands, as Hisense still has the licence for the Sharp brand for the moment. There is a space on the factory site plan for a glass fab, but Corning has not confirmed a plan to build a glass factory.
O'Brien then had a quick look at the potential and issues for MicroLED but he didn't add to what Virey had said.