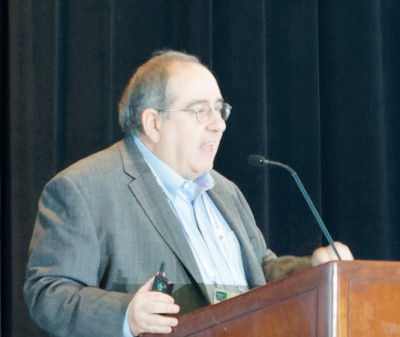 We have reported on talks by Stephen Baker of NPD several times of the years and he always has a very realistic view on the TV market, especially in the US, where NPD collects retail sell through data from major retailers.
There have been some significant price declines in TVs in the US, but also some surprising volume increases. There is a shift to different viewing patterns with more video consumption, but on a wider range of devices. However, retailers are still selling more and more smaller TVs, which is slightly surprising.
There is an attempt to move to premium markets, but that is limited in potential because there is only a restricted segment of the market with consumers that will spend enough so if you want a reasonable market share, you have to have a mix of products. Existing brands are looking at price points carefully to maximise revenue and profit, but new companies such as TCL and Hisense are still building volume and they want to drive their shares. That's good for retailers, who want both volume and value. Even if prices go down, if volumes go up enough, revenues can increase, which is not good for set makers, but is fine for the channels.
2016 was a good year for growth, but in 2017 in the US there was ASP growth, but volume declines. However this year, ASPs have been going down, but volumes are up again. Since mid-April there has been double digit sales growth in 39″ to 43″ and larger sizes have also grown and even small TVs continue to sell. All segments have been falling at least 5% in volume. 40″ is down by 6% to 8% and so are larger sizes. Every week, prices are falling.
NPD said that ASPs are down, but volume growth means that revenues have risen.
Buyers Prepared to Pay More for Better
Turning to the forecast, the ASP forecast is $410 and NPD expects all sets to continue to go down in average price, with 55″ dropping to an average of $701 by 2019. There is a long term trend of consumers being prepared to spend more for TVs that are genuinely better producta and where the buyer can be persuaded of the better value. Baker doesn't think there is really a push back against the pricing of the iPhone X, for example.
There is beginning to be a reduction in the number of TVs in the rooms outside the living room, although the penetration in the living room continues to be around 85% to 86%. Don't believe that youngsters don't like TVs, Baker said, millenials love big TVs and 25 – 34 year olds want big TVs not just small TVs. They love TVs and are ready to buy better TVs – and they often know quite a lot about the technology.
55″ TVs have come down in price by half since 2014 and that has made them attractive. A third of TVs sold in the US in Q1 2018 are now at 55″ and above. However, the over $1000 market is still only around 7% to 8% of the market by volume, but over 25% of the revenue. OLED is doing well and there are plenty of TVs are at 60″ in size, but below $1000.
55″ TVs have been going down in price, but OLEDs can 'buck the trend'. Customers are prepared to pay more for the better OLEDs, although they are double the price of the cheapest.
More of the share of the $500 to $1000 band is going to 60″ class sets and above.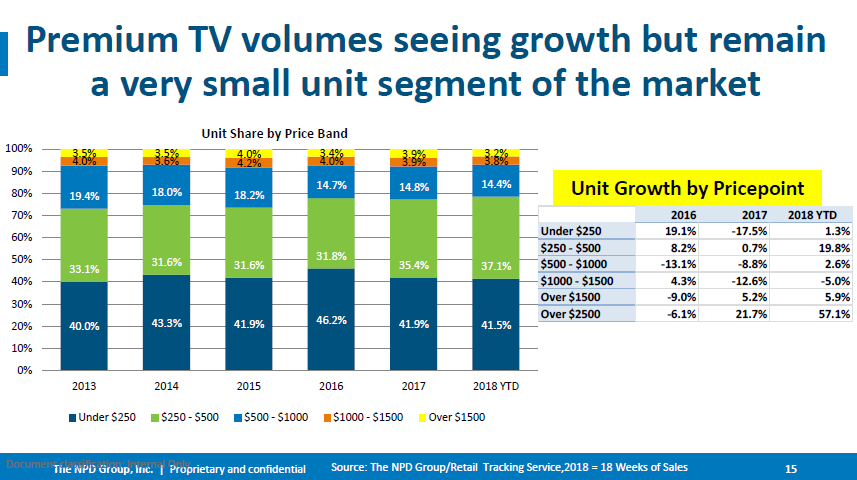 Baker has been making the point for a long time that the US market for TVs in the highest price range is only around 3%
Turning to brands, Baker said that the top three have been taking more of the revenue over the last few years, although they peaked in 2016, but now second and third tier brands are making something of a comeback. 95% of the $1500 and above segment is taken by the top three brands.
The majority of the 55″ business is not in the top three brands and the "others" have an ASP of $384, while the top tier charge $691 on average – that's a lot of extra revenue per set..
For very large sets, the top brands are taking a higher share and get a lot of revenue – almost a doubling in ASP compared to other brands.
Analyst Comment
For many years, the US market seemed just to be about price and size, but over the last few months, we keep hearing that US consumers are increasingly prepared to pay more if the value of the more expensive product is well explained. That would suggest that the market might get more like the European or Japanese markets. I remember when I first started to get deep into the European TV market when I asked a smaller Turkish brand how it decided its pricing policy. Simple, they said, just divide the Sony price by two, and we have a chance! (BR)