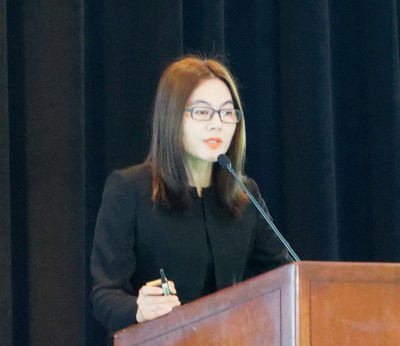 Lisa Lee is from Sigmaintell in China and this was the first time that she, or the firm, has presented at SID and her talk was called 'Refreshing'.
Market growth in the panel industry has been steady, but capacity will now grow around 11% to 12% per year. High generation fabs are driving out the earlier generations so overall capacity hasn't increased so much, because G4 and G5 closures have been happening and LG Display, for example, has now closed its last G5 fab.
By 2020, BOE will probably be the largest supplier, but the 'others' segment will grow, Lee said. Capacity growth comes from the latest and largest fabs. Over 80% of the large market is used for TV and in peak seasons, it is even 85% to 90%. IT is stable and PID is growing, but is a very small market.
Looking at economic growth, India will be important, but another factor is development of exchange rates. Recently the $ has appreciated against several currencies and that will have an effect on the results in different regions.
The Chinese economy is reforming and there is a move to improve the air quality and reduce energy usage, which puts big pressure on manufacturing industry. (We have seen reports that this change has had a big impact on Taiwanese companies that are operating in China. They can't get the same support from local government to subsidise equipment upgrades – Man. Ed.). That will push down GDP from manufacturing, but IT and business services may be the next big growth segment.
Chinese Demand May be Stable
China is the biggest single TV market, but demand is likely to be stable as GDP growth slows. Globally, Sigmaintell thinks that growth will be 2.8% – higher than Nakane-san had said, but capacity goes up by 10.6% in its forecast. That means a big gap between demand and supply growth. This has led to oversupply – 9.6% already (historically 5% is balance, with less oversupply feeling like undersupply, while over 10% oversupply feels like a glut – Man. Ed.). ASPs are going down with a 12% to 20% drop in a quarter. The peak season is coming which will reduce the oversupply for a period. However, Q4 will see significant oversupply again.
Average size growth is lagging behind capacity, although 55″ has gone from 5% to 15% market share very quickly. 4K has also driven the growth of larger sizes.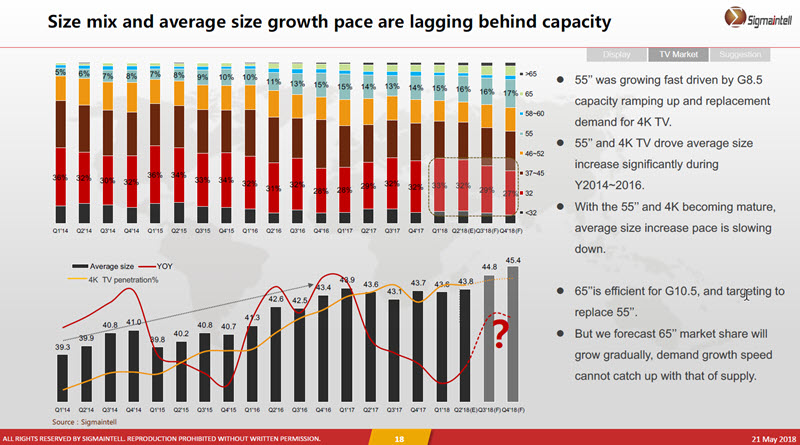 Sigmaintall gave this forecast for the size mix in TV. Click for higher resolution
In the last five quarters, there has been only limited size growth. 32″ demand has been broadly stable, but middle sizes have shrunk in share. There is lots of talk of 65″ sales, but penetration is low and growing only slowly. 8K, QD and OLED are all seeing some development. 8K is being developed – all panel makers are developing the size, but Lee does not expect fast growth in this resolution. 8K TVs should be above 65″, she thinks, but there are challenges in the supply chain for drivers and processors.
OLED is limited by supply side capacity, but there are good brands promoting the technology. LG Display will expand capacity to 2.9% of the TV market in a few years' time.
What to do?
The industry needs to ontrol the supply to get back nearer to balance. Of course yield is lower than 100% and there are shifts in inventory, so Lee believes that LCD panel suppliers need to reduce supply by 8% to bring supply and demand to come into balance at around 5% oversupply.
55″ and 65″ demand depends on the Chinese and US markets. But in China, the momentum for purchase is not so good. 65″ is growing, but not as high as hoped. However, 32″ is usually the biggest segment and has acceptance all around the world, so it may be possible to sell larger sets in other areas by persuading buyers to go to 43″ instead of 32″ – that will drive quite a lot of TV panel area increase, Lee believes. Overall industry demand on an area basis could go up by over 2% without increasing the volume.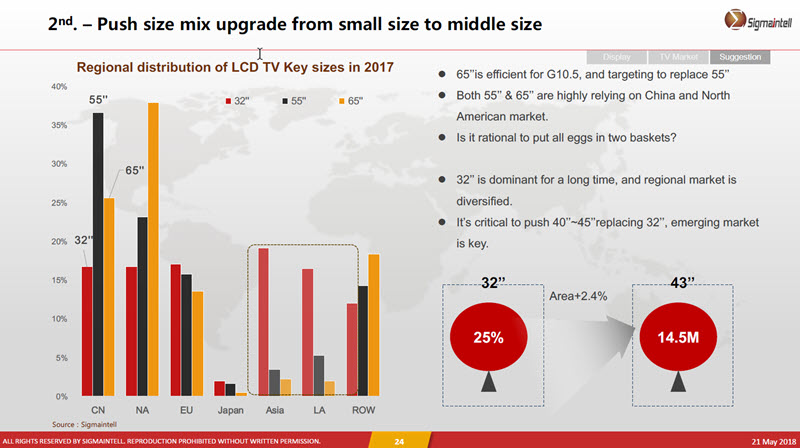 Sigmaintall proposes pushing 32″ buyers to 43″ to absorb capacity. Click for higher resolution
Another interesting market is the gaming market, which is now booming in China. Up to 2016, eSports video gaming was not allowed in China but now, the industry is booming with advertising and strong supply. eSports Industry parks are being developed as are iCafes. There is a lot of growth in the premium monitor market for gaming in these locations and the prices of these monitors are much higher than regular PC monitors. The demand for larger gamer monitors is very strong while 27″ and 32″ sets are the main sizes.
Another big market is Electronic Shelf Labels (ESLs) because of the change in the retail market in China and even 23″ labels are being used, with a switch to LCD from EPD. The market is for more than 15 million pieces this year.