Barco was at the show with ImmersionVR, a French systems integrator and AR/VR specialist. As well as two rear-projection installations with active 3D, Barco was showing the Unisee video wall which was impressively bright alongside the R/P screens. The single chip F90-4K13 Laser phosphor unit was running at 2560 x 1600 to allow support for 3D. There was also a 3 chip DLP unit that was running in the full resolution at 120Hz in 3D mode.
Barco also was showing new cards for its show controller, the E2 VR, which is widely used in rental and staging and control rooms. The chassis itself is well established and has eight input slots and two outputs slots. At the show, Barco was highlighting the new cards (which are available for input or output) which have HDMI support now up to 2.0 and DisplayPort 1.2 as well as 12G SDI connections. Barco can also extend the chassis with an extension box to allow an additional two cards. With eight slots, each with three inputs, a total of 24 can be supported and managed to form composite images.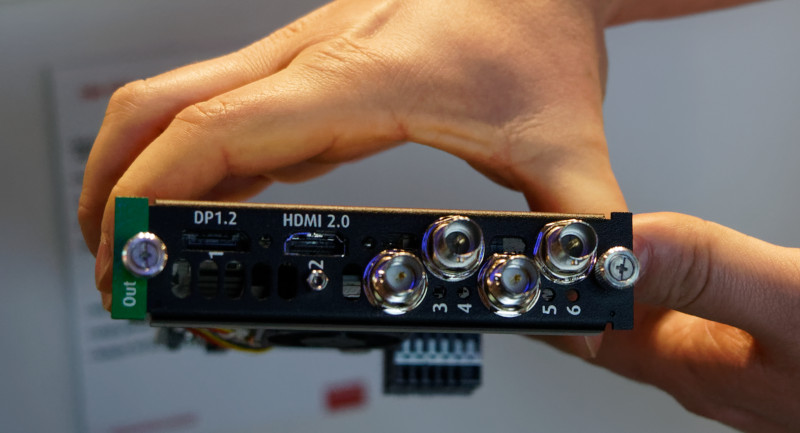 Barco's new controller module includes 3G-SDI Image:Meko
Staff highlighted the range of laser phosphor solutions that are now available and said that in simulation and AR/VR, the fact that these projectors can be moved and in some cases even motorised, could be a significant advantage.