Today, I'm covering two separate topics that are combined only because talks on the topics formed the second half of the Sigmaintell/SID China event that I attended a couple of weeks ago. I reported on the first part, which covered smartphones, here.

Vera Cao looks after the automotive display segment for Sigmaintell. She started by looking at the big trends in the automotive segment and emphasised a policy introduced by many governments in 2020 to stimulate demand for the industry in NEV (New Energy Vehicles) and BEVs (Battery Energy Vehicles). As well as China, the policies are being introduced in all advanced economies in the US, Western Europe, Japan and Korea. By 2025, NEVs are targeted to be 20% of sales in China.
Global vehicle sales were weak in 2019 and even more so in 2020. Supressed demand from this will slowly be released to producers. As we all know, a shortage of chips is causing trouble to car companies.
China saw only saw a small drop in 2020 in vehicle sales and NEVs have been doing well. Sigmaintell expects 6% of the vehicle market to be NEVs by 2025.
Looking at current NEV sales, in 2020 500K Teslas were sold more than double the number of Volkswagen units, the #2 brand. Tesla will be up again in 2021 but policy support is important for market development.
Battery vehicles are likely to be the BEV best platform for driverless cars. The power structure is very different and allows better control for autonomous vehicles. Cao said that the expectation is that Level 5, fully autonomous vehicles, will not be here until around 2030.
Displays
Turning to displays in the vehicles, dual 12.3″ or dual 10.25″ units are getting more common. Why not one use large display? She said that cost is the main reason and for the current production of vehicle displays the mainstream fab size is G4.5. So multi display is likely to be the future.
The display market will steadily recover in line with recovery in the vehicle market.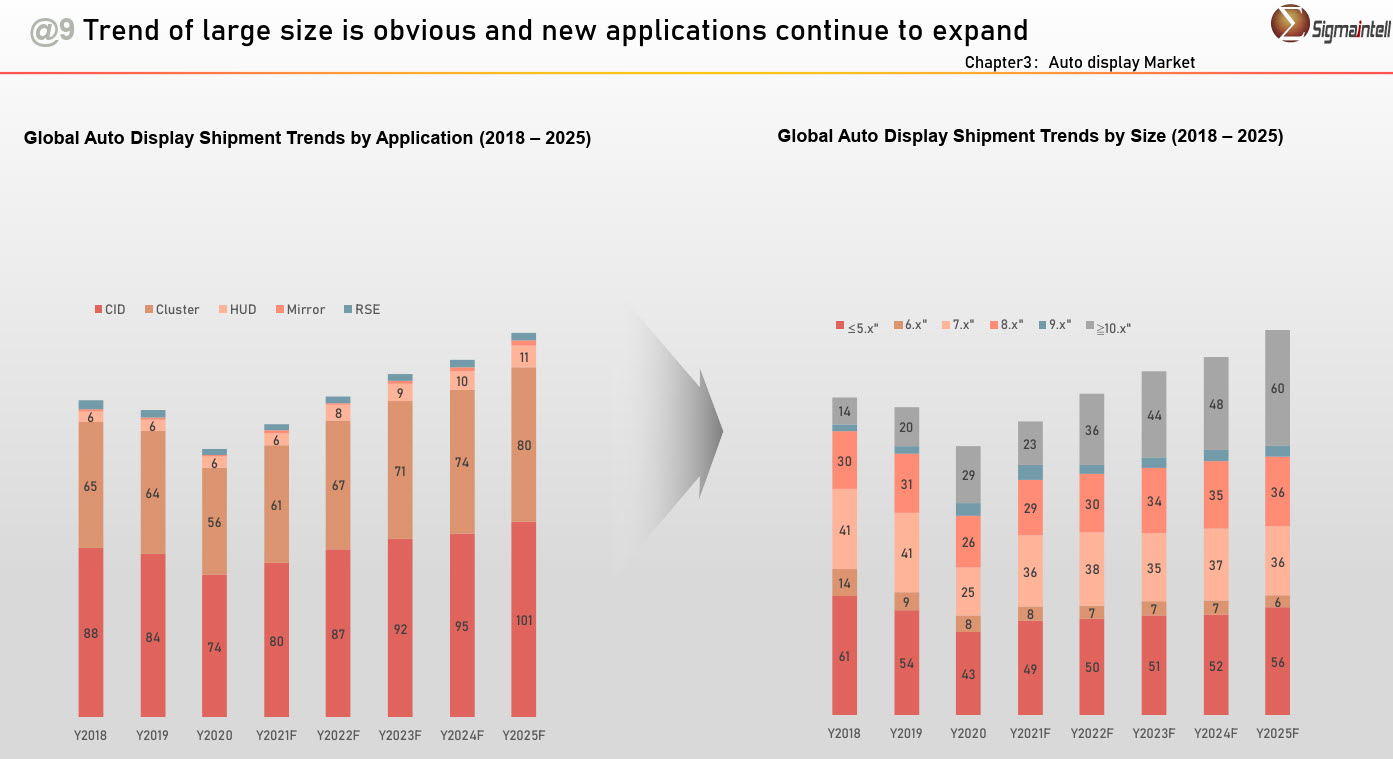 Tianma is #1 in the Auto display market and 2020 was its first time to beat JDI in market share because of good and balanced customer demand.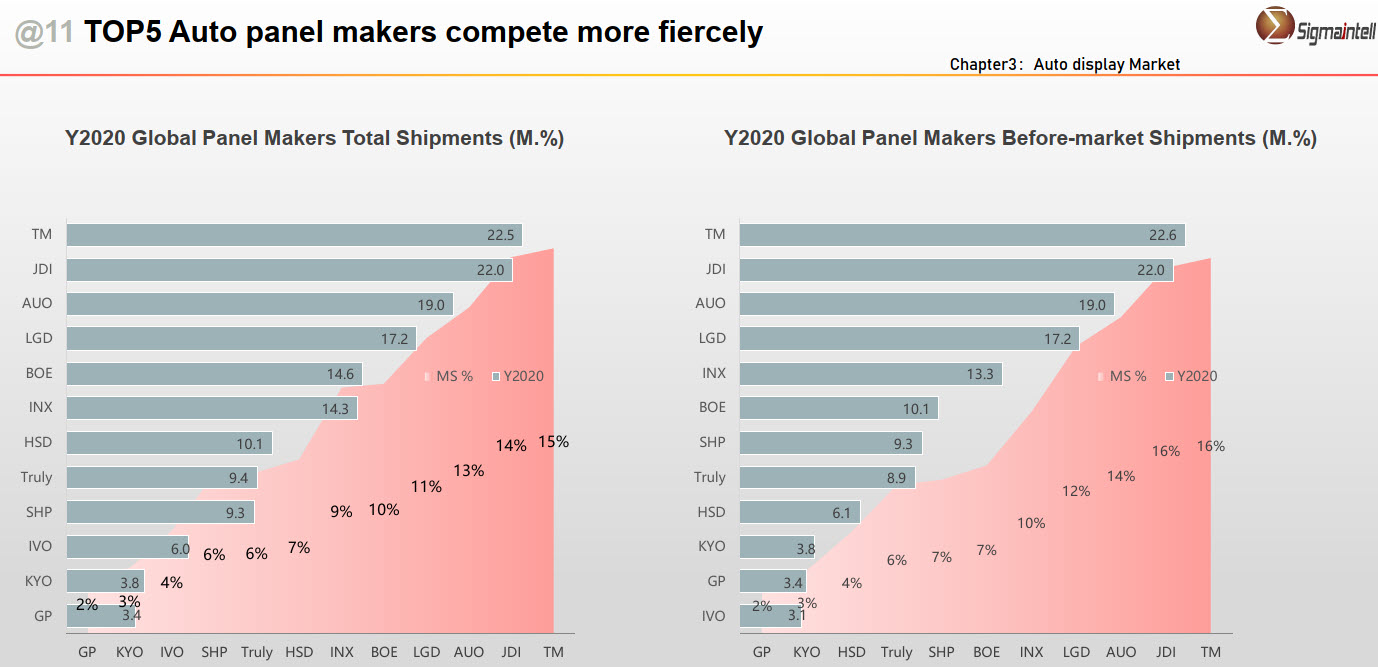 Cao then went briefly through the different companies. Japanese suppliers are gradually being replaced by Chinese. Chinese firms are using very aggressive pricing to enter the market. LG Display is keen on high technology such as LTPS and OLED.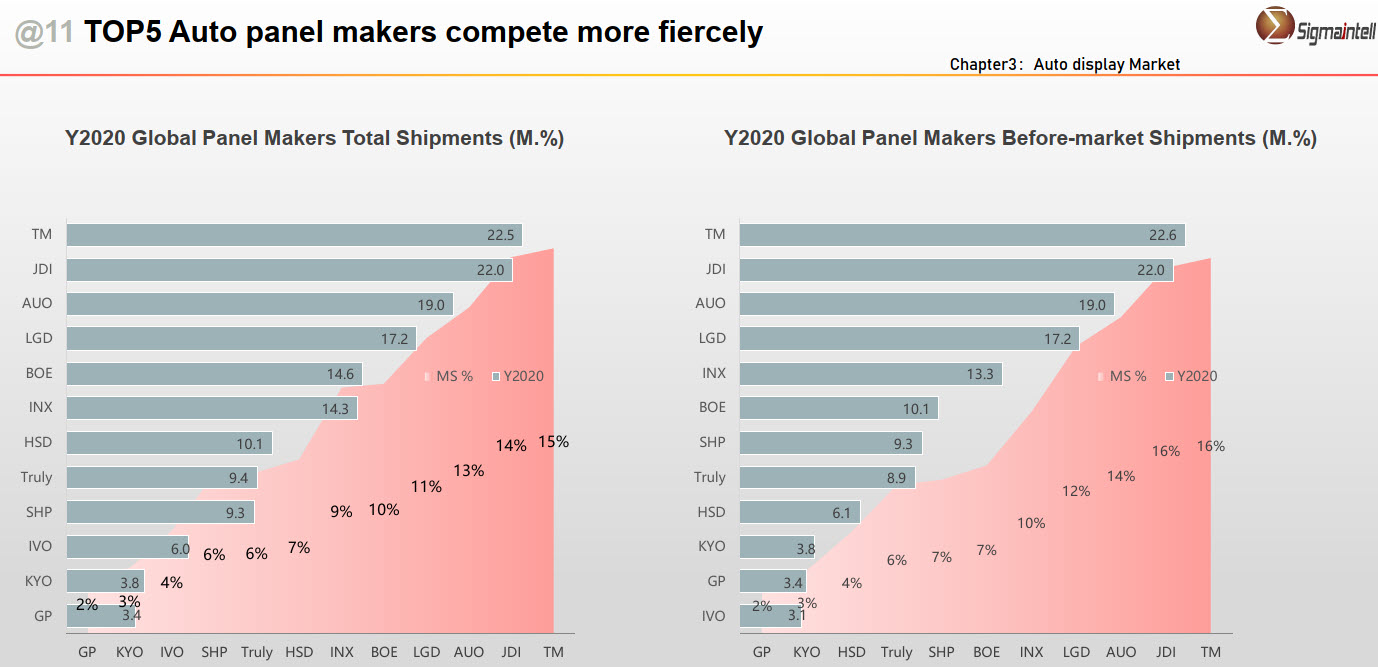 JDI decreased because of 'not so good' customers. AUO is #3 and should also be up this year. BOE was described as a 'market breaker' – using its G8.5 fab to gain an advantage above 10.25″.
Visteon #1 in China overall and as a Center Instrument Display (CID) instrumentation supplier. Continental is the top maker of instrument clusters in China.
Competition is getting very fierce and she listed 20 suppliers, with only Visteon, Conti and Desay SV above 5% share.
#4 Display Driver ICs
Jojo Xu gave a talk about display drivers. Demand this year will reach 7.8 billion chips – about the same as last year and the market should continue to increase. Value will peak in 2022 as pricing comes under pressure.
Prices have been going up because of the recent supply/demand mismatch
Smartphone DDI demand was very strong in 2H 2020 especially in Q3. Huawei needed to stock up and other makers wanted to take share from Huawei. Demand peaked in Q3, Xu said.
Price reductions in OLED displays meant more demand for them.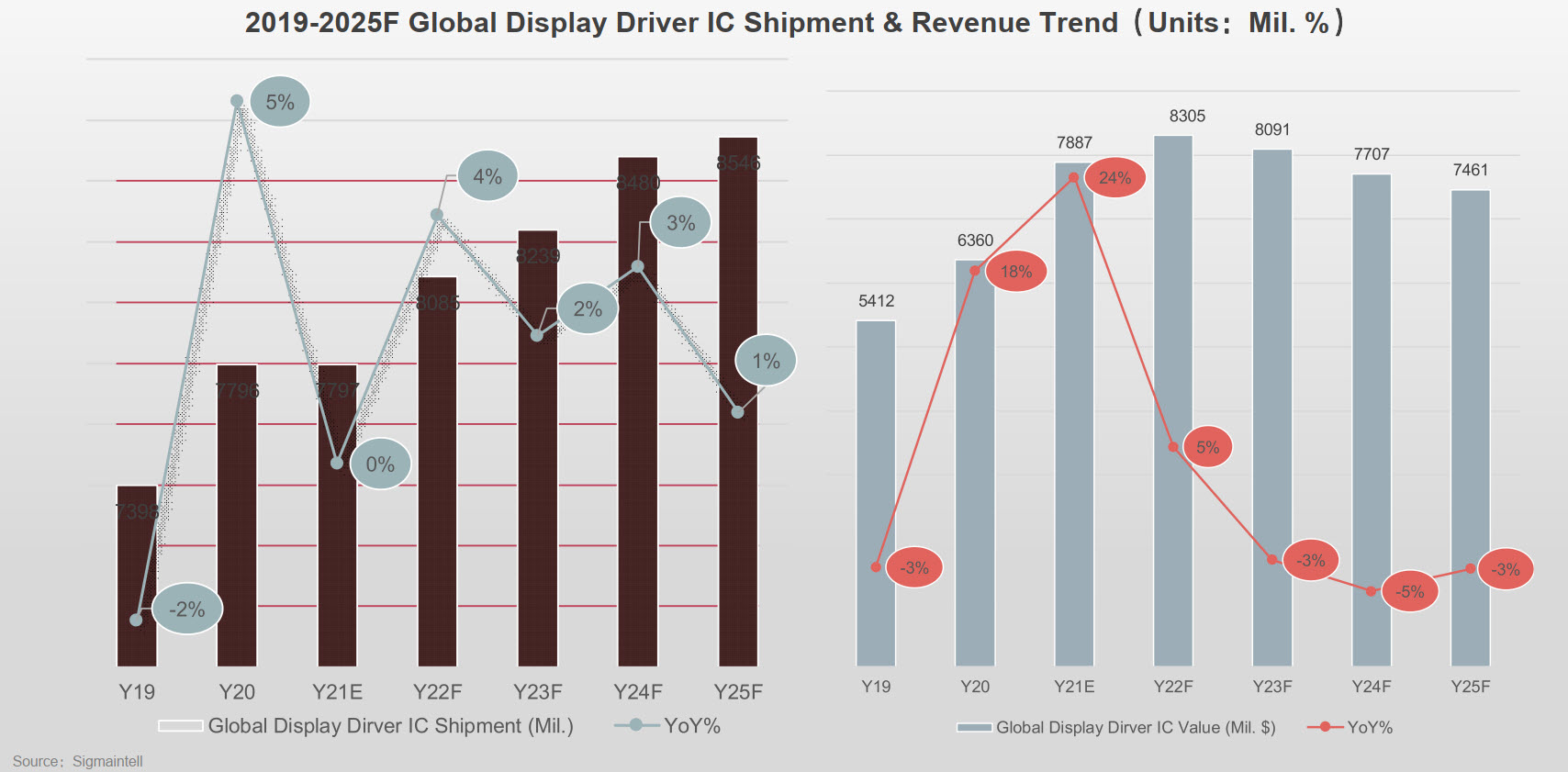 In 2020, Illitek reached the highest share of LCD DDIs for smartphones at 25.3%. Novatek led in TDDI (touch integrated). The OLED for smartphones market saw Samsung as the top supplier.
Chips made on 8″ wafers with 119nm chip features are in high demand – the process for drivers is simpler than for other chips so drivers are more profitable. Power management chips are up a lot because of 5G and that is limiting capacity.
The process for making TDDI chips is being upgraded – to 55nm because of demand for higher resolutions, narrow borders and HFR. The cost goes up with the better processes needed for this kind of feature size.
Taiwan is trying to boost its driver capacity. SMIC may expand its capacity by 50%, but there problems because of US actions.
Turning to the supply chain, packaging and testing is very concentrated in Taiwan. The top three companies are fully loaded and will struggle to meet customer demand which could mean higher pricing to allow more investment in capacity.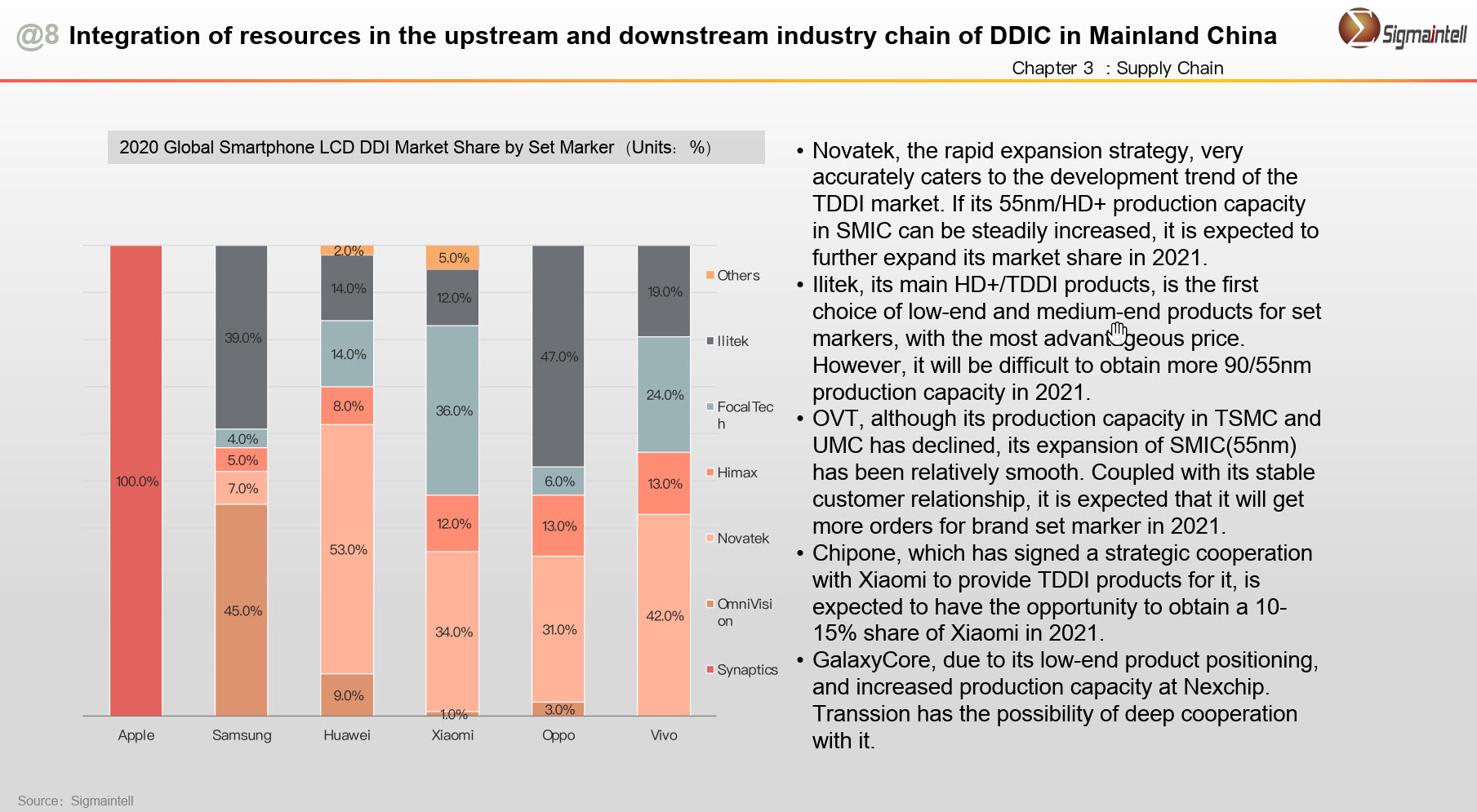 The best way to boost capacity, Xu said, is to work with Chinese fabs. Prices are expected to keep rising.
Looking at technology trends, TDDI will upgrade to HFR and there is also a trend to narrow borders. (1.5mm and below)
There will be integration of TDDI and fingerprint recognition in the longer term, maybe in 2022. (BR)