In 1789 Dr. Joseph-Ignace Guillotin, a member of the French National Assembly, spearheaded the passing of a law that required all death sentences to be carried out by "means of a machine," so decapitations would be as painless as possible. On April 5, 2021, in a similar humanitarian spirit, LG's Board of Directors removed the burden of life from their company's long-suffering smart phone business. The vote was unanimous.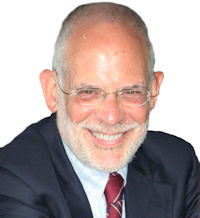 LG had tried to sell the unit, reported Korean news site DongA, which based its story on an unnamed source. The source said negotiations with Volkswagen and Vingroup JSC had fallen through.
The Wall Street Journal reported that LG's mobile business has lost money 23 quarters in a row, with a total loss of $4.4 billion going back to 2015. By the end of 2020, the unit's global market share for smart phones was 1.91% according to Counterpoint Research.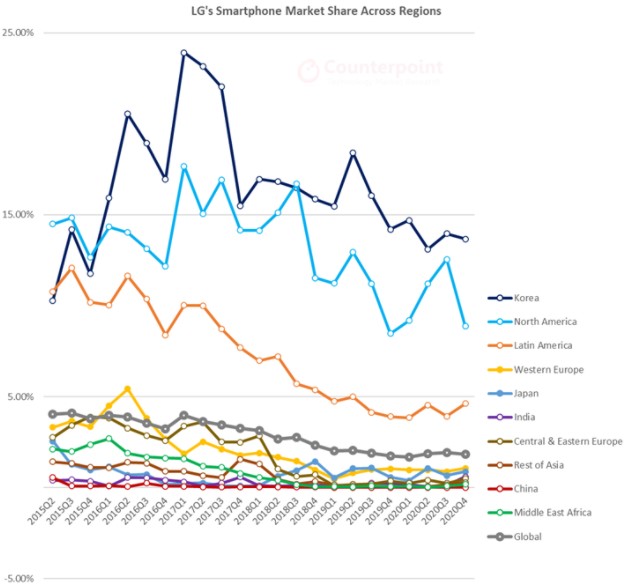 LG's smartphone market share has been either declining or negligible in all markets, with a global market share of 1.9% in Q4'20 (according to Counterpoint). LG's board of directors has decided the business is not salvageable. (Source: Unknown)
"The wind down of the mobile phone business is expected to be completed by July 31 although inventory of some existing models may still be available after that," said LG in its April 5 press release. "LG will provide service support and software updates for customers of existing mobile products for a period of time which will vary by region."
LG has shown some novel smart phones in recent months, including the "Wing 5G," which rotates from a typical soapbar configuration into a T (Fig. 2). When I first saw the Wing, I was intrigued but I couldn't think of a use case that would justify the additional weight and complexity. The larger marketplace has apparently agreed. (KW)
The Wing 5G was one of several novel products and prototypes LG introduced over the last couple of years to stimulate interest and sales, but without success. (Photo: LG)
Ken Werner is Principal of Nutmeg Consultants, specializing in the display industry, manufacturing, technology, and applications, including mobile devices, automotive, and television. He consults for attorneys, investment analysts, and companies re-positioning themselves within the display industry or using displays in their products. He is the 2017 recipient of the Society for Information Display's Lewis and Beatrice Winner Award. You can reach him at kwerner@nutmegconsultants.com or www.nutmegconsultants.com.