AUO was the first panel maker that we met with on the show floor and the company had a wide range of impressive technology to show.
AUO was showing a microLED-based prototype display that uses colour conversion for red and green. The company wasn't revealing anything abpout the manufacturing process or whether it was a 'monolithic' or distributed LED architecture, although it did say that the backplane was LTPS, so we would presume that the LEDs were singulated and placed. The 8″ panel was 1280 x 480 resolution (169ppi) and used LEDs that are said to be smaller than 30?m.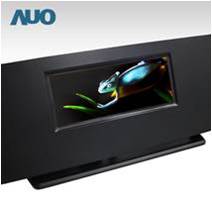 AUO relaxed its 'no photos' policy for us so that we could snap this MIcroLED. Image:Meko
The next demo we looked at was a panel designed to act as a half mirror and based on a wiregrid polariser that is fabricated on the display substrate rather than being added as a film. The technology is mainly for this kind of mirror device – there is a rapidly increasing market for rear view mirrors in vehicles. However, the wire grid improves the polarisation compared to film, which helps to improve contrast and other display image properties including transmittance which is claimed to be double of 'traditional' half mirror displays. The polariser layer is less than 0.5 microns. The display is 3″ diagonal with 960 x 480 resolution and 580 cd/m² of output.
The polariser technology is also important if you want to develop the QD on Colour Filter concept as, in this case, the polariser needs to be put inside the LCD cell.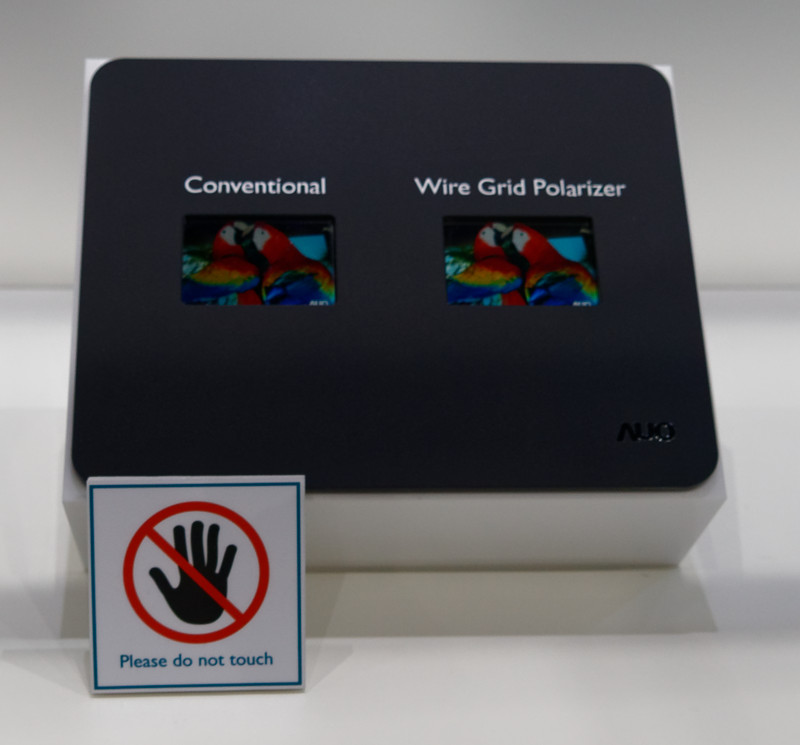 AUO wire grid polariser. Image:Meko
The next prototype that we looked at was a transparent RGB OLED that achieved 68% transmission, which is even more than Samsung had achieved in its LFD transparent panel. Staff told us that the panel was made using a fine metal mask (FMM) for patterning. The 13″ panel was not high resolution at 1150 x 575 (100ppi) and brightness was 200 cd/m². The use of RGB means that colour performance is 100% of NTSC colour coverage. AUO is looking for applications and is expecting to see them in medical and A/R among others.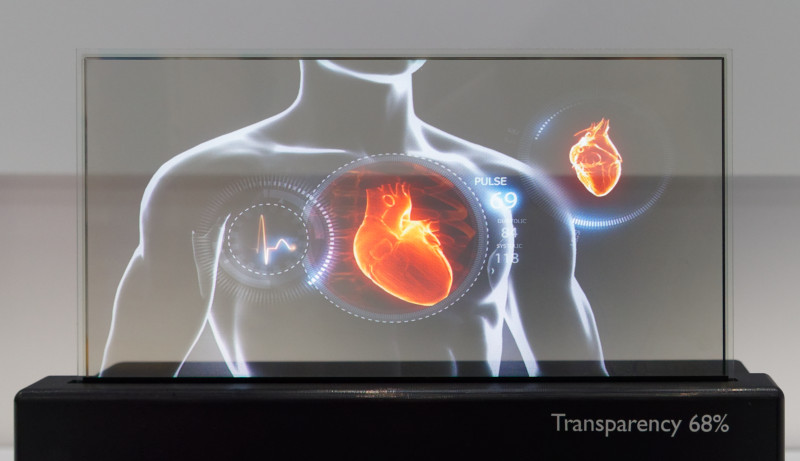 AUO Transparent OLED. Image:Meko
AUO has been successful in developing circular panels for use in smartwatches and has now further developed the form factor to make them even more circular. The company was showing 1.2″ and 1.4″ AMOLEDs with in-cell touch which it believes are the only AMOLEDs to have that feature. Resolution is 390 x 390 or 454 x 454, respectively and brightness can be 350 cd/m² or 1,000 cd/m² in outdoor mode. The case border in the new panels has been reduced from around 5mm to just less than 3mm which is starting to make the displays suitable for 'dress' watches. The displays are very low power with a mode that uses less than 10mW and just 2mA in the 'Always on' colour mode. Including touch, the thickness is just 0.55mm – impressive!
AUO Circular Displays are suitable for dress watches. Click for higher resolution. Image:Meko
Another new panel with integrated touch was a 19″ square (1920 x 1920) LCD that has been developed to meet a customer requirement for a 'smart home device'. The panel uses a bonded OGS solution and visual quality looked good although contrast was only quoted at 1,000:1 with brightness at 400 cd/m². Touch support is 10 point and the panel uses eDP 1.3 as an interface. (I could imagine this panel being used in POS – e.g. QSR or kiosk applications).
Next we looked at a 6″ 18:9 curved convex display that is tightly curved (100mm radius) and is based on LTPS LCD technology. Resolution is 2160 x 1080 and output is 500 cd/m². The customer application is for a smart speaker which is curved.
Returning to the in-cell touch, theme, we looked at a 12.3″ 1920 x 720 display for automotive Cluster Instrument Display (CID) applications and with 1000 cd/m² of output and 80% of NTSC colour, while contrast is 1,500:1. AUO has also developed support for 'free form' displays and had a centre console concept. The gate driver can be in the pixel active area and the display can support drilled holes in the display area without needing dual drivers (dual 35mm holes were in the prototype). Aimed at CID applications, the output is 1,000 cd/m² on the 13.2″ display which has 1200 x 1600 resolution and is curved to 1,000mm. Despite the curve and free form, contrast is very good at 1,700:1 and colour support is quoted at 85% of NTSC. AUO said that the aperture ratio is 64%.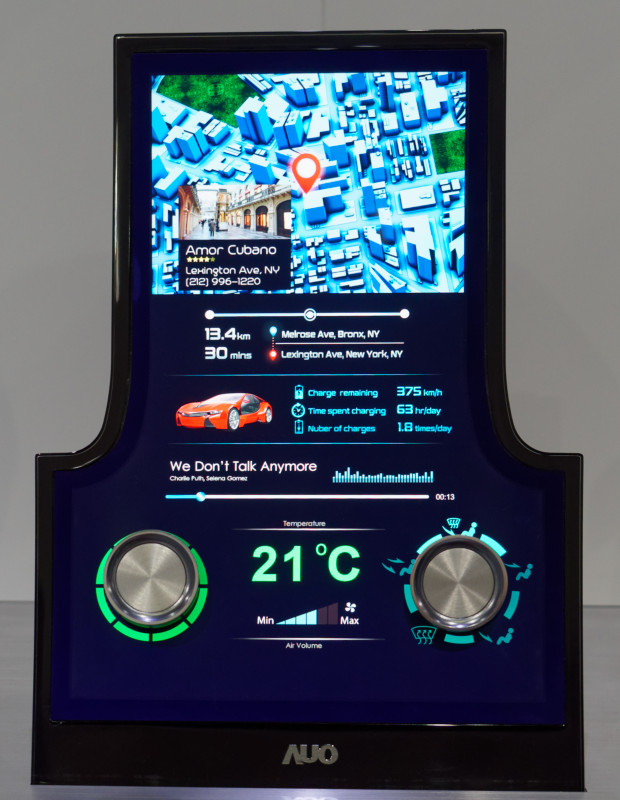 AUO's Freeform auto console has two large drilled holes. Image:Meko
The Free Form technology is also being used in mirror displays for automotive, where curved edges are popular. An 8.9″ LTPS LCD 1280 x 256 demo unit had very high brightness of 2,200 cd/m² and mirror reflectance of more than 40%. Colour gamut is 50% of NTSC and the border around the module is just 3.1mm (1.9mm for the panel).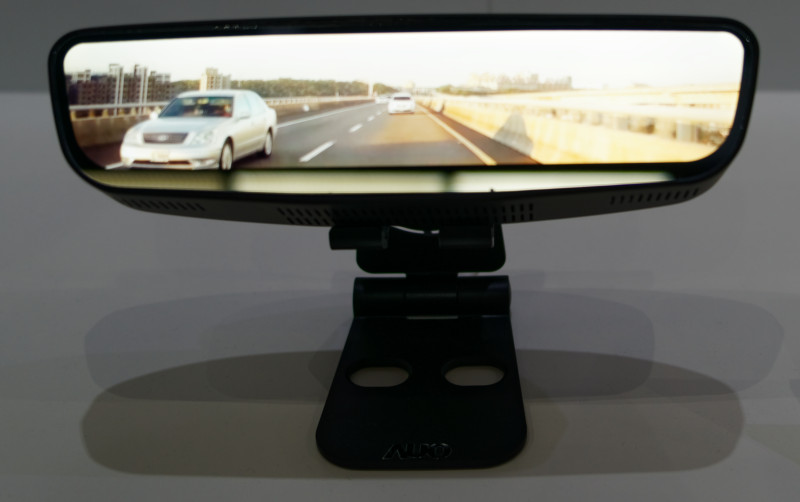 AUO is using its Freeform technology for auto mirror panels. Image:Meko
MiniLED backlights were a big topic at Display Week and AUO was showing a 2″ HDR LTPS LCD with 1440 x 1440 resolution and intended for VR applications that uses the technology to support 1024 zone local dimming. That's impressive on a 2″ display – and a lot more than current TV panels. Brightness is just 150 cd/m² (but that's fine for goggle applications). Contrast is dynamic and quoted at more than 100,000:1 and the miniLED support means that the panels can compete with OLED for contrast.
There has been much talk of miniLED-backlit displays for IT applications in the Taiwanese press and AUO was showing a 15.6″ panel for a gaming notebook that uses that technique. The UltraHD 15.6″ panel (282ppi) had 1,000 cd/m² of output with a claimed 1,000,000:1 contrast and supporting 240 local dimming zones. The colour gamut is >95% of NTSC and 90% of DCI-P3. The AHVA (AUO's IPS/FFS technology) panel is made with an LTPS substrate and conforms to the VESA DisplayHDR1000 labelling requirements.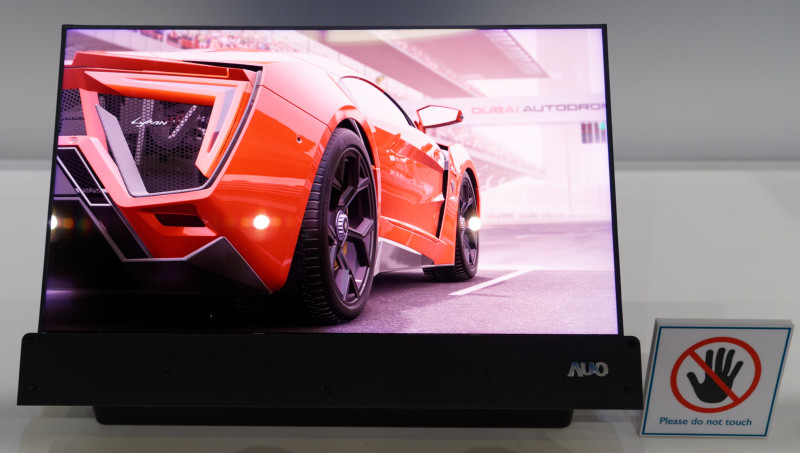 AUO had DisplayHDR1000 notebook and monitor panels. Image:Meko
Narrow bezels are a big trend and there was a 3.5mm thick 17.3″ FullHD AHVA LCD with 144Hz refresh and a claimed 7ms response time. The borders of the module are just 4mm at the top and sides and the panel is aimed at gaming notebooks. Output is 300 cd/m² and contrast is relatively low for AHVA at 800:1.
For professional notebook PCs and 2 in 1 notebooks, there was a new 13.3″ UltraHD panel (332ppi) with 2.8mm side bezels that supports a Wacom pen for stylus input and has a metal mesh-based OGM architecture. Output is 400 cd/m² and contrast is 1,400:1. The display interface is eDP1.4a. Again, this panel is based on an LTPS substrate.
There was a demo of a FullHD 400 cd/m² panel with 1,500:1 contrast. The LTPS LCD has borders of 1.85mm (top, left and right), 2mm thick and power consumption is claimed at <1W (excluding backlight) as the LCD has an embedded TCon. Connectivity is via eDP1.4
Turning to monitors, AUO had a 27″ UltraHD panel for 'professional gamers' that also supports the DisplayHDR1000 label and also uses miniLED local dimming with quantum dots to achieve a gamut of wider than 100% of NTSC. The contrast is quoted at 500,000:1 and output is typically 600 cd/m², with 1,000 cd/m² of peak output. The panel can support the G-Sync variable refresh rate technology.
Analyst Comment
I started this report on AUO with a plan to pick a couple of highlights, but there turned out to be a lot of points that were worth reporting. (BR)