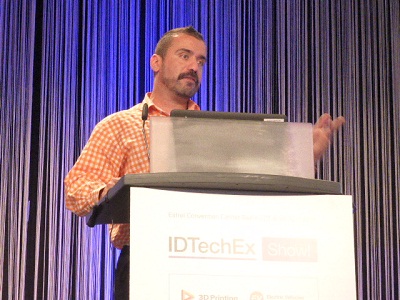 Harry Zervos, principal analyst with IDTechEx, presented a talk about eyewear. Virtual reality is already popular, he said, and augmented reality is growing in two stages. For now, it is tied to smartphones; the next stage, and mainstream adoption, will come when AR glasses are standalone devices and can replace your phone.
A challenge for AR is the limited space for components. This leads to, for example, contact lenses with very basic displays, or even simple coloured LEDs. This is a very small market today; the only existing product is from Switzerland's Sensimed, for people with glaucoma. It is only meant to be worn one or two times a year, when tests are needed; it requires an additional wearable around the eye and has no on-board power scheme. It achieved FDA approval in March.
Despite the lack of products, the smart contact lens market is 'buzzing'. Google and Novartis are working together on a lens to monitor blood sugar (Eye-Worn Devices and the Next Wave of Wearable Displays), for example. Unlike the Sensimed product, this one is designed to be worn all day, and so must be comfortable. Another competitor is a Canadian startup called Medella Health, which is claiming to produce a similar device for an order of magnitude less than Google will charge – although this is still 'vapourware', as nothing has been shown.
Speaking about glasses, Zervos pointed out that consumer applications for AR are challenging, and that enterprise and niche consumer uses will be the initial target markets. AR glasses will become more popular when cost comes down and design is made sleeker – without affecting battery life.
There are many components to AR and VR wearables. These include the UI/input methods (Google, Microsoft, Vuzix and Fove are leading); near-to-eye displays (LCD, LCoS, micro-LED and micro-OLED); optics architecture; sensors; energy harvesting and storage/ and voice recognition. All of these are still to be perfected, but IDTechEx is positive that it will happen within the next 10 years. The firm forecasts shipments of AR/VR headsets to reach 100 million units by 2026.