Apple has finally introduced Vision Pro (not Reality Pro as speculated), an innovative computer system that aims to revolutionize the way users interact with digital content in their physical surroundings. The cutting-edge technology offers a three-dimensional interface, seamlessly blending virtual elements into the user's real-world environment using intuitive tools like eye tracking, hand gestures, and voice commands. Apple doesn't call it a VR device but a spatial computer. And, at some level, it is like having a MacBook Air wrapped around your face, that's how much technology is crammed into it. Not to mention the displays, sensors, and cameras that go with it.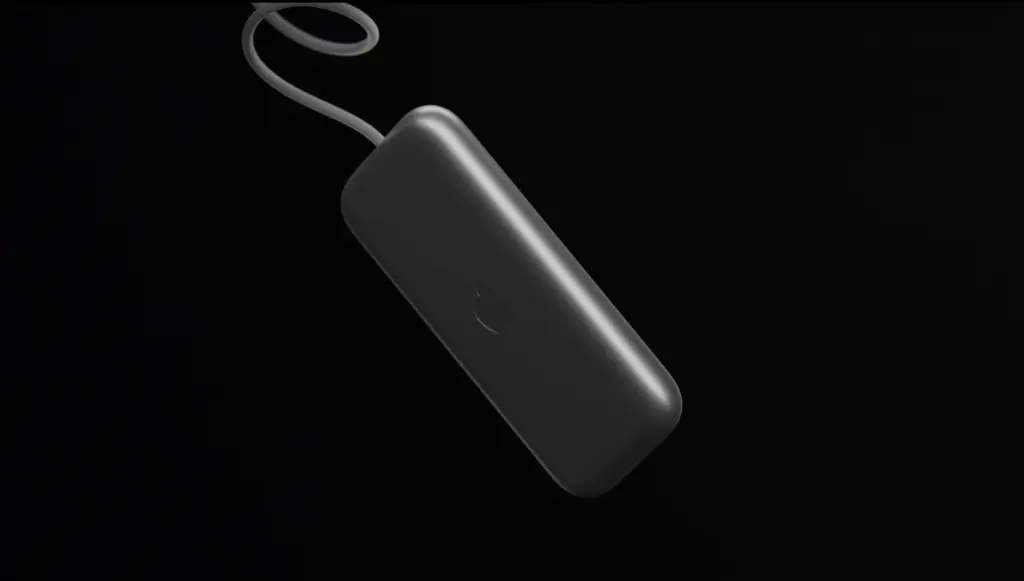 With Vision Pro, users can effortlessly view and manipulate 3D objects, organize multiple apps in space, and capture photos and videos in a whole new way. The system provides an expansive canvas for apps, photos, videos, and games, allowing users to customize their experiences by placing and sizing digital content anywhere they desire.
One of the key features of Vision Pro is its ability to immerse users in a variety of entertainment experiences. Whether it's enjoying movies, shows, sports events, or games, users can enjoy a larger-than-life screen surrounded by specially designed audio, creating a captivating and realistic viewing experience. Moreover, Vision Pro enables users to connect with others as if they were physically sharing the same space.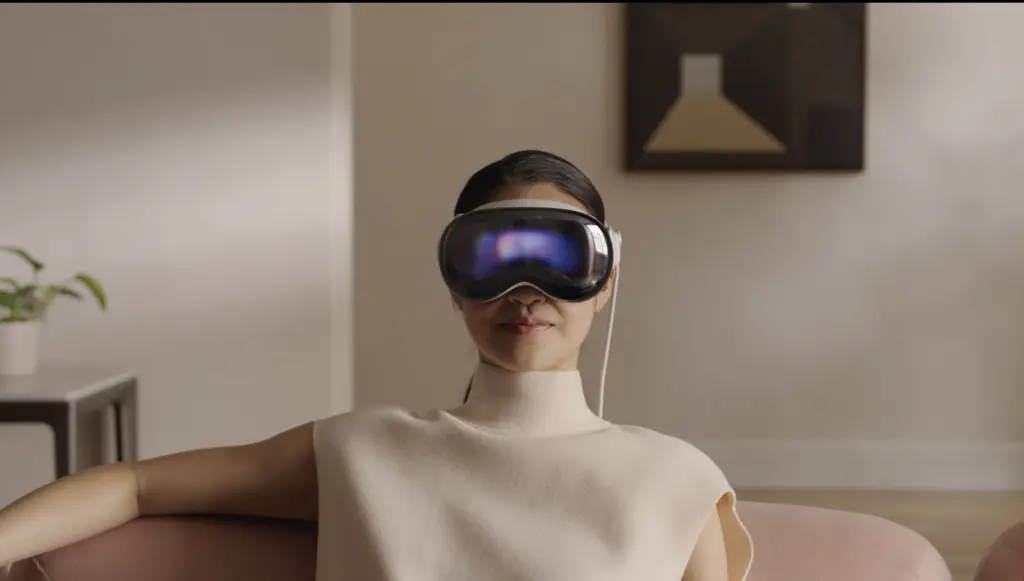 The advanced real-time sensor system and spatial audio technology enhance the overall immersion provided by Vision Pro. The display system boasts an impressive resolution, with 23 million pixels spread across two panels, surpassing the pixel count of a typical 4K TV for each eye. The MicroOLED Apple silicon backplane houses 64 pixels within the space of a single iPhone pixel, with each pixel measuring just seven and a half microns wide.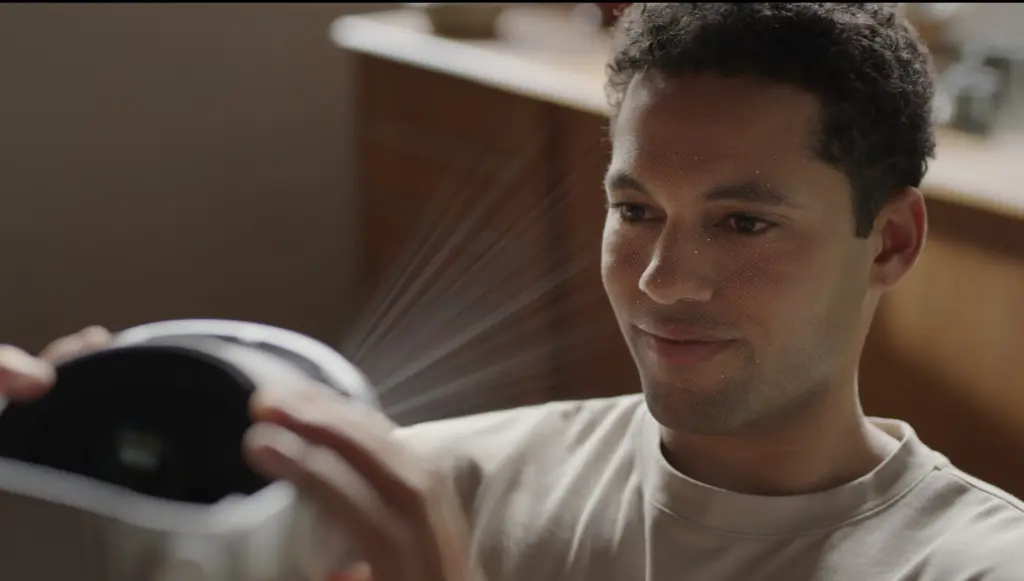 Designed for comfort and wearability, the frame of Vision Pro is meticulously crafted from a custom aluminum alloy, featuring a gently curved design that wraps around the user's face. This frame not only provides structural integrity but also ensures the protection of internal components within its compact form. The inclusion of soft textile elements adds comfort, and extensive research on various head shapes and sizes ensures a customizable fit.
The headband of Vision Pro is created using 3D knitting techniques, resulting in a unique rib structure that offers cushioning, breathability, and stretch. The band can be easily replaced with a different size or style using a secure attachment mechanism, catering to individual preferences and comfort requirements.
| Feature | Description |
| --- | --- |
| Design | Made with 3D formed laminated glass and a custom aluminum alloy. |
| Digital Crown | Located on top for adjustments, easily lets the user dim the real world in the background to go full VR. |
| Modular System | Allows customization for different head sizes, and a very sold design. |
| Flexible Headband | Attaches magnetically and made from custom 3D knitted material. |
| Speakers | Two speakers on the side with spatial audio, using Apple's audio raytracing technology. |
| Vision | In partnership with Zeiss, glasses magnetically attach to the lenses, for vision correction as needed. |
| Privacy and Security | Eye scan technology to unlock device, secure local storage, and eye movements are masked from applications, only interactions are recorded. |
| System on a Chip | Powered by Apple's M2 chip. |
| Display System | MicroOLED with 64 pixels in one iPhone pixel space, with each pixel being 7.5-micron wide. There are 23 million pixels across two panels. |
| Cameras, Sensors and Microphones | 12 cameras, 5 sensors, and 6 microphones, including two IR cameras for eye tracking (EyeSight), a LiDAR scanner, a TrueDepth camera, and cameras for real-world and hand tracking. |
| Real-Time Processing Chip | New R1 chip designed for real-time processing of sensor information removing lag associated with other VR headsets. Apple claims the lag is 12 ms. |
| OS | VisionOS |
| Interaction | Controller-free with voice commands, eye tracking, and hand gestures for operation. Users can use virtual keyboards or existing input devices. |
| Comfort | Swapable parts for comfort and fit. Easy snap in and out. |
| External Battery | External battery pack that lasts up to two hours and can connect via a "supple woven cable". |
| Avatar System | Ability to create a hyperrealistic avatar by scanning your face. Allows for user to appear virtually in video calls without the headset while continuing to use it as a main display. |
| Reality Modes | Switch between augmented reality and full virtual reality with commands, gestures, or using physical controls on headset. |
| Spatial Audio | Spatial audio technology for immersive communication and content consumption. |
| Price | Starting at $3,499, available in early 2024. |
The Anointed First Reviewers
Lauren Goode of Wired was one of the first people to get a private, hands-on experience with the Vision Pro. The demos were in a specially constructed area at Apple's headquarters in Cupertino, California, very select, and apparently, no one from Apple was going on the record at the meetings with journalists.
Starting with the positive, Goode sees value in the headset's standout feature: the ability to adjust the level of virtual immersion. The device's intuitive interface, eye-tracking, and hand-gesture recognition are also praised. Applications like Photos, Safari, and Messages were easy to use in the mixed-reality environment. However, FaceTime felt less human and more disembodied, according to the reviewer.
In terms of entertainment, the headset seemed to excel, particularly when viewing 3D content or engaging with more immersive, augmented reality experiences. Goode says similar experiences could be found in other headsets, but thinks Apple's influence and ability to attract content creators might provide an edge. Goode does, however, express concern over the hefty price tag of $3,500, a barrier to wider adoption beyond developers and technology enthusiasts with disposable income.
In terms of design, the headset is described as reminiscent of a mix of other Apple products (AirPods Max, Apple Watch) but still a bit hefty. The external battery pack still contributed to a noticeable weight on the user's face.
Goode's fundamental criticism is the obtrusive nature of the technology. Unlike other Apple products that seamlessly blend into users' lives (this is more Apple's pitch than reality), the Vision Pro headset is very noticeable, requiring the user to sacrifice their autonomy to a degree. Goode also questions what the long-term experience of using such a device might be, in terms of both user comfort and implications for living in the real world.
Scott Stein at CNET, on the other hand, appears to be extremely impressed with Apple's headset, praising its immersive experience, visual quality, and fluid interface. The quality of the passthrough video cameras is highlighted, with Stein noting that it rivals the Varjo XR-3, and only falls slightly short of natural vision.
Stein is particularly enthusiastic about the cinematic experience offered by the Vision Pro. He calls it vivid and immersive, notably when viewing 3D clips of Avatar: The Way of Water, even stating that he felt chills during the viewing. So, he didn't get to see the whole movie and wear the headset for over 3 hours, or was it 4?
Stein, unlike Goode, commends the Personas feature, saying th 3D-scanned avatars look surprisingly good, and are an improvement over Meta's phone-scanned avatars. Stein note that the Apple's Vision Pro was good enough that they forgot they were talking to a scanned avatar.
Stein wears glasses but Apple found lens inserts to accommodate his eyesight, this is where the custom Zeiss lenses come in. He found the need for a corded battery pack limiting. And, Stein didn't like the lack of clarity about compatibility with keyboards, trackpads, and other devices.
Additionally, the lack of emphasis on fitness functionality is noted as a surprising omission. Stein says, the Vision Pro reminds him of a "Apple-designed Meta Quest Pro."
If you are looking for kindred Apple faithfuls, you can always rely on 9to5Mac. The reviewer there does a pretty good job of following the party line and addressing every point of the launch presentation in his 30-minute allotted demo.
Here are a few key quotes:
"Throughout my entire experience with Vision Pro, Apple repeatedly emphasized the various ways the headset keeps you connected to the world around you. For instance, I could look to my left and right to see the two other people in the demo room with me."
"The hybrid of virtual and augmented reality strikes a really good balance of immersiveness while keeping you engaged with people around you."
"The hardware of Vision Pro is absolutely industry-leading. I couldn't see a single pixel on the 4K displays, and even the edges of the content on either side of me were crisp and clear. The combination of those displays and the powerful M2 and R1 chips inside mean that Vision Pro excels at everything it does."